How to Use Paysafecard in Online Casinos
One of the best-known payment methods at online casinos is Paysafecard. In a sea of bank cards and e-wallets, the company has built its brand on the back of vouchers. Today, Paysafecard vouchers are available to purchase in more than 650,000 stores. Its global acceptance makes depositing money in online casinos accepting Paysafecard easy and private.
Pros and Cons of Paysafecard
Over the years, Paysafecard has expanded its list of services, further improving its offering. Thanks to that, the company can offer its users many benefits.
No Deposit Fees – When using Paysafecard vouchers, you pay one upfront price for a coupon with a specific value. There are no fees or hidden costs to consider, which is a massive plus in our eyes.
Excellent Security – Using Paysafecard vouchers does not link any payment method to your online casino account. Each card has a set value, and you cannot reuse it after you spend all the funds. Even if a hack occurs, you are not at risk of losing any money. Paysafecard vouchers are also excellent for privacy, as your bank does not see any casino transactions and the voucher is not connected to your personal or financial details.
Speedy Transactions – Paysafecard coupons offer near-instant deposits. After punching in a valid 16-digit code, the funds appear in your casino balance. You can also withdraw funds if you signed up for a myPaysafe account. Cashing out is very fast, with most of the waiting time being the casino processing the transaction.
Widely Accepted – The company is available in more than 60 countries worldwide. It also has excellent support for local currencies.
For all the upsides that Paysafecard offers, it still has some limitations in place. If you plan to use this banking option, keep the following downsides in mind.
Credit/debit cards offer better coverage – While we like Paysafecard, it is not as widespread or convenient for players as credit/debit cards. Bank cards are a better option if you do not want to deal with using several payment methods.
Transaction limits are small without registration – For many countries, Paysafecard has strict limits without registering an account. If you prefer not to have an account, you will have to deal with low limits – and you won't be able to make a withdrawal to the method.
Paysafecard Fees
Paysafecard does not have any extensive fees that users have to worry about. The exact costs will vary slightly based on the country and local currency.
Paysafecard vouchers have an upfront cost that allows them to remove fees. Instead, the company charges maintenance fees for inactive myPaysafe accounts and vouchers. You must pay a €3 monthly fee for inactive vouchers and €5 for inactive Paysafecard accounts. To avoid the fee for coupons, you must spend all the money on them in two months. For your myPaysafe account, log in and perform a transaction once every 12 months.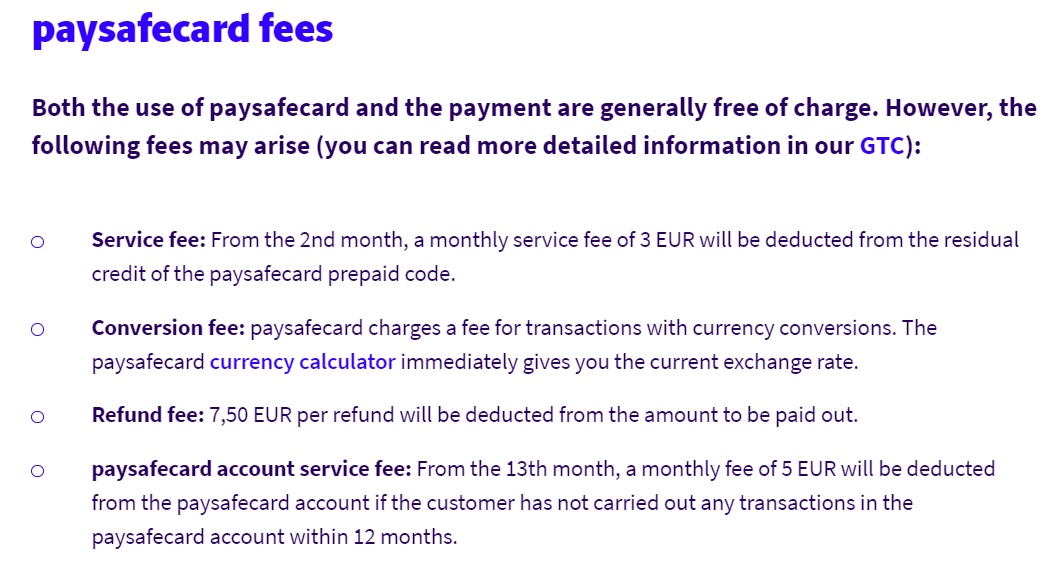 That covers all fees relating to Paysafecard vouchers. However, the payment method also offers a prepaid Mastercard connected to your Paysafecard account. If you opt for the Mastercard, you will need to keep the following fees in mind.
| Fee type | Price or percentage |
| --- | --- |
| Annual fee | €9.90 |
| Top-up fee | 4.00% |
| ATM cash withdrawal fee | 3.00% (€3.50 minimum) |
| Exchange rate fee | 2.00% |
| Replacement card fee | €5.00 |
It is worth remembering that most of these fees will not affect most Paysafecard users. Maintenance fees should not be an issue, provided you use all the funds on the voucher or in your account. Similarly, you can avoid all of the Mastercard fees by simply not getting a card.
How to Create a Paysafecard Account Step-by-Step
Unlike most banking options, using Paysafecard does not require an account. That said, there is a caveat to this statement. You will not need an account if you only plan to use vouchers. However, you will need an account if you plan to withdraw money using this payment method. Fortunately, opening an account is as easy as pie: just follow the steps laid out below.
Open the Paysafecard website. You will see a button labeled Sign up. If the button is not visible, the company does not support creating a myPaysafe account in your country.
Follow the instructions on the registration page. You must enter your country of residence, e-mail address, and password.
As part of the registration, Paysafecard will require you to verify your e-mail. Open the e-mail website or app, read the message, and click the link within. It may take a minute or two for the e-mail to arrive.
Enter your full name, date of birth, address, and phone number.
You will have to verify your entered phone number to complete registration. You will receive an SMS from Paysafecard with a six-digit number. Enter the code on the page, and you will complete the registration.
Paysafecard Mastercard - How Does it Work?
Paysafecard gives its users an option to get a prepaid Mastercard linked to their myPaysafe account. You can use this card everywhere that accepts standard Mastercard bank cards, such as one of the many Mastercard online casinos. You can easily top it up whenever you need to use it through your Paysafecard account.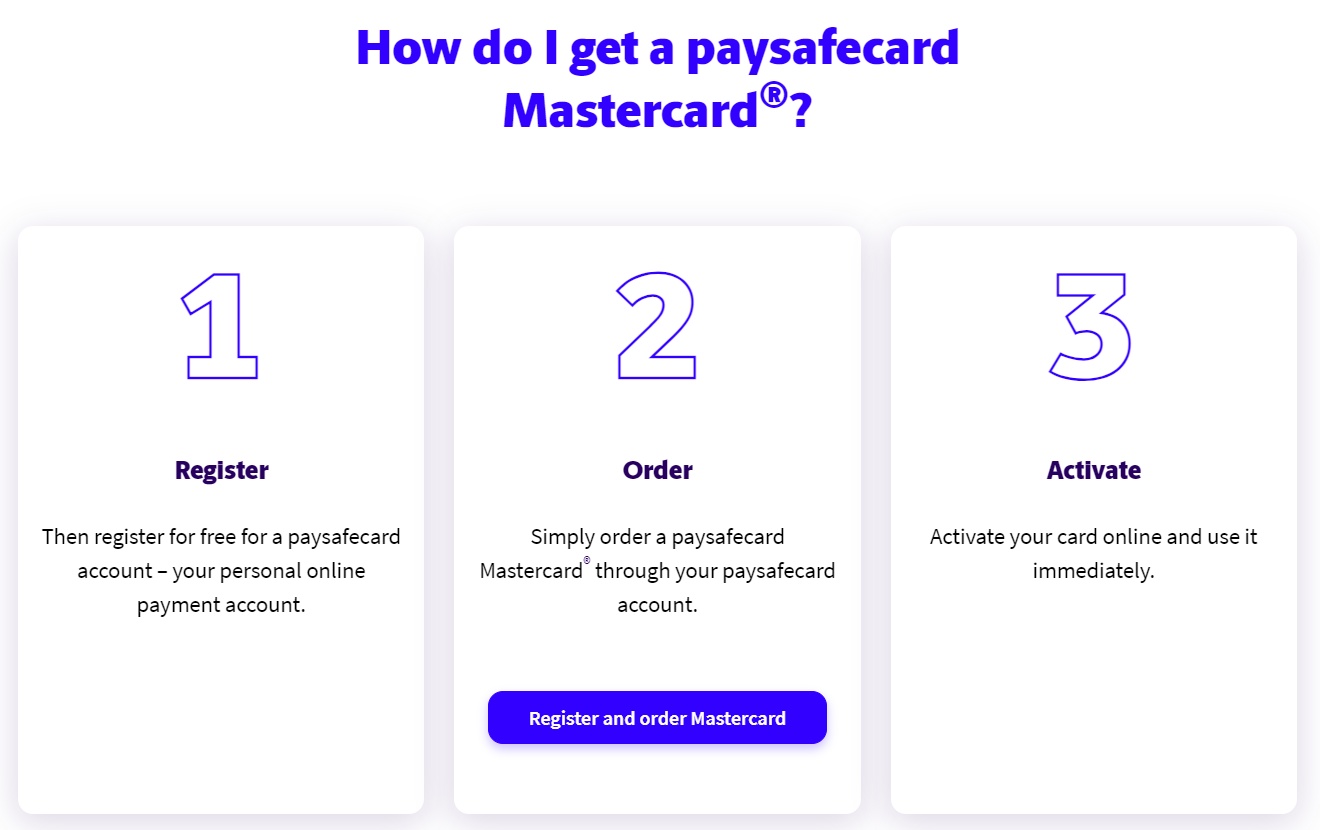 After confirming you ordered the card, Paysafecard will charge you the €9.90 annual fee. The card will arrive in approximately twenty days. You must also upload an official valid photo ID to confirm your identity. After identification is complete and you receive your card, you can activate it in your myPaysafe account settings.
A Guide to Paysafecard Casino Deposits
Using Paysafecard to deposit money in online casinos is a straightforward task. After registering a casino account, open the cashier or banking page. Select Paysafecard from the list of available payment methods and enter the amount of money you want to deposit. You will then be asked to enter the 16-digit code from your Paysafecard voucher.
The funds should instantly appear in your account after entering the code. Most online casinos do not charge deposit fees if you use Paysafecard vouchers.
Players will be happy to hear they can claim casino bonus offers using Paysafecard deposits. Some gambling sites require you to enter a bonus code during or after a deposit to activate the promotion. Other websites will trigger it automatically when you make an eligible deposit.
Note: We recommend reading the bonus terms to ensure you can claim the offer with a Paysafecard. While Paysafecard restrictions are rare, they can still happen.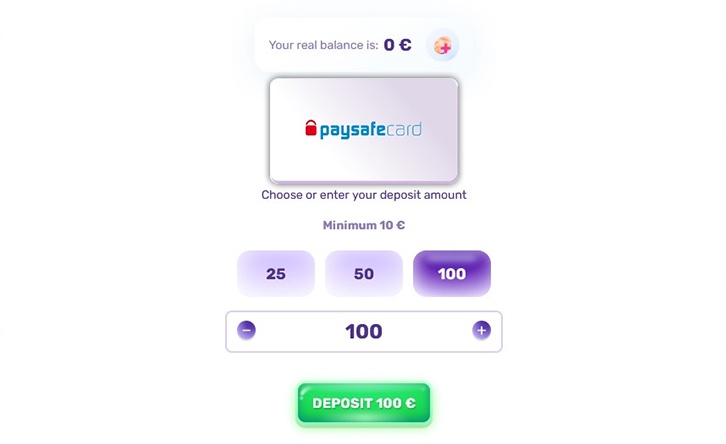 Cashing Out With Paysafecard in Online Casinos
Not all online casinos support withdrawing money with Paysafecard. Before you can use it to cash out, you must register a myPaysafe account. Once you have this, you can open the cashier or banking page at the casino, select withdraw, and then pick Paysafecard. Then, enter the required information and how much you plan to cash out. Finally, review everything you entered and press the Withdraw button.
You will have to log into your myPaysafe account to verify the transaction. From there, all you can do is wait for your online casino to carry out the withdrawal. Waiting times vary between operators, but Paysafecard withdrawals are usually faster than bank cards.
Adding and Removing Funds from Your Paysafecard Account
Unlike most payment methods, Paysafecard does not require you to have an account. It is not an e-wallet or an online bank. That is why adding funds to a myPaysafe account does not work as most services do. Instead of adding funds through a credit card or another service, you fund the account by adding vouchers.
Open your myPaysafe account page by registering an account.
The account page has the option to add Paysafecard vouchers. Press the button and wait for the deposit window to appear.
Enter the 16-digit PIN code from your Paysafecard voucher. This will add the funds to your account for later use.
The service allows you to use one or more stored vouchers at online casinos. While less private, this option is much more convenient than manually inputting several PIN codes.
Another option that players can take advantage of is Paysafecard direct. This function in the Paysafecard app lets you top up your account at lightning speed. Paysafecard direct can generate a voucher with the user deciding the coupon's value. Alternatively, you can scan a purchased voucher barcode to add its funds to your myPaysafe account.
When it comes to withdrawing money, you have the option of cashing out in an ATM with a prepaid Mastercard. The process is identical to an ATM withdrawal with any other payment method. You enter your PIN, select how much you want to withdraw, and take your money. That said, each ATM withdrawal comes with a 3% fee.