How to Use Skrill in Online Casinos
Skrill as a payment method needs no introduction. It has been one of the leading banking options in online casinos for years. Since the company was founded, it has changed names and been acquired multiple times. Despite that turbulent history, Skrill has proven to be a reliable gambling payment method from 2001 onwards.
Looking to gamble at a Skrill casino? Our guide goes over everything you need to know about this casino payment method.
Pros and Cons of Skrill
To start off, we outline some of the benefits of using Skrill.
Top-tier security – The e-wallet ensures all transactions are 100% secure. SSL encryption guarantees that no one can tamper with the money being sent or received. Additionally, the casino only knows your Skrill wallet e-mail if you use this service. Your banking information never gets exposed to the operator.
No-fee casino transactions – Online casinos normally don't charge players for depositing and withdrawing with Skrill.
Fast transaction times – Skrill enables quick and easy money transfers between e-wallets. It also facilitates instant deposits and swift cashouts. We especially like withdrawing money via this banking option since it usually reaches your account instantly.
Accepted worldwide – The company is available in over 100 countries and supports 40+ local currencies. The Skrill e-wallet also allows you to buy and sell crypto.
Despite its many advantages, Skrill is far from perfect. This e-wallet has a few downsides that may affect your decision to use this banking option.
Not as widespread as credit/debit cards – Not all operators give you the option to use Skrill to deposit or withdraw money. Visa and Mastercard credit and debit cards are supported on more gambling sites, making them more convenient to use. You can find such sites easily on our Visa casino or Mastercard casino lists.
Skrill withdrawals have fees – The fees for cashing money out of your Skrill account vary between countries and payment methods. In the worst-case scenario, you have to pay a 7.5% fee on your withdrawn funds.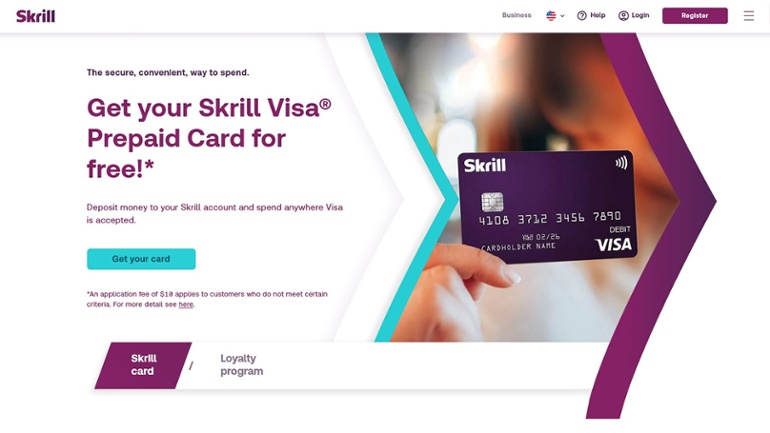 Skrill Fees
It is important to preface this section with a reminder. Skrill fees vary based on your country and payment method. Our experts have done their best to make this section as extensive as possible. However, we recommend checking Skrill's website to get the exact numbers for your country.
Depending on the country, your deposit fees will range from 0% and 5% per transaction. Using the UK as an example, deposit fees are broken up as follows.
| Payment Methods | Deposit Fees |
| --- | --- |
| Bank Transfers and Credit/Debit Cards | 0% |
| Rapid Transfers / Fast Bank Transfer | Up to 1.00% |
| Trustly | Up to 1.25% |
| Paysafecash | Up to 2.50% |
| Paysafecard | Up to 5.00% |
Some countries only accept deposits through other e-wallets or credit/debit cards. In such cases, deposit fees usually hover around 2.5%.
Next up are fees for withdrawing money from Skrill. Once more, some payment methods have 0% cashout fees. Using the UK as an example again, we get the following breakdown.
| Payment Methods | Withdrawal Fees |
| --- | --- |
| Bank Transfers | 0% |
| Crypto Wallet | 2.00% |
| Neteller | 3.49% |
| Credit/Debit Cards | Up to 3.99% |
| Swift transactions | £4.66 / €5.50 |
You can use various local payment methods that incur different costs based on the country. However, some fees, such as Neteller and Swift transactions, remain consistent everywhere. Others, like credit/debit card withdrawals, can vary and produce fees of up to 7.5%.
Some fees tend to be identical regardless of what country you are from. That includes account-level fees, crypto fees, and fees for sending and receiving money via Skrill.
| Money Transfers | Fees |
| --- | --- |
| International Bank Transfer | 0% |
| International Transfer via Debit Card | Up to 1%> |
| International Transfer via Credit Card | Up to 2.99% |
| Domestic Transfer | Up to 2% |
| Receive Money | 0% |
| Sending Money to Another Skrill Account | 2.99% |
| Receiving Money from Another Skrill Account | Free without currency conversion |
Skrill e-wallets are free for personal use if you log in and make a transaction every six months. Otherwise, you must pay a service fee of €5 (or equivalent) every month.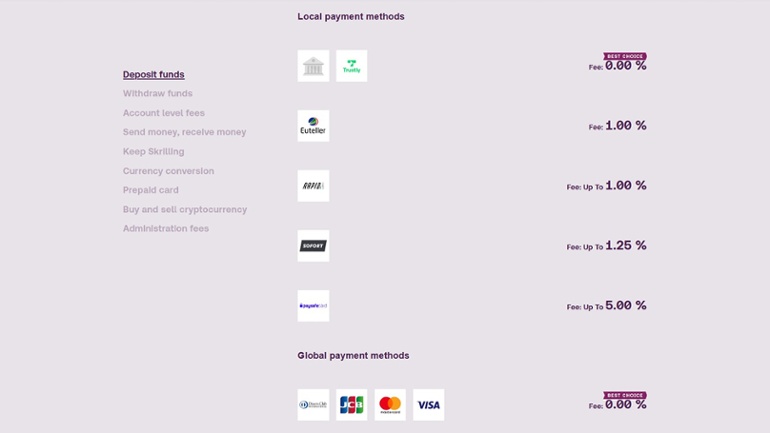 How to Make a Skrill Account Fast & Easy
Before you can complete Skrill casino deposits, you have to create a Skrill account. Setting up an account is a straightforward task that will not take more than a couple of minutes. Are you interested in getting started with Skrill? If so, follow our step-by-step guide below, and you will have an account in no time.
Step one on your Skrill casino adventure starts on the e-wallet's website. Open the page and click or tap the Register button in the upper right corner. Enter your first and last name, e-mail, and password. Then, select your country and your primary currency.
Press the Register button to create your account. Making an account means you agree with the company's terms of service and privacy policy.
Before using Skrill, you must fill out more information about yourself. The e-wallet requires your address, city, postal code, date of birth, and phone number. You will need to enter a valid phone number for verification purposes.
After filling out this information, you can add funds to your account and start using the e-wallet.
All About Skrill Prepaid Cards
Skrill offers players the option of getting a reloadable prepaid card tied to their digital wallet. You can use the Skrill Card in over 35 million locations worldwide. However, only users in authorized European Economic Area (EEA) countries are eligible for the card. The cards allow you to shop online or in stores, or withdraw money in ATMs that accept Mastercard.
Note: You can order a Skrill Card by pressing the Get your card button in your account settings. Users must provide a shipping address where the card will arrive. Skrill Cards usually take between 15 and 20 business days to arrive.
How to Deposit in Skrill Online Casinos
Depositing money through Skrill is as straightforward as any other banking option. First, you have to have an active account in that online casino. Open the cashier or banking section and click to make a deposit. Select Skrill as your payment method, enter how much you plan to deposit, and confirm the transaction.
Skrill deposits require you to log into your account to verify the transaction. You must also confirm the deposit by entering your Skrill PIN and a 6-digit verification code sent to your e-mail or phone number. After authorizing the transaction, the funds are transferred from your e-wallet to the operator. You will see your casino balance update near-instantly, confirming the deposit was successful.
Many websites offer Skrill casino bonuses. Some of these promotions can only be claimed when using the Skrill e-wallet. Others are available for several payment methods, and Skrill is just one eligible option. How you activate online casino bonuses varies between operators. Some gambling sites require a bonus code, while others automatically trigger the promotion after a suitable deposit.
Some online casinos do not accept Skrill deposits for bonuses. Remember to read the bonus terms before claiming a promotion, so you are not caught off-guard by this.
Withdrawing Money in Skrill Casinos
Skrill withdrawals are sweet and simple, just the way players like them. After logging into your casino account, open the banking or cashier page. Select withdrawal, and choose Skrill or Skrill 1-Tap. The casino will ask how much you plan to cash out. Enter a valid value and press the withdraw button.
The website will open a window requiring you to log into your Skrill account and confirm the transaction. After the withdrawal is approved, all that is left is waiting for the funds to arrive. How long you have to wait varies between online casinos. However, Skrill withdrawals are almost always faster than bank cards.
Funding and Removing Funds from Your Skrill Account
Skrill e-wallets allow you to deposit and withdraw funds from your account with several payment methods. Each banking option does things a little differently. However, you can usually follow these steps for all relevant payment processors. Here is our simple Skrill Deposit Guide.
Open your Skrill account page and then open the Deposit section.
In this category, you will see all the banking options you can use to fund your Skrill e-wallet. Select the one you want to use.
Enter the amount you wish to deposit and review the transaction summary. If everything checks out, press confirm.
The funds will appear in your account, allowing you to use Skrill.
Specific payment methods may have additional steps. For example, credit and debit card deposits require confirmation that you plan to use deposited funds for gambling.
The process for withdrawing funds from your Skrill account is not that much different from depositing. Our Skrill Cashout Guide guides you through the process.
From your Skrill account page, navigate to the Withdraw section.
Select a payment method to withdraw money. Then, you enter how much money you plan to cash out.
You will need to enter the details of the banking option you are withdrawing to. That may include your bank account details, credit/debit card information, crypto address, or more.
Skrill will display a summary with all cashout information. Click confirm to complete the withdrawal.