How We Resolve Casino Complaints and Why
Ever since we started reviewing online casinos, player complaints have been a key factor in our casino review methodology. We have started analyzing complaints to find out what kinds of issues players have with casinos, and how casinos handle them. This help us discover unfair practices used by casinos, which, in turn, result in a lower Safety Index for the casino that uses them.
Even back when we were not helping players resolve their complaints publicly, we kept receiving e-mails from players experiencing issues with online casinos. We did our best to help, but without an established and fine-tuned process, we could not do it efficiently . That is why we designed our own complaint resolution process and opened the Casino Guru complaint resolution center.
In this article, we will go over how we help players with their complaints. We will describe our complaint resolution process in detail, so that you understand each individual step, which will come in especially helpful if you decide to submit a complaint yourself.
Here is what the process looks like:
Continue reading or click any of the steps to get to know our complaint resolution process in detail. At the end of the article, we will also explain why we deal with complaints in this specific way and how it benefits players and casinos.
Note: Casino complaints are an essential part of the way we evaluate casinos, as they help us understand how casinos treat their players and whether they use unfair practices against them. If you want to learn more, read our article about how we review online casinos.
Step 1: Complaint submission
For the complaint resolution process to begin, the player, of course, first has to submit the complaint. However, we did not want to leave it to chance, so we designed the process of submitting a complaint in a very specific way.
The first step consists of the player selecting one of four complaint categories:
Problem with deposit
Problem with withdrawal
Problem with account
Problem with software

Based on the player's selection, we then ask them a sequence of questions. Answers to these give us a lot of additional information to base our investigation on and make the following steps a lot easier for both us and the player submitting a complaint.
Here are some of the questions we ask, all with a Yes/No answer:
Has your deposit been credited to your account?
Did you play with bonus money or free spins?
Was it a free (no deposit) bonus?
Have you ever made a deposit at this casino?
Have you ever made a withdrawal at this casino?
Do you have an account at this casino?
Are you able to access the casino and log in to your account?
Does the casino communicate with you?
Have you noticed any software bugs?
Providing tips and possible solutions
Some issues can get resolved even without our or the casino's involvement, just by giving the player advice and explaining the situation to them. As the player answers the individual questions, we learn more and more about what the issue might be. This is why we present tips and possible solutions after specific answers to the questions.
For example, if the player claims to have an issue related to their deposit and then proceeds to answer that the deposited money has neither been credited to their casino account nor deducted from their bank account, card, or e-wallet, we have a lot of information already.
Based on these answers, we know that there is most likely something preventing the player from making a deposit, so we display these possible reasons:
Bank or card not supported
Internet transactions blocked
Insufficient funds
Transaction limit reached
Each of these contains a more detailed explanation and, in many cases, also what to do to get the issue resolved. After reading these, the player can find the solution to their issue and decide that they don't want to continue with the complaint. If they wish to continue, they proceed to the next question (if there are any left) or to the complaint submission form.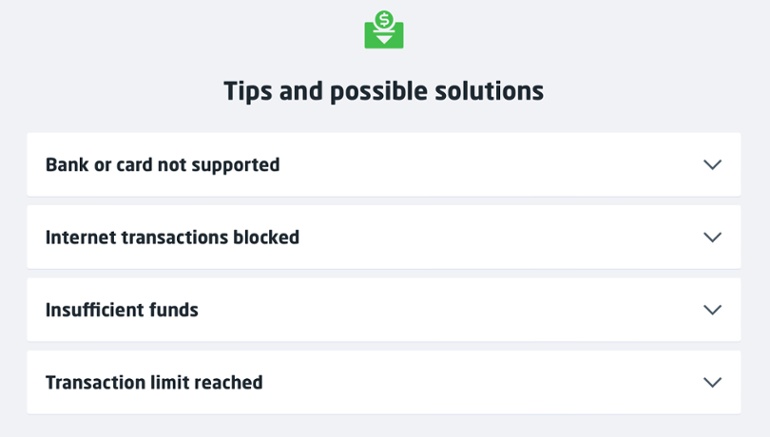 Complaint submission form
If the tips and possible solutions presented between individual questions don't help, the player then submits a form, in which they describe their problem in detail and give us the information we need, such as their name, e-mail address, the casino they want to complain about, the disputed amount, attachments, screenshots, etc.
After submitting this form, the player receives a confirmation e-mail and we start working on the complaint.
Step 2: Initial complaint analysis
All new complaints get processed by a complaint specialist from our first response team, which is dedicated to assessing new complaints. This specialist quickly assesses the situation and decides whether the complaint meets our criteria for being published. Generally, we publish all complaints received by players, unless it's clear that the complaint:
… is sports betting-related.
… contains offensive language.
… discusses issues related to land-based casinos, social casinos, and applications.
… is written in a third-person point of view. We don't publish complaints written in someone else's name, as each player must communicate for themselves.
… deals with a cybercrime. In this case, we refer the player to relevant authorities since we don't have resources to investigate these types of issues further.
… is older than one year. Unfortunately, casinos do not tend to store data for periods longer than that.
… is an affiliate-related issue, like when players form an affiliate partnership with a casino, which then fails to keep their side of the bargain.
… deals with issues related to payment providers or game providers.
… is submitted multiple times, like when the same player submits the same type of complaint related to the same casino and the same problem as in the past. In this case, the old complaint is reopened, and the new one is not published.
… is related to Casino Guru. In this case, we make sure to resolve the issue as soon as possible, but the complaint does not go further.
… is submitted by a banned player. A banned player in this context is a person that has actively requested to be banned on our site, or a person that was banned by Casino Guru due to offensive language and other violations of our community rules.
… is not explained sufficiently. In order to be able to approve a complaint, we must know what the player needs help with. You'd be surprised to know how many 2-word "Help me" complaints we get on a regular basis.
If the complaint meets one or more of these criteria, we do not go further with it. However, once the complaint does get approved, our dedicated first response team specialist takes a look at the casino and its T&Cs, as well as everything claimed and provided by the player.
Step 3: Description and additional questions
After the initial assessment, we reach out to the player with our first response. If any information or evidence is clearly missing at this point, we ask the player additional questions or request further evidence, such as:
Delayed payments – What is the exact date of your withdrawal request? Is your account verified? Have you accumulated your winnings using a bonus?
Verification – Have you submitted all necessary documents? When you go into your account, can you see whether your documents have already been verified?
Multiple accounts – Who was the first one to create an account? On what basis did the casino identify that you're using multiple accounts?
In case enough information is provided from the very beginning, we try to make sure that we really understand the situation and that nothing got lost in the translation.
There are currently 18 different languages for players to submit their complaint and communicate in. Since the website is translated and many players communicate in their own native language, we really need to make sure that the information we receive is correct. That is why we often double and triple-check everything the player says.
Once we submit our initial response, the player has 7 days to respond and provide the requested material (if there is any). In case the player fails to respond, another 7 days are added to the timer, and a notification is sent to the player. If the player fails to respond again, the complaint is rejected.
It is very important that the player gets back to us within the 7-day timeframe set once we submit our initial response. We cannot solve the complaint without the player's help and assistance. Being active and willing to communicate is absolutely crucial for the complaint resolution process, although it does not guarantee that one's complaint will be successfully resolved.
All complaints are usually published within 48 hours of their submission, and we try to get back to each player as soon as possible. However, many players think we are a live chat – we are NOT, so players should remain patient and know that we will get back to them within the specified timeframe (7 days).
Step 4: Advice and trying to resolve the complaint without the casino
After trying to get as much information about the issue as possible, there are three scenarios that might happen before the casino gets involved:
The complaint gets resolved without the casino
The player stops responding and the complaint gets rejected
We conclude that the player indeed broke some rules, and the complaint gets rejected as 'Unjustified'
Once we conclude that there is a real possibility that the player is in the right and we cannot solve the complaint by ourselves, one of our solvers contacts the casino and asks the representative to get involved.
We only contact casinos that do not fall under our "No Reaction Policy" label. This label is visible in the casino detail and is given to casinos that have 15+ unresolved complaints to which they have not responded at all. Complaints like these are marked as 'Unresolved' already at this stage, as we know from experience that the casino does not communicate and try to resolve the complaints.
Sometimes, the casino enters the discussion at their own initiative already during the first response stage, but this doesn't happen often.
Remember that up until this point, the casino has not yet been notified about the complaint or asked to join the discussion. This means that casinos that enter the discussion without any input from our side regularly check complaints submitted about the casino on our website and are proactively trying to resolve them, which is a good sign.
Step 5: Asking the casino to get involved
At this moment, the casino receives its first notification in one of 2 ways:
In case the casino already has a Casino Guru account, we send a notification to the e-mail address associated with that account.
In case the casino does not have an account yet, the solver tries to obtain the e-mail address of the casino, which is then uploaded into our system for future communication. To communicate with players, the casino needs to create an account.
Only a registered user of each conversation can see the answers marked as sensitive, which can include information such as login details, address, screenshots, etc. All complaints and their content are visible, but only participants of each specific conversation can see the sensitive information contained in it.
We are very proud of this transparent system and the level of consistency we are able to bring into our decisions. What's more, every Wednesday we hold a special call that features 20 of our most knowledgeable specialists, during which the most complicated cases are discussed.
Tip: The search bar at the top of our complaints page lets players filter the complaints according to which casinos they are interested in reading about. Any player can simply type in the casino of their choice and filter the results.
It takes about 16 days on average to solve a complaint (from the day of its submission by the player), but this depends on numerous factors, many of which we have no control over. The longest-running complaint was resolved after 251 days, and the disputed amount was 1,000 Brazilian reals, which was equal to around US$193 at the time.
The length of the complaint resolution process can be significantly extended if other parties are involved. For example, if the casino is waiting for a report from a payment provider, the process might be prolonged, and there is nothing we can do about it. For this reason, we kindly ask players to stay patient and know that we are doing our very best to ensure that their complaint gets resolved as soon as possible.
Step 6: Closing and classifying the complaint
Once we feel that we have enough information to make a final decision, we close and classify the complaint according to one of three categories. Depending on the category chosen, each complaint also receives an additional label that further describes it. The three main categories are:
Resolved
Rejected
Unresolved
Resolved
This label is given to complaints where the player confirms that the issue has been successfully addressed and resolved. We further classify each resolved complaint as one of the following:
Solved complaint – 99% of resolved complaints fall into this category.
Publicity helped – Cases where the casino deviated from their terms and conditions and decided in favor of the player most likely due to our involvement in the process.
Generous casino – Assigned to cases where we did not think any resolution was possible, but the casino has, as a gesture of goodwill due to a good relationship with us, decided to compensate the player with some form of credit or other means, to which the player generally wouldn't be entitled to otherwise. We only use this label in situations where the disputed amount is quite significant, and in such cases, we deduct a certain number of black points from the casino (if it has any).
Note: Black points are a form of penalty given to casinos in our database for the way they handle the complaints submitted to our Center. They are calculated based on the disputed amount and the severity of the complaint, and each black point directly influences the Safety Index of a casino. The more black points the casino has, the lower its Safety Index will be.
Rejected
When it comes to rejected complaints, these are cases where the player has either made an error that we are unable to assist with, or they have ceased communication with us, leaving us unable to provide further assistance. We also assign this status for cases involving activities such as sports betting, or other categories that we do not provide assistance with.
We further classify each rejected complaint as one of the following:
Player stopped responding – The player stopped responding and, as a result, we couldn't continue with the complaint.
Unjustified complaint – Cases where we found out that the player has indeed breached some rules or made a mistake.
Insufficient evidence from player – Cases where the player did not provide enough evidence to be able to further continue with the complaint.
Other – Cases, during which we uncover that the complaint actually discusses an issue related to sports betting – or other reasons for which we usually don't even accept and publish the complaint in the first place – but we were unable to determine so earlier.
Regulator decided that casino was right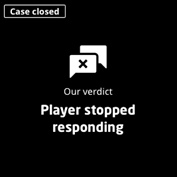 Unresolved
If the player's problem remains unresolved despite our belief that the player is in the right, or if the casino has completely disregarded our attempts at communication and refuses to cooperate with us, we are forced to close and classify a complaint as unresolved.
The most common unresolved types of complaints include:
Justified complaint – Justified from the player's point of view, these are cases where we believe the player was right, but the casino has refused to pay out or otherwise rectify the situation.
Against fair gambling – Cases where the casino refused to cooperate with us acted in violation with our fair gambling codex and decided to blindly adhere to its T&Cs.
Unreasonable excuse – Most of the time, the casinos involved in these types of complaints are casinos that already have a "Scam casino" warning in the casino detail on our site. Typically, they require players to pay made-up fees in order to allow players to withdraw their winnings or enforce other "stupid" rules that are not part of the Terms, but these complaints can also involve completely invented rules or existing terms applied completely outside of common sense.
Failed self-exclusion – Cases where the casino failed to block a self-excluded player from playing.
Besides these examples, some other less common types of unresolved complaints include:
Not enforced Terms and Conditions
Uncertain case, good regulator
Uncertain case, bad regulator
No reaction, good regulator
No reaction, passive regulator
No reaction policy, good regulator
No reaction policy, passive regulator
Delayed payment, likely paid
Delayed payment, unknown status
Insufficient evidence from casino, good regulator
Insufficient evidence from casino, bad regulator
Regulator decided that player was right
Untrustworthy source
Sin from the past
Waiting for decision of regulator
High unexpected fees
Technical glitch
Note: "Good regulator" is a term used for licensing authorities like United Kingdom, Malta, Gibraltar, Sweden, or Canada, which are renowned and highly respected regulatory bodies in the online gambling world. On the other hand, licensing bodies like Curaçao, whose reputation is far from favorable, fall under the "passive regulator" umbrella.
Each category results in a different number of black points, which are calculated based on the disputed amount. This means that, for example, a complaint classified as "Unresolved – against fair gambling codex" will result in fewer black points than if the same complaint was classified as "Unresolved – Unreasonable excuse".
Suggesting the involvement of the regulatory body
In cases where we believe it makes sense for the player to continue dealing with the complaint, we express our regret for being unable to assist them while providing them with contact information for the relevant licensing authority. The licensing authority may be able to offer their perspective on the matter.
In these cases, we also ask the player to inform us if they decide to contact the licensing authority, since once they do so, we re-open and re-classify the complaint as "Waiting for regulator".
We also ask the player to reach out back to us after 3 months and share with us the verdict of the licensing body. If the player doesn't reach out to us after the specified period, we reach out to them. Should the licensing authority decide that the casino was right, we resolve the complaint and classify it as "Rejected – Regulator decided that casino was right". In this case, the casino doesn't get any black points towards its Safety Index.
On the other hand, if the regulator decides that the player was right, we resolve and classify the complaint as "Unresolved – Regulator decided that player was right". In this case, however, the casino receives more black points (based on the disputed amount) than it would if the complaint was still in the previous stage, since the licensing authority also decided in player's favor.
External complaints
If you've browsed our extensive database of complaints, you might have noticed that not all of the above-mentioned categories are used for complaints we deal with – such as "Unresolved – Sin from the past". This is because, in addition to internal complaints, we also collect external complaints from other websites, similar to our Complaint Resolution Center, that also deal with player complaints.
Complaints found on external websites are put into our system, classified, and, if we deem it relevant, they influence the number of black points of a given casino. However, we do not provide our own personal statement to these complaints. We simply publish them on our website for players to see.
Note: It's important to mention that external complaints posted on our website become "older" over time, resulting in a decreasing number of black points awarded to a casino for each external complaint as the years go by.
Benefits for players and casinos
To maximize the effectiveness of our complaint resolution process, we have created a specific system that allows us to resolve over 1,000 complaints each month. This system brings many benefits to both players and casinos, some of which include:
1. Easy classification of complaints
Our specific process of submitting a complaint that forces a player to select one of four complaint categories upon submission allows us to classify and understand each complaint swiftly and effectively. This way, the player doesn't have to worry about correctly classifying the complaint, as all the hard work is done by us.
2. Fast response times & prompt action
We know players want to resolve their problems as soon as possible, which is why we always try hard to get back to each player within 48 hours after they submit their complaint. Our team works fast, which means that once we submit our initial response to the player, they can rest assured that we are doing our best to find a solution to their problem and will get back to them within 7 days.
3. Active communication
We only deal with complaints where players actively communicate with us. This way, we can make sure that we separate the complaints and allocate the limited time of our complaint specialists to where it can actually make a difference. If we dealt with every single complaint submitted to us and had no rules in place, we would not be able to help as many players as we do.
4. Casinos are only invited to join the discussion when truly needed
We only contact the casinos once we're sure that we cannot solve the complaint by ourselves. Thanks to this approach, casinos don't have to deal with things they're not needed for, and they can use that time to focus on other activities.
5. Transparency of processes
All complaints are published on our site and can be freely accessed at any time. Players can read complaints related to specific casinos or categories, which might give them useful information about their own problem. In addition, we strive to be fully transparent in how our complaint resolution process works, and this article hopefully reflects that.