Theme and Storyline
There are a few slot machines that star East Asian dragons at their core, but not many have dragons quite as adorable as this slot. Two of Triple Dragon's titular dragons are standing guard either side of the reels, their animated bodies writhing slowly on the red and gold which is the standard colour scheme of this sort of slot.
On the reels, the theme is pretty tight. There are eight symbols: a dragon, a purse, a fruit, a drum, and the four suits from a deck of cards.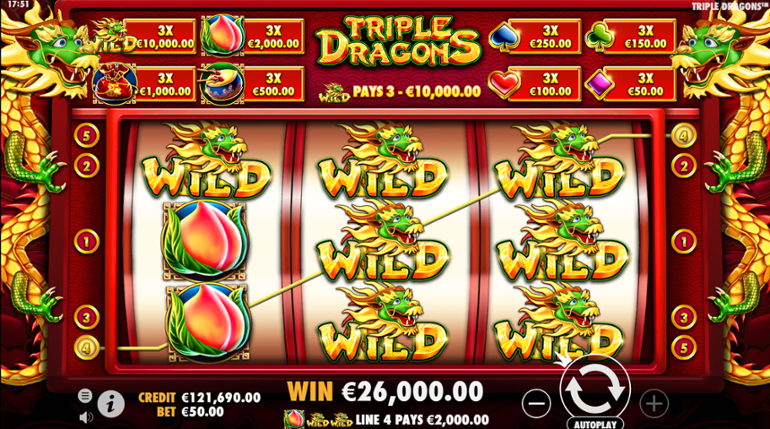 Graphics, Sounds and Animations
The graphics are simple but great care has been spent to ensure each of the symbols looks perfect. The background is animated subtly but in full 3D and the win animations look clean and work well with the soundtrack.
The main sounds are pretty generic but the musical accompaniment is a good ambient track that works with the theme and doesn't hurt the ears too much.
Gameplay
The gameplay is as boiled down as slot machines get. There are three reels with three rows each and just five win lines. That is all of the possible straight lines of three you can make on a three by three grid.
There is a simple feature that is triggered when you hit a full reel of stacked Dragons (details below) but that is all she wrote on the matter.
Wilds, Bonuses and Free Spins
There are no Bonuses or Free Spin features. Nor is there a Wild in the base game.
However, there is a Wild Feature which is triggered when one or more reels lands with the Dragon symbol on all three rows.
When this happens, all Dragon symbols become Wild and the other reels spin until at least one winning combination lands. If another reel lands three Dragon Wilds, those will also lock in place for another 'respin until you win' round.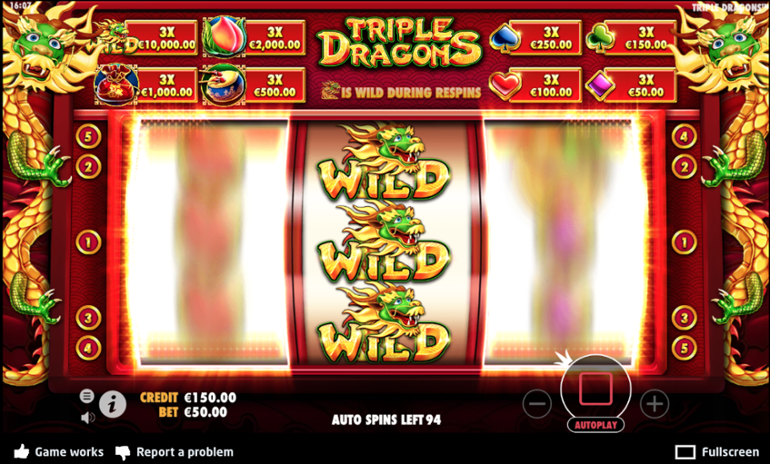 Bet Sizes, RTP and Variance
The return to player of this game is 96.51%, a little over our yardstick for the industry's average of 96%.
The range of bets on the site we tested ran from a minimum bet per spin of $/£/€0.05 up to a maximum of $/£/€50.00 per spin. This covers most bet size preferences leaving only the highest rollers out.
The volatility of this game is very high, which is a great fit with our preferred slot machine strategies which make use of highly volatility slots.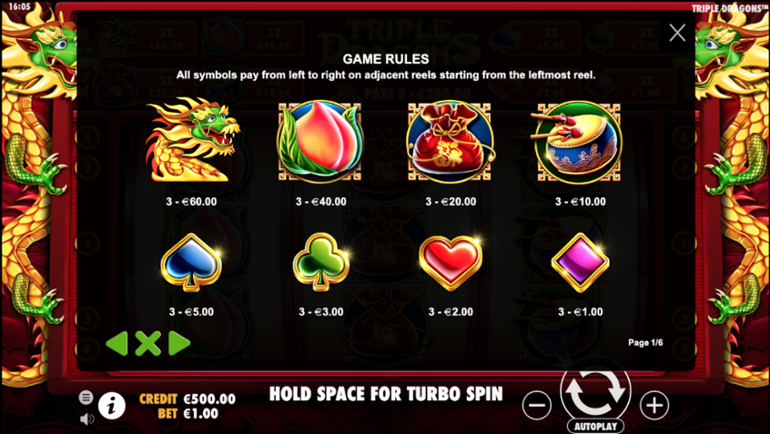 Conclusion
If you do not require all the bonus features and special symbols that most slots sport some version of, then you might well enjoy Triple Dragons. As an example of a minimalist slot, it is hard to beat.
It has an ultra stripped-down base game with a single, high paying respin feature that gives the game its huge volatility.
The return to player is not exactly exciting, but it is comfortably above average.
And above all, despite its simple gameplay, great care has been given to its design. We highly recommend this one to all our readers who are looking for a simpler sort of a slot.
Author:
Jon Pill
| This review was last updated: 16 Jul 2020