Vikings Go Berzerk review
Theme and Storyline
Vikings Go Berzerk is set in the world of woad covered warriors and longship captains roving the North Sea and occasionally being set upon by vampire fanged mermaids known as sirens. After an opening cinematic in which statues of Vikings appear to be engaged in a pitched naval battle with these sirens, you begin the main game and are launched into the search for gold.
Like pirates and the California gold rush, Vikings are a natural place to go for a historical slot. They present plenty of opportunities for fun characters (there are four cartoonish Vikings in your crew) all of whom are as set upon gaining gold as you are.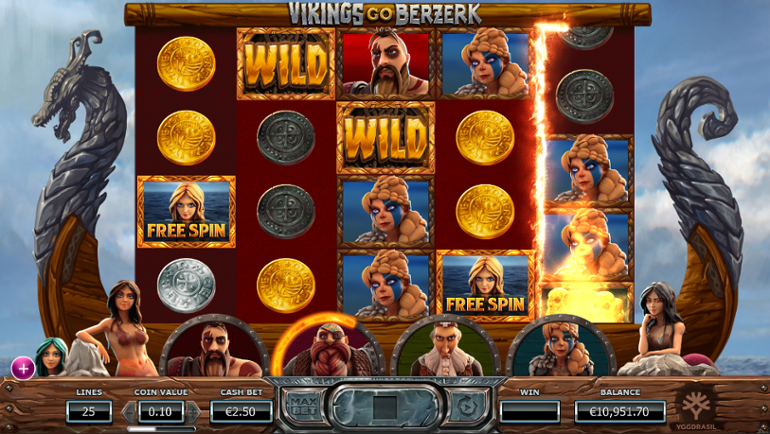 Graphics, Sounds and Animations
Yggdrasil Gaming has taken the theme pretty literally. Apart from the sirens who only appear during free spins, you have your four crew members as symbols and coins in gold, silver, iron and copper.
These are all well drawn and come with varied 3D animations for their win states and separate berzerk animations (see below for details).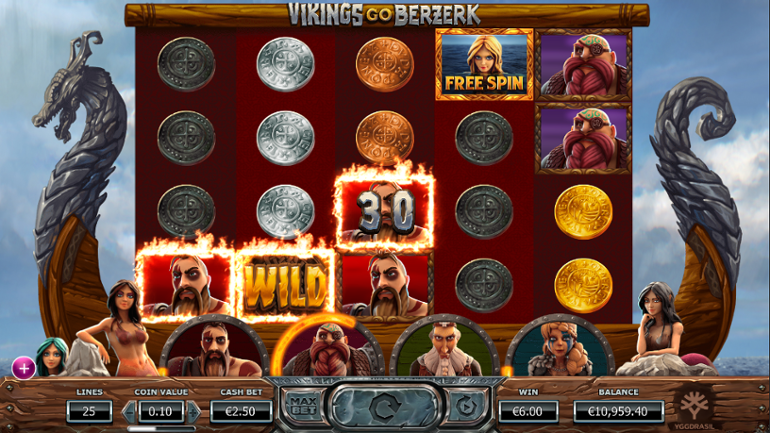 The music is a pleasant old fashioned orchestral score that does excellent justice to the setting.
Overall the design side of things is a real joy to look at, listen to and play with.
Gameplay
The main game is a fairly straightforward twenty-five win line, five reel slot.
Most of the features in the game are best reviewed in the Wilds and Bonuses section below, but it is enough to say here that the features ensure the game doesn't get dull. Unfortunately, they can be quite few and far between so the gameplay does rely heavily on the design aspects to prevent it from becoming too repetitive.
Wilds, Bonuses and Free Spins
These features though are a lot of fun.
The simplest bonus is the Treasure Chest symbols. The Treasure Chest provides five randomised gifts to the player of which the player can choose one to keep. It only appears only on reel four.
The Treasure Chest's ramped up cousin, the Golden Treasure Chest does the same but draws from a much richer pool of randomised gifts. The gifts in the Base Game are 7-21 free spins or 50-1000 coins for the Treasure Chest. On the other hand, the Golden treasure chest offers five random gifts from 250-10,000 coins, 7-21 free spins, Ragnarok free spins, and Rage Boost.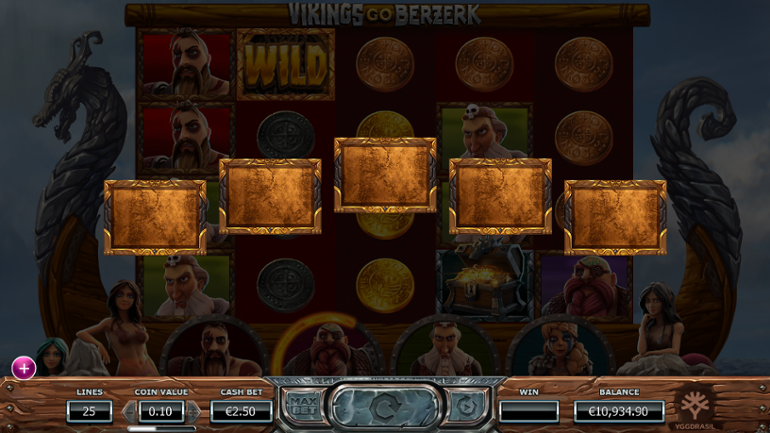 You can win seven free spins by charging up the rage metre for a given Viking. There are four Vikings, each of which will gain rage when you win with them.
During the free spins, the winning Viking is in Berzerk mode which allows them to always defeat the Siren. Defeating the siren makes every Viking in Berzerk mode become a fixed Wild for the rest of the free spins.
If you manage to gain full rage meter with more than one Viking at the same time you will receive 7 free spins for each Viking Berzerk mode, but they won't play out at the same time. The only exception to this rule is in case of the Ragnarok free spins. That's when all 4 Vikings turn into the Berzerk mode at the same time and you have the best chance for a spectacular win.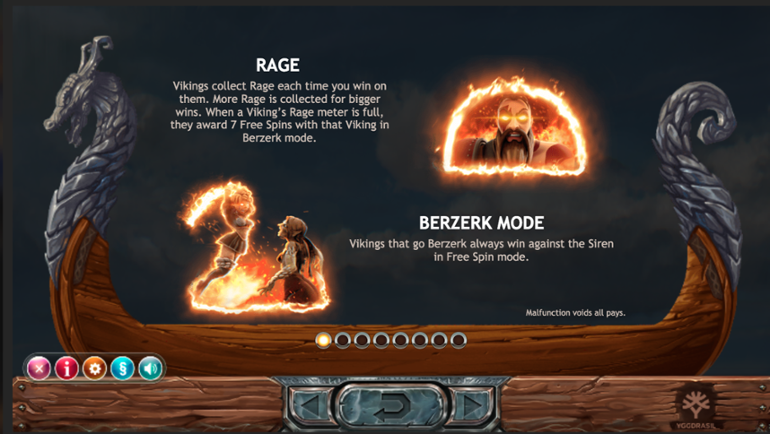 Alternatively, free spins can be won with the Free Spin symbol. Seven free spins for three symbols, fourteen for four symbols and twenty-one for five Free Spin symbols.
During free spins which are won with symbols rather than rage mode, you also win a randomly assigned "Bonus". There are five possible Bonuses: all the Vikings can be in berzerk mode, you can win one randomly placed stick wild, an entire reel of sticky wilds, 1 to 3 extra free spins or else you can win a mix of 5 Treasure Chests and Gold Treasure Chests.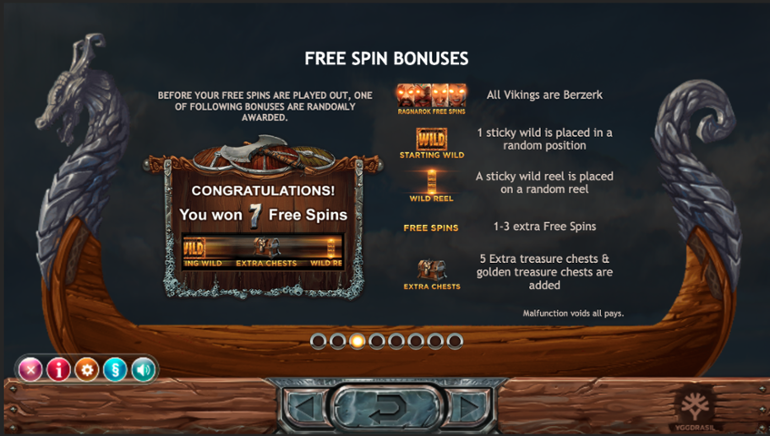 There is also a Wild symbol that subs in for all symbols except the Free Spin or Treasure Chest symbols.
Bet Sizes, RTP and Variance
Vikings Go Berserk is a very high volatility game in which the main game pays out small amounts and rarely. You really need to hit one of the bonuses (ideally Free Spins with all the Vikings Berzerk) to turn a profit.
The return to player is 96.10% which is very middle of the pack.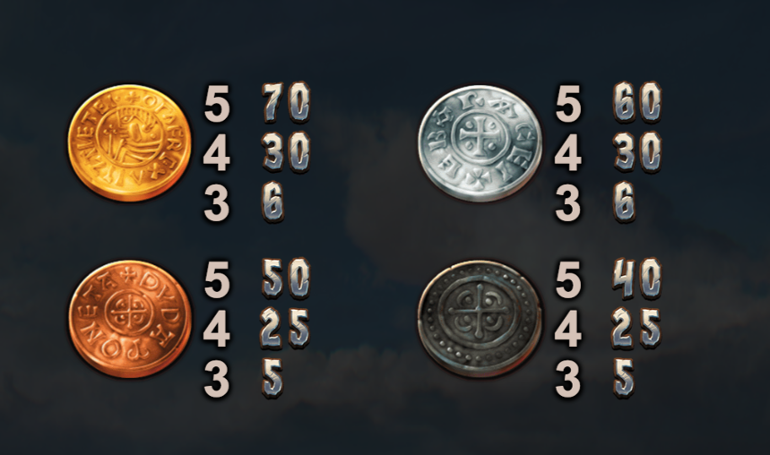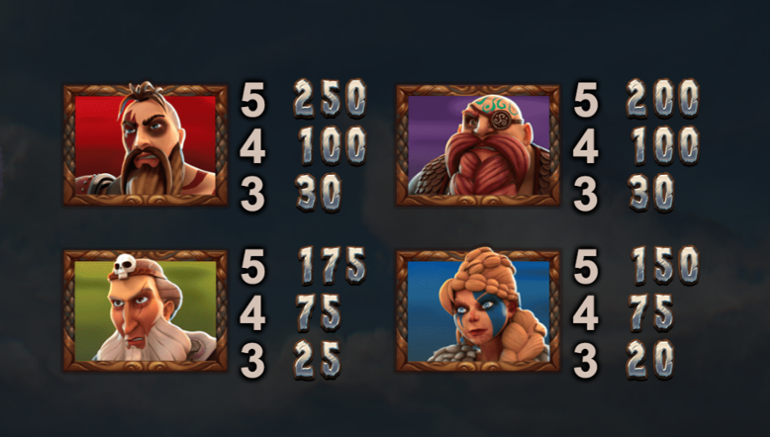 Conclusion
Vikings Go Berzerk is a really great slot at the design level. It is great to look at, fun to play and has some imaginative and varied bonus features.
Its high volatility plays well with some of our preferred strategies. Only the mid-range return to player is less than truly stellar.
We can strongly recommend this slot.
Author:
Jon Pill
| This review was last updated: 17 Dec 2019