Gold Rush review
Theme and Storyline
The California Gold Rush ran from the late 1840s to about 1855, a period of time in which thousands made their way into the wildernesses of California in search of gold in "them there hills". Naturally, that prospective hunt for gold in the cruel and luck driven world of the Wild West makes an excellent setting for a slot machine.
The iconography of the old West is a nice and easy one for any designer looking for an easily recognised theme. And the California gold rush, in particular, is a perfect fit for a slot machine where players speculate in their own hunt for riches.
Habanero's Gold Rush slot game plays on this theme to full effect with plenty of old timers, pack mules, dynamite and gold nuggets sprinkling the screen.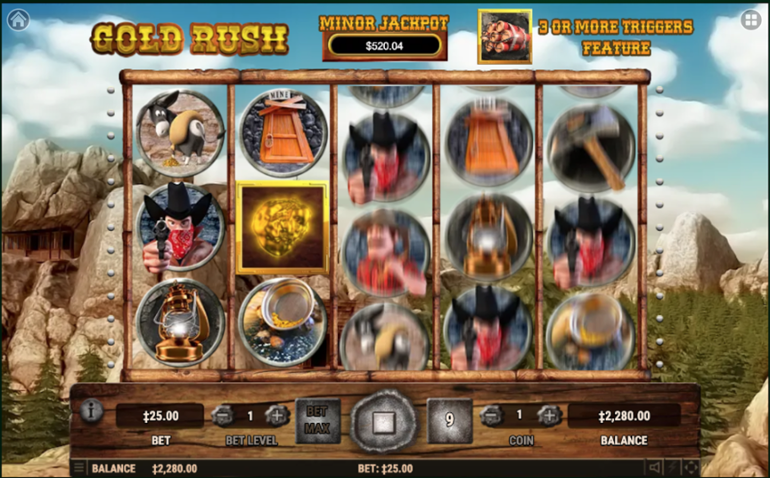 Graphics, Sounds and Animations
Gold Rush really excels in this area. The reels are beautifully designed with easy to recognise graphics and plenty of character.
These are all animated smoothly and with great flashiness when the reel spins and when a symbol is part of a winning combination in particular. Even the background is perfectly suited to the atmosphere of the game.
All of this is set to a quality low-key sound design which couples both music and ambient sound to make for an immersive playing atmosphere.
Gameplay
The game works on a standard five-reel system with three symbols per reel and 25 win lines, of which you must play all 25.
There is also a randomised progressive jackpot which can be won on any spin.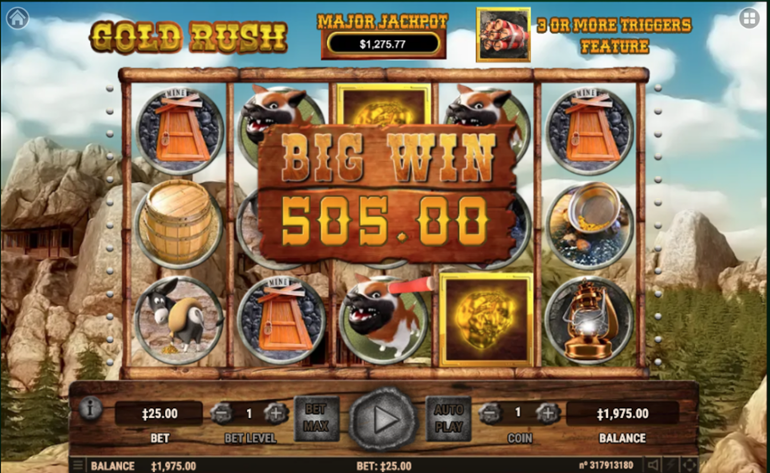 The game has a nice selection of fun bonus features (see below for details) and although the gameplay isn't anything special, it does well what it sets out to do.
Wilds, Bonuses and Free Spins
There are the usual special symbols on Gold Rush: Wilds and Bonuses.
A golden nugget signified the Wild (aka "Substitute") symbol which plays as any symbol except a bonus and if you get three or more on a win line is also the most valuable regular symbol.
The dynamite symbol serves as both a Scatter and Bonus symbol. Hit three or more and you win a multiple of your bet per spin and trigger 10, 12 or 15 free spins depending on whether you hit three, four or five symbols respectively.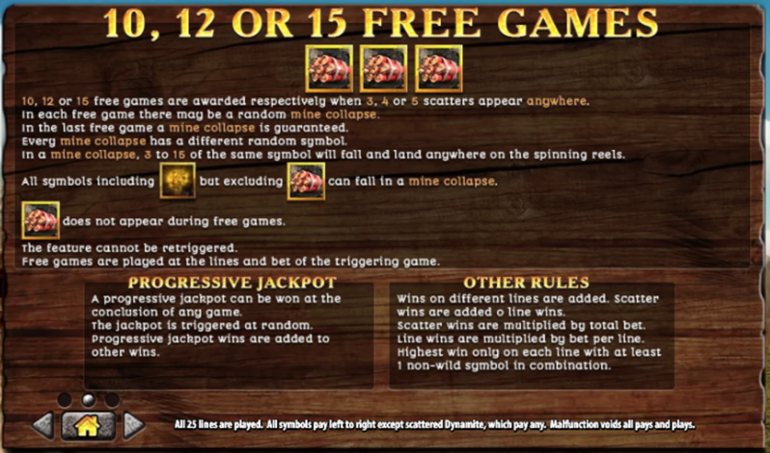 During the free spins, there is a Mine Collapse feature which can happen at random. When it does 3-15 of the same symbol will fall at random into the slots on your reels.
These bonus games are, as with most games, the big winners.
Bet Sizes, RTP and Variance
The game has low-volatility that may deter the more gamble happy of players, but with a return to player of 98.1% this slot machine is extremely tempting.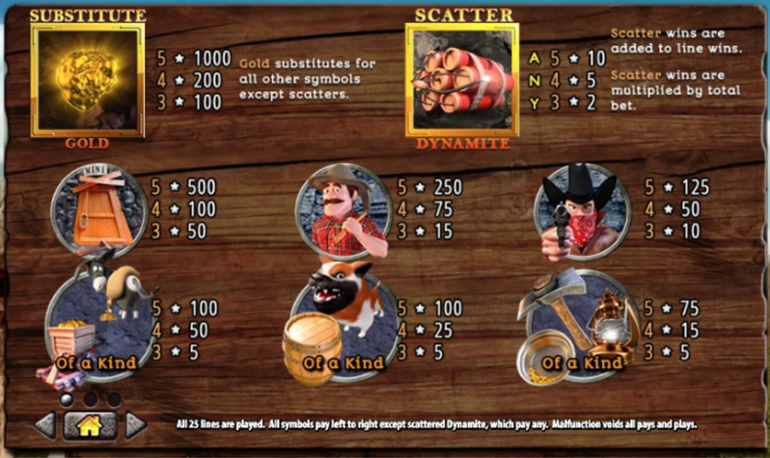 How much this appeals to you will depend on your bankroll and the reasons for playing. Bankroll in particular is important for this slot as with no ability to change the number of lines you play your only control over your bet per spin is coin size and number of coins per spin.
Conclusion
Gold Rush is a fun, well-designed game with great graphics and a high RTP.
Its main downside is the simple bonus games and – for those who play our strategies – the low-volatility.
On the whole, it is easy to recommend as a gambling experience.
Author:
Jon Pill
| This review was last updated: 10 Nov 2019