Viking Runecraft review
Theme and Storyline
Viking Runecraft draws on the mythology of the Old Norse tribes of Scandinavia and Iceland. With your play watched over by Thor, God of Thunder to begin with.
As the game progresses you will encounter not only his fellow gods, but many of the other mythical events (Ragnarok) and beasts (Fenrir the Wolf) from this body of myths.
Many of the figures from the game will be familiar in their Marvel universe forms, but some – like Jormungandr – might be new to most.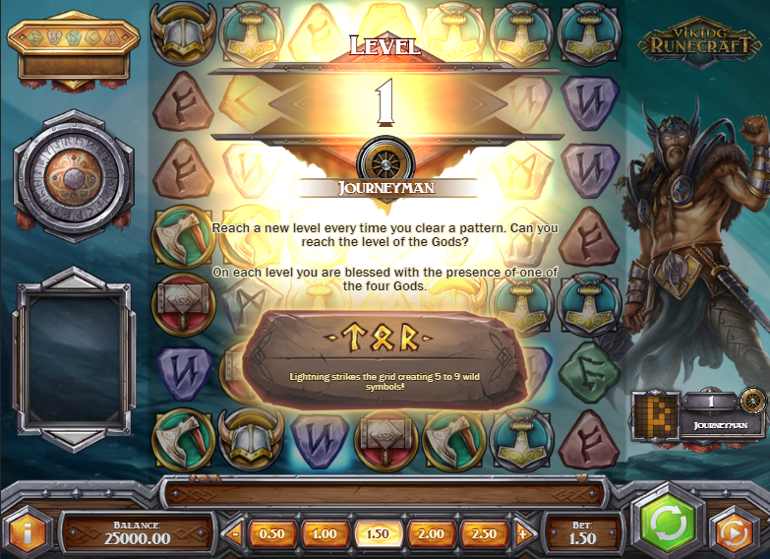 Graphics, Sounds and Animations
Viking Runecraft really stands out in its design features, not only are there numerous carefully designed backgrounds, all of which borrow their style from Blizzard's hugely successful Warcraft series of games, but beautiful and varied animations.
The various features (on which you can read more below) are all given beautifully designed dials and readouts on the game's heads up display.
The animations are smooth and varied, with intuitively structured readouts that are easy to get to grips with.
All in all it is one of the best looking and intelligently designed slots out there.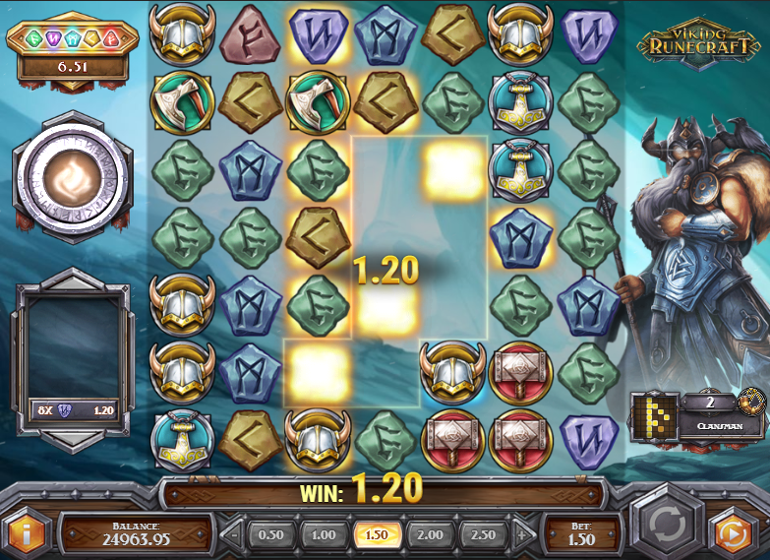 Gameplay
The gameplay of Viking Runecraft is a decided departure from the usual press button, spin reel, style play of your average slot.
Instead of reels it has a 7x7 grid of runestones and symbols which fall into place. You win when the symbols fall in groups of five or more. Symbols that are part of a winning combo are then removed and a cascade mechanic kicks in dropping new symbols into the newly empty spaces.
There is a level up system to entice you into playing a longer session, and as you move up through the levels the bonuses and randomised events (known as Gifts of the Gods) get better.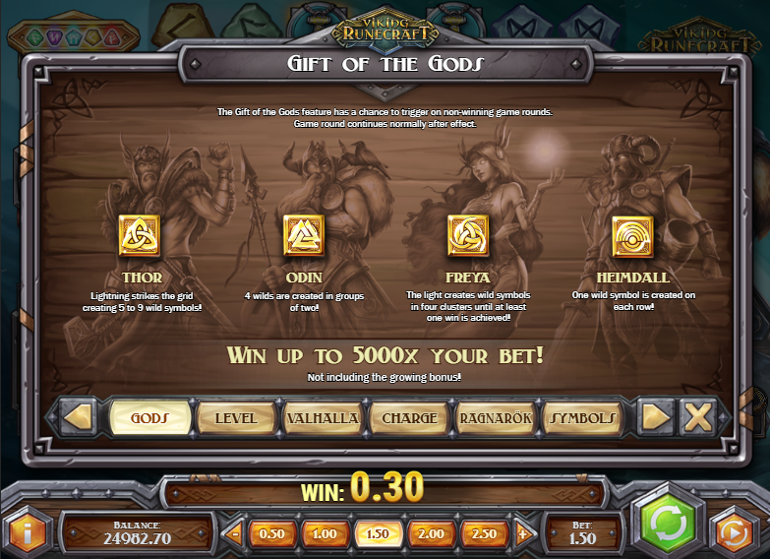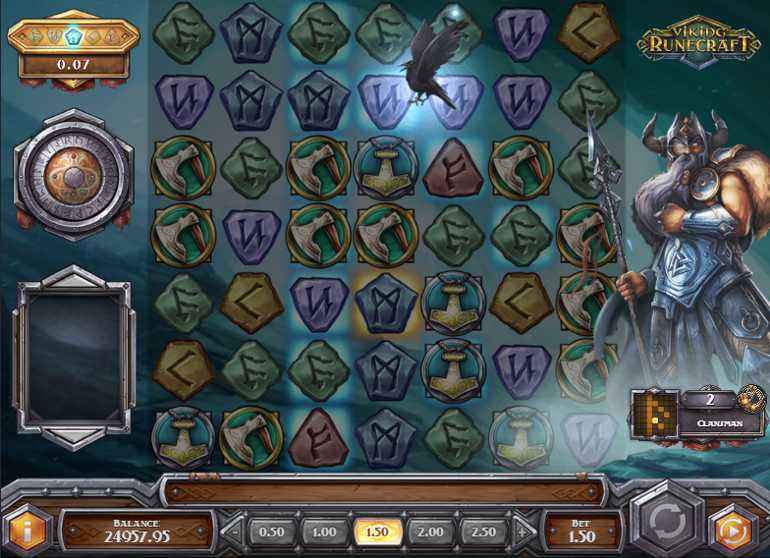 Wilds, Bonuses and Free Spins
The bonus system is almost wholly unique to Viking Runecraft. To encourage you to stick around this Play'n GO slot and play the various bonuses build over time.
For each level a pattern appears in the 7x7 grid. When your wins make use of one of the squares in the pattern it lights up. Light up the whole pattern over the course of your game and your level increases giving you a new god and new randomised events like additional wild symbols.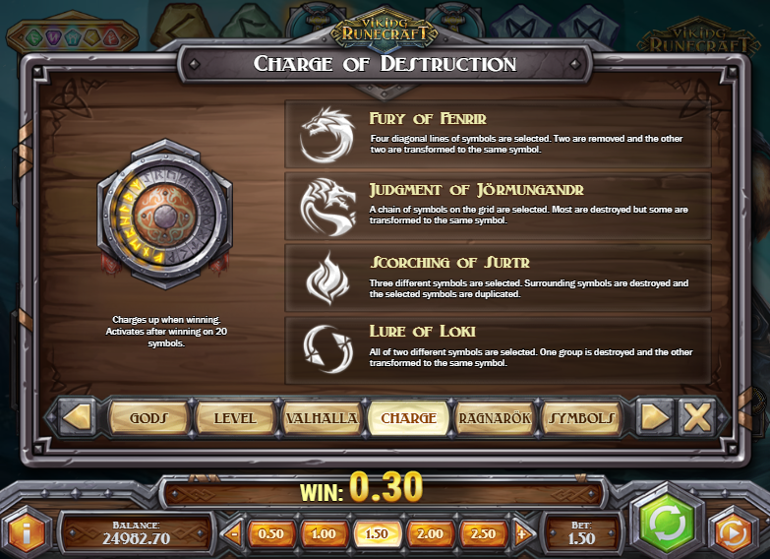 If you destroy more than 20 symbols on a spin, you trigger an event called Charge of Destruction. There are four Charges, each of which does something different:
Fury of Fenrir destroys two diagonal lines and turns two others into all the same symbols as those that triggered the event.
Judgement of Jormungander destroys a chain of symbols, apart from a few which are transformed into the same symbol.
Scorching of Surtr three random symbols are selected and the symbols around them destroyed. The selected symbols are then duplicated.
Lure of Loki destroys all of one symbol on the grid and transforms another into the trigger symbol.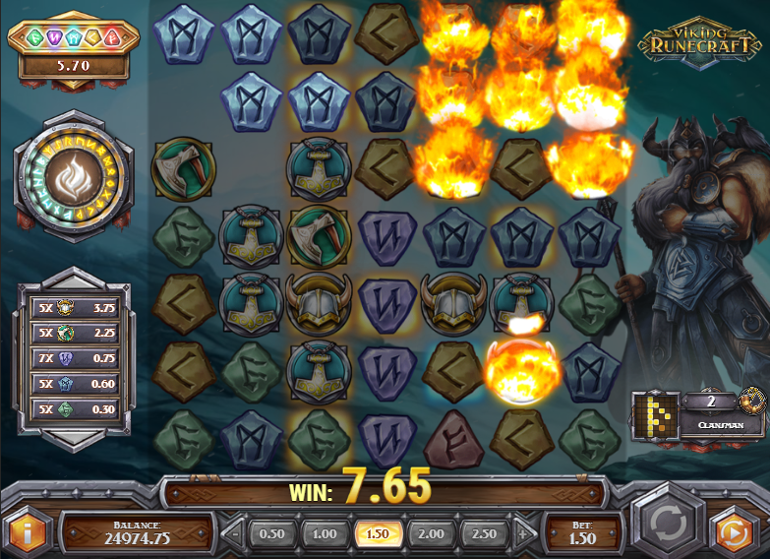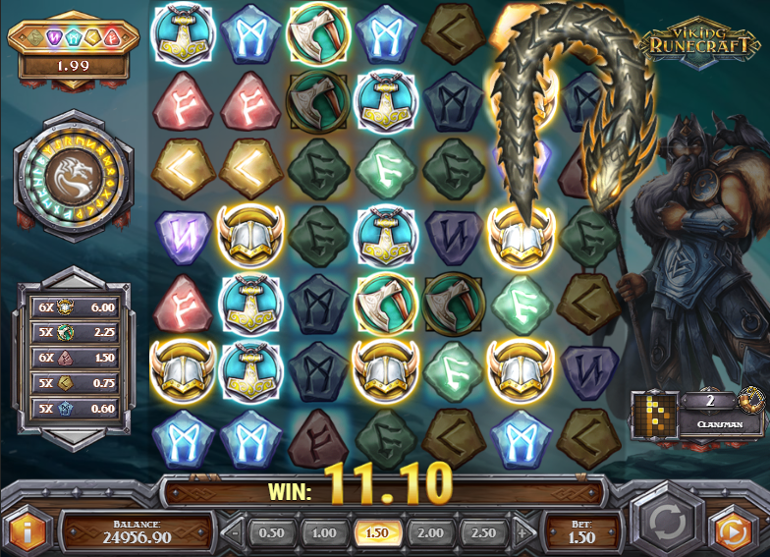 If you destroy 40 symbols in a round, including those during the triggered event, then the Ragnarok bonus triggers in which all four events trigger one after another. Each one is triggered when no further wins are made with the previous one.
Multipliers are added to certain symbols during Ragnarok.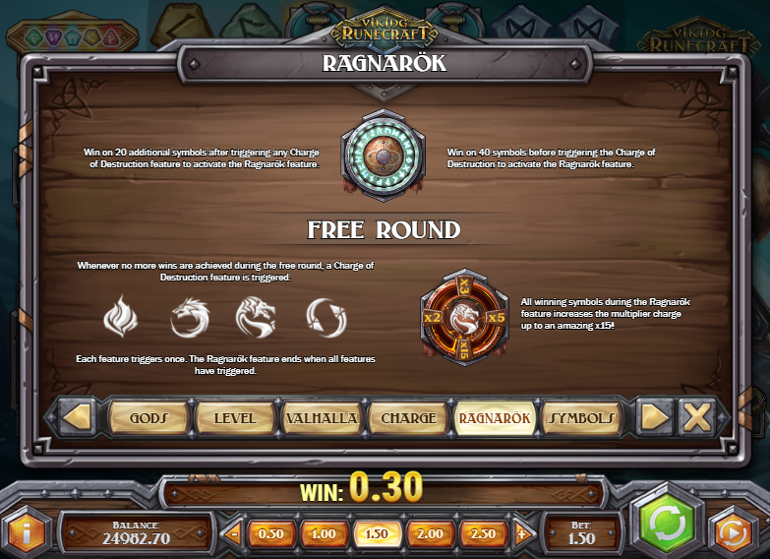 The third bonus after Charge of Destruction and Ragnarok are the Runes of Valhalla. The Rune Stone symbols trigger a counter when you with with five or more of them. If you have at least one rune when you level up you trigger the Runes of Valhalla. This is a wheel with the five rune stone symbols on it. Hit an activated stone to win.
The more symbols you go in with the better your odds.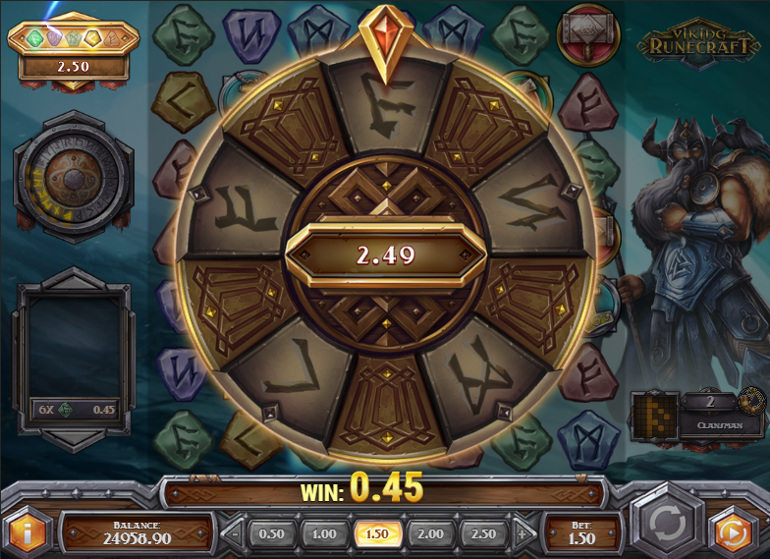 Bet Sizes, RTP and Variance
The RTP of 96.70% is not bad, falling around the rough industry average for online slots.
Much more attractive than this is the high variance of the game, which allows for rare huge wins, rather than frequent small ones. We prefer high-variance games like this for our recommended slot strategies.
The bet sizes are rather limited though, you can bet 0.5 coins up to 2.50 coins so if your chosen site doesn't provide a wide range of coin sizes you'll find yourself very limited.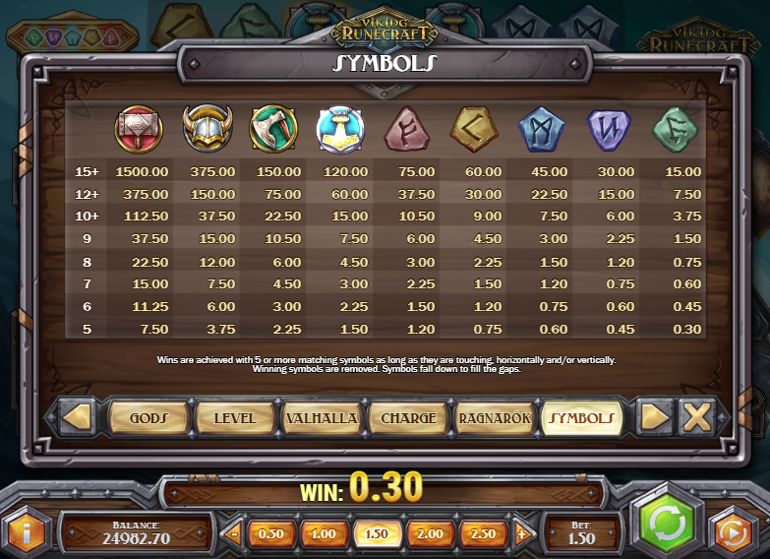 Conclusion
Viking Runecraft is a really excellent slot.
Decent RTP and high-variance make it mathematically attractive but the real draw is the excellent game design, fast and varied gameplay, and visually stunning backdrops and animations.
We can recommend this slot wholeheartedly.