Highway Kings review
Theme and Storyline
Highway Kings is set among the world of long distance truckers. At the top of the screen are a pair of the enormous Peterbilts that haul eighteen-wheelers along Route 66 in an endless cycle of mobile, high-speed capitalism. That can be a perfect metaphor for the American dream, and in some ways for the slot industry.
There's not much in the way of story to accompany the range of piston heads, tyres, fluffy dice, and spark plugs. But the theme is solidly presented and the iconic lorries make for striking visuals.
Graphics, Sounds and Animations
Those visuals could be executed better. With the exception of the trucks themselves, the symbols feel a little under designed. The artwork is clear enough, but has a slightly cheap and cheerful look to it.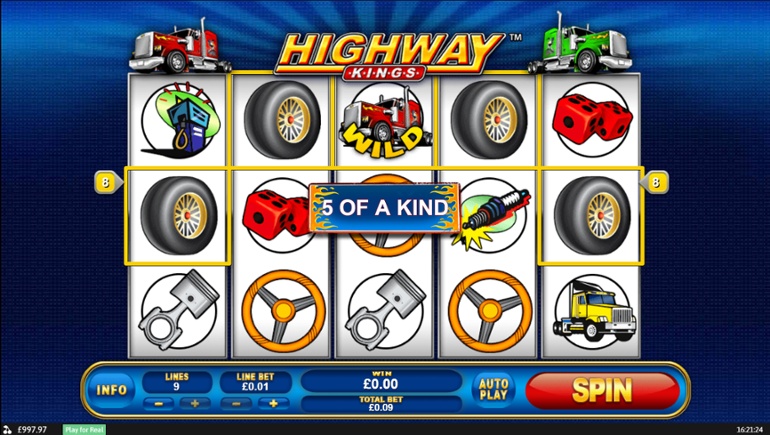 The background is a simple blue gradient, and doesn't add very much. The animations are as basic as they come. One for the reel, and blinking lines to indicate wins.
Sound gets a little more effort. There are metallic spin sounds and a horn which honks when a winning combination lands. These sound effects generate some atmosphere, but without music or ambient sound to back them up, they feel tinny and isolated.
Gameplay
To go with its simple visuals, Highway Kings offers similarly stripped down gameplay. A basic five reel slot, with three rows and one to nine win lines that pay both from left and right.
It comes without a gamble feature or bonuses.
This is truly the minimalist experience.
Wilds, Bonuses and Free Spins
The Wild symbol substitutes for all symbols except the Scatter symbol. Any win containing a Wild has a multiplier of x2 applied to it.
There are no Free Spins or Bonuses in this game.
Bet Sizes, RTP and Variance
The return to player of this game is 97.06%, one full percentage point above our yardstick for average of roughly 96%.
The range of bets on the site we tested ran from a minimum bet per spin of $/£/€0.01 up to a maximum of $/£/€9.00 per spin. This favours lower stakes players. Anyone looking for higher limits might have to shop around to find a casino that offers them.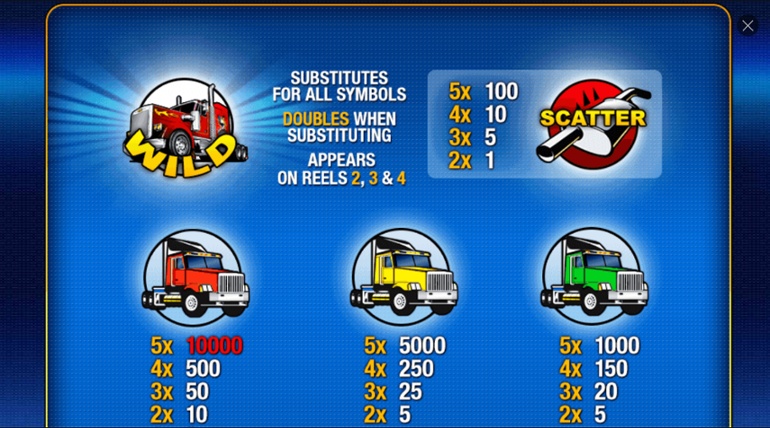 The volatility of this game is high. Combining this with the high RTP, this slot is a brilliant match for our preferred slot strategies. Our slot machine strategies tend to target the highest possible volatility.
Conclusion
A solid, simple slot with enough atmospheric details to get away with so simple a design.
Both visuals and gameplay are simple. There are no bonuses or other extras in play. Instead the player just spins and either wins or loses. This kind of pure experience will only appeal to certain kinds of players.
If it does appeal to you, we have additional good news. The RTP is nice and high (97.09%) and the volatility is through the roof. Put together that makes this slot a lovely match for our preferred strategies.
We highly recommend this slot.
Author:
Jon Pill
| This review was last updated: 07 May 2021