Spin Town review
Theme and Storyline
Spin Town takes you to London, possibly Abbey Road itself, given some of the crazy Wild options this slot throws at the players. The reels are laid out as the stripes on a zebra crossing and the gameplay focuses around the various kinds of Wild symbol that go crossing it.
It's a cute setup and the gangs of hooligans, Beefeaters, and 60s rock icons that live here make the theme one that is endlessly entertaining.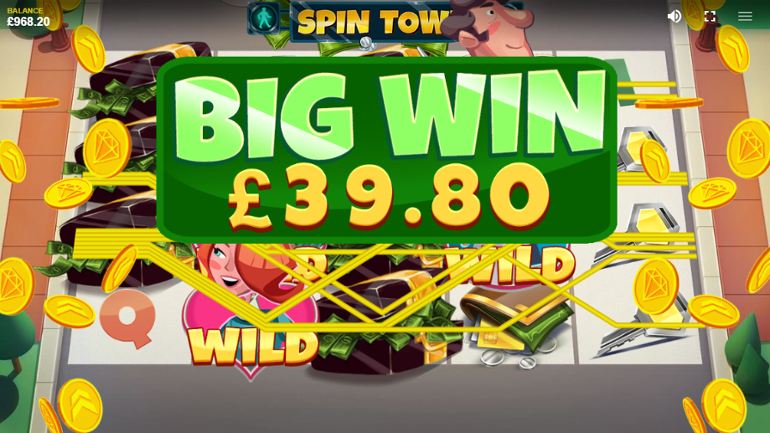 Graphics, Sounds and Animations
The graphics are nice, a kind of gentrified cartoon version of central London (though sporting American fire hydrants) and each of the images and characters on the symbols are realised as fun and funny cartoon characters.
The music is low key and mostly tied to the spin and win sounds, which also come with excellent animations in a similarly charming style.
Gameplay
Spin Town is played on five reels with four rows and forty winlines.
There are no bonus rounds per se. Instead, Spin Town's gameplay is based around a complex system of moving Wilds that should keep most players on their toes (see below for full details).
This twist on typical gameplay helps Spin Town to stand out in the crowd of similar slots.
Wilds, Bonuses and Free Spins
The Wild symbols come in a wide variety of types, each one substituting for all paying symbols.
The basic idea of each Wild is that they gather at the sides of the reels at random and cross by one space each spin once the red light turns green. The changing of the light also occurs at random.
The Wilds that can gather like this are:
Sleepy Wilds, which may pause for multiple spins on one place;
Speedy Wilds, which may skip a reel between spins; and
Couple Wilds, which can bump into each other moving in opposite directions and become on Wild with a x2 multiplier.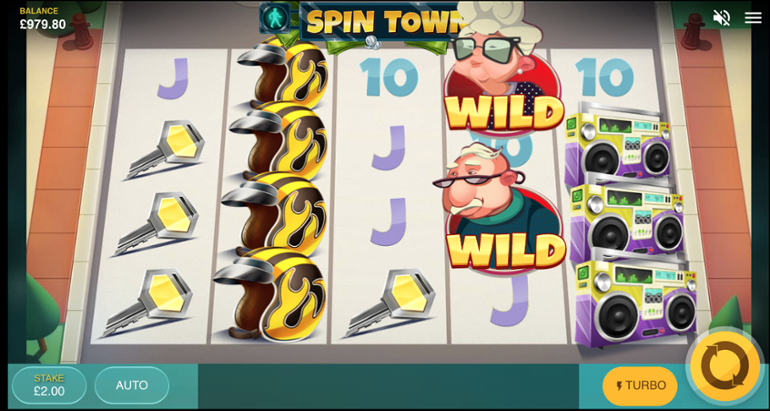 The exceptions to the crossing rule are the Hooligan, Rock and Roll and Guardsmen symbols which are triggered by hitting three of that symbol on the reels in one spin. These behave in the following manner when triggered:
Hooligans will be triggered in small groups of Wilds all next to each other;
the Rock and Roll Wilds are four Wild symbols which will cross the roads back and forth up to ten times each; and
Beefeaters who when triggered walk in pairs across the reels.
All these Wilds take the place of Bonus games in Spin Town and are the moments when the biggest wins are available.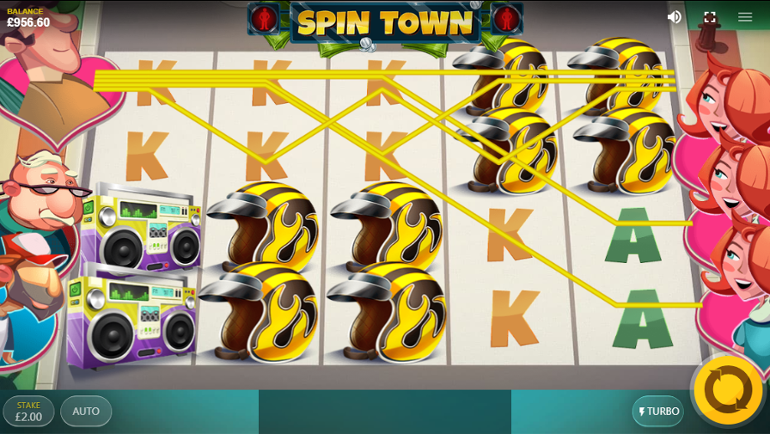 Bet Sizes, RTP and Variance
The return to player of this game is 96.23%, a little over our yardstick for average of roughly 96%.
The range of bets on the site we tested ran from a minimum bet per spin of $/£/€0.20 up to a maximum of $/£/€200.00 per spin. This wide spread should make most players happy.
We prefer higher variance slots as they work with our slot machine strategies. However, Spin Town is a deliberately low volatility slot and so is a poor fit for our slot strategies. For players who are unfussed by the volatility statistics – or who prefer low variance gambling – this might work for you.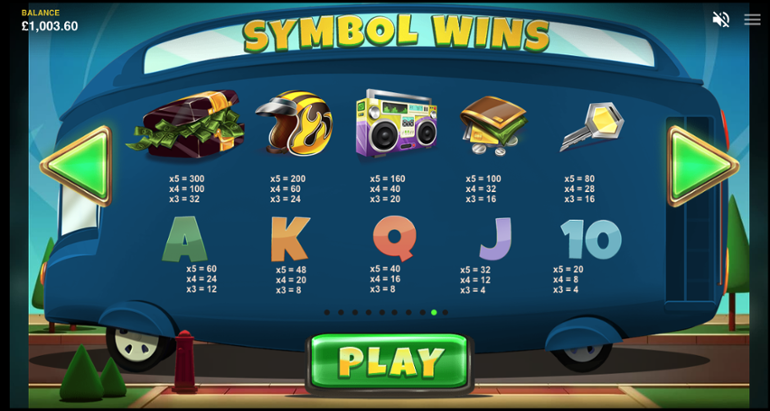 Conclusion
Spin Town is a fun, pretty slot with a lot of style and individuality. This individuality comes through both in the visuals and in the gameplay which focuses around special "Wild Crossings".
Unfortunately, with a low volatility, the slot is of little use to players following our slot strategies, in spite of its reasonable return to player.
Author:
Jon Pill
| This review was last updated: 09 Nov 2020