Midas Golden Touch review
Theme and Storyline
Midas' may have had a golden touch, but his story is easily the best known of the "be careful what you wish for" fables out there. Which perhaps makes him more of a warning against, rather than an advertisement for, the slot machine. That has not stopped Thunderkick.
In the original myth, Midas is awarded a wish that everything he touches turns to gold, which is all well and good until he tries to eat, drink and give his daughter a cuddle. In the game, however, the tragic aspects are glossed over and the treasure more leaned upon.
The background is an ancient Greek palace, while the reels show endless golden delights along with the ubiquitous ace to ten symbols.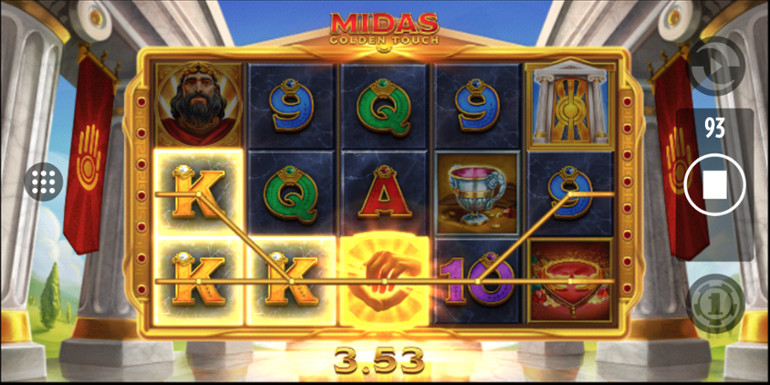 Graphics, Sounds and Animations
These are rendered in a cheerfully cartoonish style, though at an unusually low resolution that does not fare well on bigger screens but is not too hard on the eyes and will look excellent on smaller devices.
The animations are a little lacklustre, and undermine the attempt to spin tragedy into hope by leaving the game feeling a little lifeless and without much atmosphere.
Similarly, the music fails to excite the player or to keep them engaged in the little world the slot is trying to create. And the sound effects could have been used on any slot.
Gameplay
Played on a five reel, three row slot, there is very little about Midas Golden Touch's gameplay that stands out from the wider crowd of slot machines. The fifteen win lines are non-negotiable and the single bonus game is an offering of free spins.
All in all, there is little to surprise the more experienced player of slots, but Midas Golden Touch does offer all the basics, all of which are solid if uninspiring.
Wilds, Bonuses and Free Spins
The Wild symbol substitutes for all symbols except the Scatter symbol.
Any winning line with one Wild in it will pay out double. For two Wilds the line will pay out quadruple, for three a times eight multiplier is added and so on up to x32 for five Wilds in a row.
The Scatter symbol does not pay out, but hitting three of them on one spin does result in ten Free Spins for three symbols then five more for each additional symbol.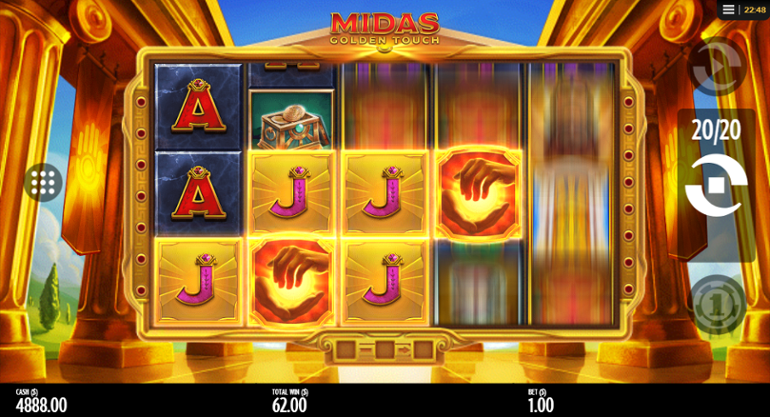 During Free Spins, hitting a winning combination will trigger a respin for the player. Winning symbols are locked in place and the rest of the reels are respun until no new winning combinations appear.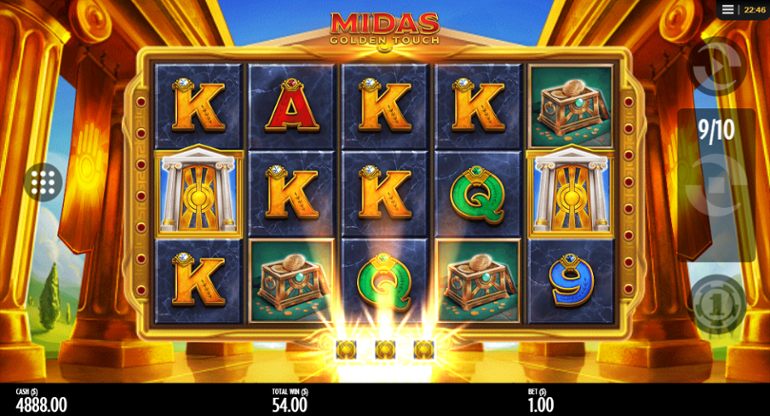 Bet Sizes, RTP and Variance
The return to player for Midas Golden Touch is 96.10%, more or less spot on our yardstick for average of roughly 96%.
The volatility of this game is also at the high end of medium, which makes it a pretty decent match for our preferred slot machine strategies.
The range of bets on the site we tested ran from a minimum bet per spin of $/£/€0.10 up to a maximum of $/£/€100.00 per spin.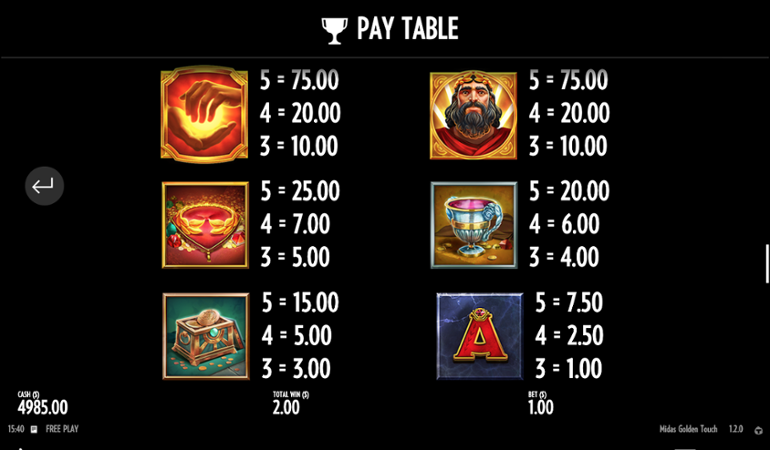 Conclusion
Midas Golden Touch feels oddly out of touch with its own source material, although no one is coming to their favourite slot machine in order to have an ancient mythology seminar. Instead, Midas Golden touch uses the Greek myth as a basis for a slot with very solid fundamentals.
The return to player and volatility don't exclude this slot from being in the running for a recommendation, but nor do they bump it up.
Players will have to decide for themselves if this middle of the road slot meets their particular tastes or needs. Though we suspect there will be a better fit out there for most.
Author:
Jon Pill
| This review was last updated: 12 Jul 2021