Extra Juicy review
Theme and Storyline
Extra Juicy is another in a long line of fruit-based slots that rely too heavily on the familiar iconography of the genre and not enough on making the game interesting or fun.
Extra Juicy oozes laziness in its choice of theme and in how it expresses that theme.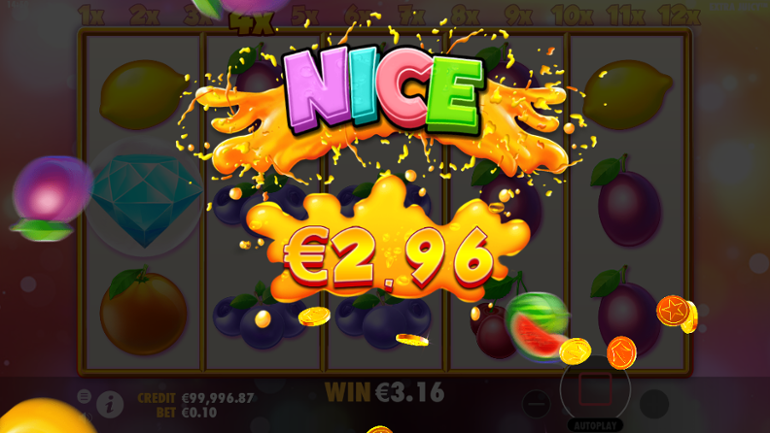 Graphics, Sounds and Animations
The visuals are well designed but suffer from a lack of basic inspiration. Fruit and bells adorn the wheels and the background is a moving cloud of pastel lights.
The music is an intensely annoying 70's disco track which is best muted as fast as possible and appears completely separate to the sound design that accompanies the animations for spins and wins.
Gameplay
The gameplay is deliberately simple. A basic free spins bonus augments a simple five by three slot with ten win lines.
There are no additional features per se. This level of simplicity may appeal to some, but has been paired in other games with far more enjoyable visuals.
That said, this game has a trick up its sleeve. Winning combinations don't have to be formed from the leftmost reel at all. Hitting the same symbol on a winline on 3 (or more) consecutive reels forms a winning combination, regardless of which 3 reels it is.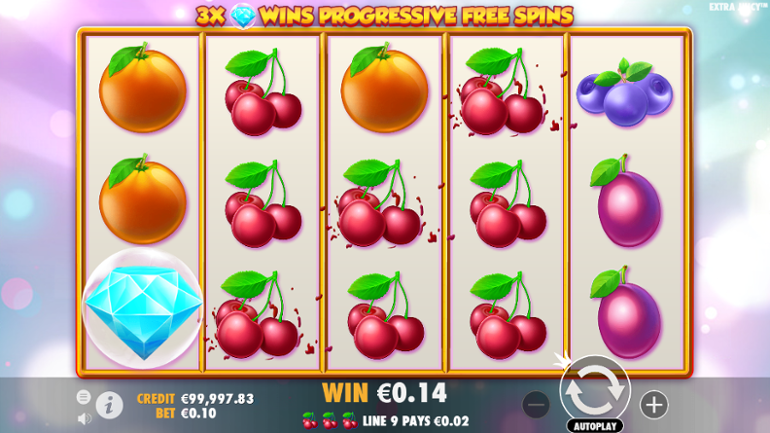 Wilds, Bonuses and Free Spins
There is no Wild symbol in Extra Juicy. Instead, there is a Scatter which pays out twice your bet per spin for three symbols. Three Scatters will also trigger the Free Spin bonus.
During the Free Spin bonus the player is awarded twelve free spins. The free spins start with a multiplier of x1 which is increased by one every spin. All winnings are multiplied by the current multiplier in each spin.
Scatters do not pay out during Free Spins, but they do add twelve more free spins to your total up to a maximum of four times (i.e. sixty free spins total).
Bet Sizes, RTP and Variance
The return to player of this game is 96.52%, putting it a little over our yardstick of roughly 96% for average.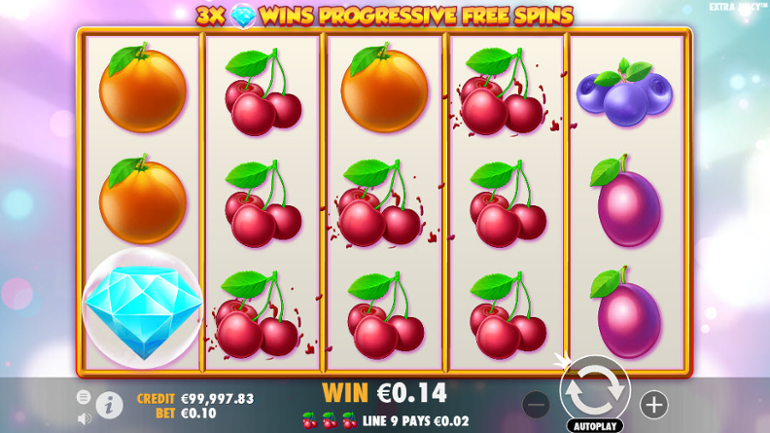 The range of bets on the site we tested ran from a minimum bet per spin of $/£/€0.10 up to a maximum of $/£/€50.00 per spin.
Extra Juicy is also very volatile which makes it a perfect match for our preferred slot machine strategies which mesh best with high volatility slots.
Conclusion
While the gameplay and design of Extra Juicy do little to sell the player on sticking around, it is quite appealing from mathematical point of view. It goes well with our slot strategies thanks to its high volatility and enjoys a decent return to player which is a little above the average.
Overall, we might not recommend it, but we won't steer you away if it somehow manages to catch your fancy.
Author:
Jon Pill
| This review was last updated: 06 Jul 2021