Super Jackpot Party review
Theme and Storyline
WMS Gaming's Super Jackpot Party should be a joy to play. After all, who doesn't enjoy a good booze up, especially one that oozes with disco-era chic and that slightly seedy feeling that someone is about to get a bowl of keys out and get the party really swinging.
Super Jackpot Party manages some of that atmosphere with the plastic party cups, punch bowls and birthday gifts that make up the reels on the symbols and the polka dotted background in groovy purples.
Unfortunately, though the theme is fun, it is let down by its entire visuals.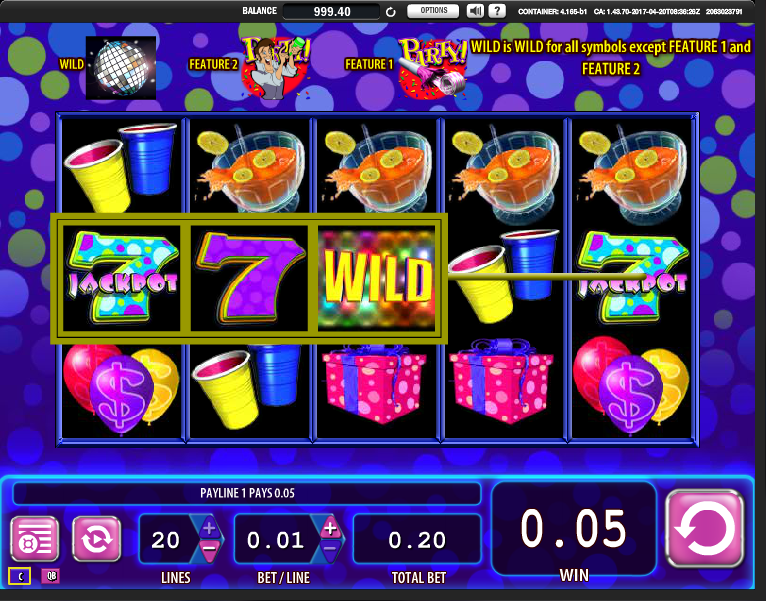 Graphics, Sounds and Animations
The artwork with which this party is illustrated appears pixellated on even the smallest of screens. The animation is alright but the sound is dreadful.
They do credit the rights to a couple of legitimate pop songs so it's odd that the main music is a faintly irritating bass riff that loops and loops until you go insane. The sound design also seems to be actively trying to drive people away with the off-key trumpet noise that signals the hit of a bonus symbol.
It is, overall, a horrible mess to look at and play. Which is a shame because it has a number of gameplay features that those with tough enough eyes and strong enough stomach might be able to enjoy.
Gameplay
On the surface, Super Jackpot Party plays like a pretty standard 5 reels slot. It has 20 pay lines and a decent selection of bonuses which centre around one main game mechanic (see below for details).
The rest of the gameplay is solid and largely standard, apart from the mixed sevens feature, which is borrowed from the more old-school one armed-bandits from days of yore.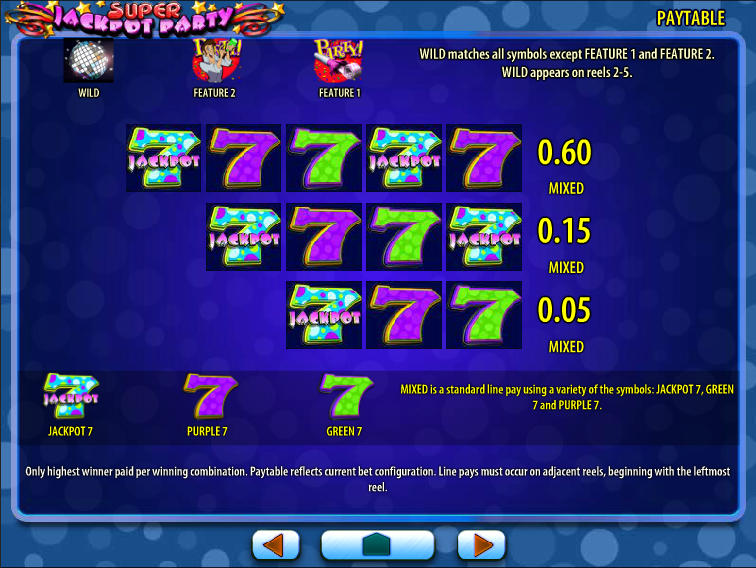 Wilds, Bonuses and Free Spins
The bonus feature is, appropriately, a party. It can be triggered one of two ways.
Either one can trigger the bonus by hitting three or more Bonus symbols or by lucking out and triggering a feature known as a "Surprise Party" – this is a totally randomised feature which the game will reward players with from time to time.
The Bonus symbols only appear on reels 1, 3 and 5.
Once triggered the player is confronted with a screen full of wrapped gifts. By clicking on the gifts they reveal further bonuses: Multipliers, Dance, and Whack-a-Pooper features. Multipliers are what you'd expect. The Dance feature pays out a random amount based on how long the dancer keeps dancing and the Whack-a-Popper feature is an arcade game where you click on party poopers to win extra money.
Once you hit the Party Pooper you have a chance to continue your bonus round if you hit the Party Saver, otherwise the round stops and the total bonus win is tallied.
All in all bonuses like these add variety, but you have to hit them first which is easier said than done.
Bet Sizes, RTP and Variance
Thanks to its granular choice of bet sizes and the number of pay lines, the game offers a good spread of bets, from $/£/€0.01 per spin right up to $/£/€100.00 – almost cent-by-cent – on the site we tested where coin sizes ranged from $/£/€0.01 to $/£/€5.00.
The 96.01% return to player is a pretty standard vig for this sort of slot, but not nearly high enough to tempt us over the numerous downsides.
The volatility on Super Jackpot Party is very low and so is not suitable for the strategies we discuss elsewhere on this site.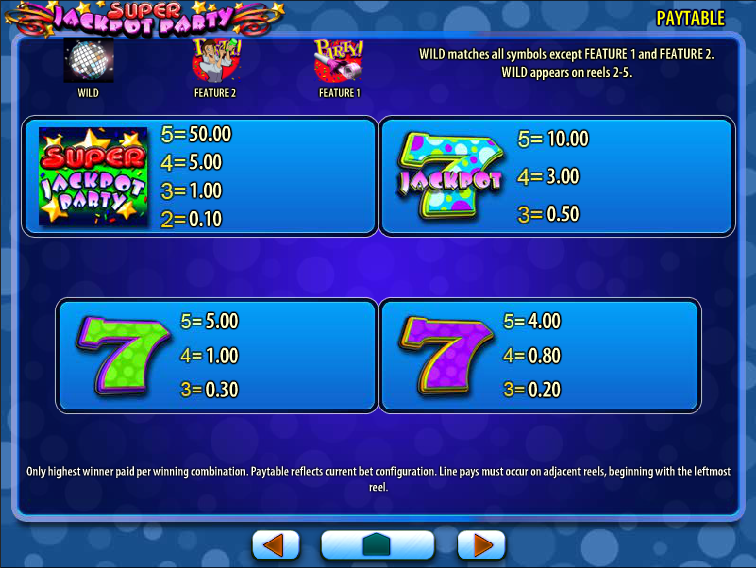 Conclusion
While gameplay and RTP are solid and the bonus game is quite fun. It is hard to get past how poor the presentation of this slot is.
The low-volatility doesn't enamour us of it much either.
Overall, it is a hard game to recommend to anyone but the eyesight-impaired.
Author:
Jon Pill
| This review was last updated: 18 Dec 2019