Desert Cats review
Theme and Storyline
To the ancient Egyptians, the cat was a sacred animal which they depicted in art, put the head of one on Bastet a goddess of the sun, and even mummified their pet cats when they died.
Desert Cats plays on this ancient obsession with its Egyptian style artwork and mystical background imagery.
The theme is a cool variant on the very common ancient Egyptian thread in slot history, and is coupled with a very new age vibe of purple backgrounds and scantily clad priestesses.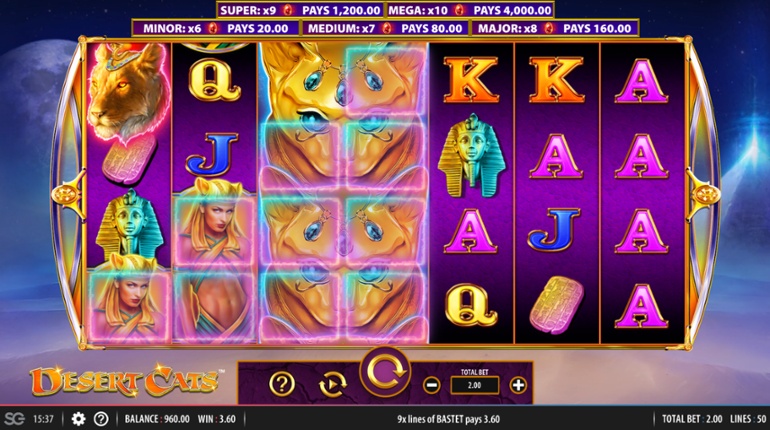 Graphics, Sounds and Animations
The symbols are well rendered but in a rather tacky style. There is something a bit cheap looking, as is often the case with new age imagery. The animations are clean and smooth, but that does little to help sell the player on what is a poor series of visual design choices.
The music does not help, with its low key synth tones.
All in all, it is a bad idea, well executed.
Gameplay
Desert cats is played out on a seven reel slot with four rows. Across those reels are fifty paylines.
Wilds, Bonuses and Free Spins
Wilds stand in for any symbol except the Scatter symbol.
Every spin in the base game has two full reels turned entirely into Wilds. These are represented by big 2x2 symbols of a cat with a crown containing a number of jewels that are either blue or red. Getting six or more red jewels in the crowns collectively wins you a jackpot ranging from ten times your bet for six red jewels up to two thousand times your bet for ten.
If you can hit three or more of the Scatter symbol, you trigger a free spin bonus. Five free spins for three symbols, fifteen for four symbols with a prize of ten times your bet, fifty spins and fifteen times your bet for five Scatters.
During the free spin bonus you can retrigger another five spins if you hit three Scatters. This is the maximum you can hit during the free spins.
There are also two sets of paired, Wild-only reels. This allows for many opportunities for hitting huge combination wins during free spins.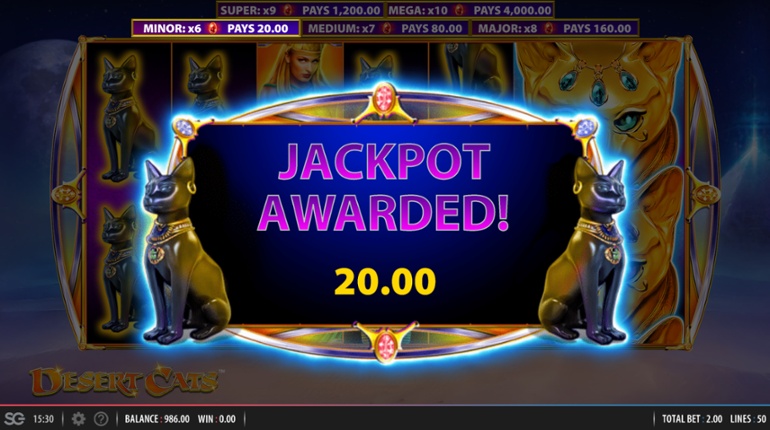 Bet Sizes, RTP and Variance
Medium volatility on this slot is somewhat disappointing. Especially when coupled with a return to player of 95.79% which hovers just below what we take as the industry average of 96%.
The bet sizes for the site we tested were between £/$/€0.50 at rock bottom, which might exclude some micro stakes players from playing on their bankrolls, and goes up to £/$/€100.00 per spin at the very highest level.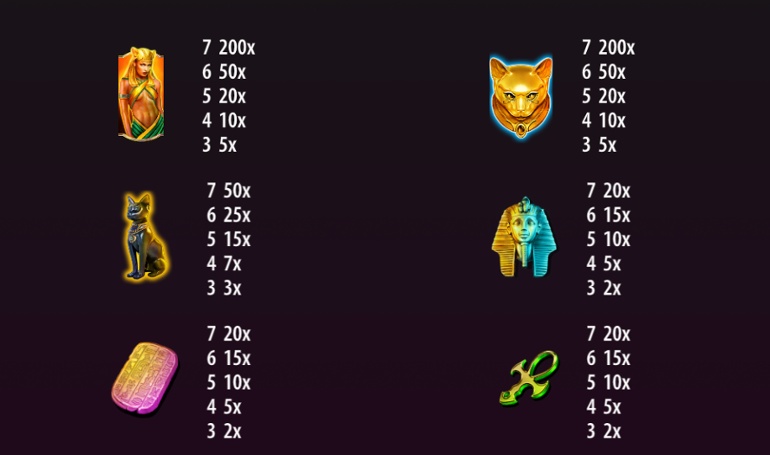 Conclusion
Desert Cats doesn't do much for us on the whole.
The design is not particularly inviting, it offers very little in the way of variation in its gameplay. The bet amounts are oddly constrained and the return to player and volatility are both very middling, which makes it a poor match for our slot machine strategies.
We do not recommend this slot.
Author:
Jon Pill
| This review was last updated: 23 Oct 2020