Michael Jackson review
Theme and Storyline
Michael Jackson: King of Pop is a music themed slot from Bally. Centred around the singer's extraordinary body of work and featuring several licenced songs performed by him, this slot is a fitting tribute to one of the most recognisable titans of popular culture from the last century. And one of the strangest.
The reels feature his iconic hat and gloves, and the Little Lord Fauntleroy ruffle and shoe combo that he moonwalked into the public's heart on.
It also sports five of his biggest hits on the soundtrack and does not downplay his uniquely man-made facial features. This one is for the fans.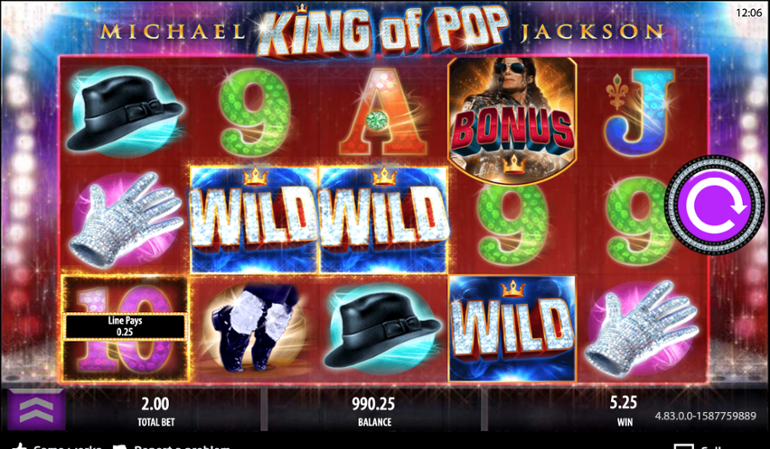 Graphics, Sounds and Animations
Being a licensed product based around a money-making icon like Jackson, this slot machine has had plenty of money poured into its looks. The background is a stage light-show of 80s glamour glitter and all the symbols have been well chosen to reflect the iconography of Jackson's stage persona, not his more troubling private life.
The animations are similarly glittery and bring the game to life. But the real coup for this slot is that they were able to get the real music of the legend to play while you spin.
Even more cleverly, the music only runs while the player is keeping things spinning, giving fans a motivation to keep those coins coming if they want to hear the end of Billie Jean.
Gameplay
The gameplay for this slot is pretty straightforward. It sports a base game with five reels and three rows.
There are twenty five fixed win lines and, to keep things interesting, there are a selection of randomised Wild-based features, as well as a set of different bonuses, which are randomised by a wheel spin when triggered.
All this adds up to a game that is interesting, fun, and well paced.
Wilds, Bonuses and Free Spins
The Wild symbol substitutes for all symbols except the Bonus and Scatter symbols.
The Scatter symbol is misleadingly labelled 'Jackpot' in the game's literature. However, it is a Scatter symbol and pays out for two or more symbols anywhere on the reels during a spin. The payout runs from two times the players bet per line for two Scatters up to 2,500 times the player's bet per line for five Scatters.
During the base game, Moonwalk Wilds and Stacked Wilds can be triggered. When Moonwalk Wild is triggered, two to five Moonwalk Wilds appear anywhere on reels two to five. These Wilds move one to the left every subsequent spin until they drop off reel one. If they move onto a spot where a Bonus or Scatter symbol would land, the symbol counts for both a Wild and the Bonus or Scatter symbol.
Moonwalk Wilds double the payout of any win they are involved in, while Stacked Wilds simply turns two full reels into all Wilds.
If the player lands one Bonus symbol on each of reels two to four, then the Bonus is triggered. The player gets to spin "The Wheel" to determine what sort of bonus they will receive. They can win either free spins, cash prizes of a range of sizes, or one of several cash prizes and a spin on a second wheel which applies a multiplier between x2 and x10 to the cash prize.
If the player wins free spins, they either get ten free spins with modified reels without Bonus or Scatter symbols on, or five free spins in which a pair of Wild Reels move from right to left each spin, starting with just reel five, then reels five and four, reel four and three, etc…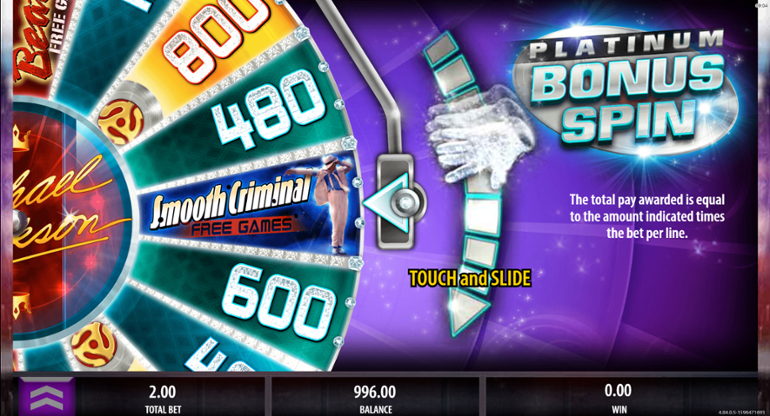 Bet Sizes, RTP and Variance
The return to player of this game is 96.01%, right in the neighbourhood of our yardstick for average, which is a very rough 96%.
The range of bets on the site we tested ran from a minimum bet per spin of $/£/€0.40 up to a maximum of $/£/€80.00 per spin.
The volatility of this game is medium. Middling volatility makes slots like this somewhat weak matches for our slot machine strategies which target higher volatility where possible.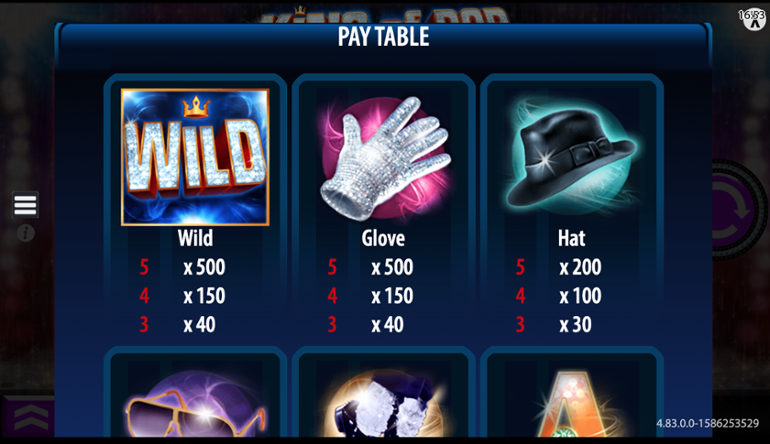 Conclusion
With its high budget looks and it's pop classic sounds, Michael Jackson King of Pop has the makings of a great slot.
For fans of Jackson's music, there is pretty much no other slot. For those who weren't fans, there is still plenty of glitz and sparkle to entertain and captivate. Though the latter group might want to mute the soundtrack.
The RTP is average and the volatility medium, which means players shouldn't be particularly put off, but might still want to hunt out something with a lower vig or bigger swings.
On the whole though, the well paced gameplay, coupled with the visuals and a pop star whose fandom they might belong to, could make this a great slot for the right player.