Ghost Slider review
Theme and Storyline
Ghost Slider is a bit of an oddball slot. It is a horror themed slot machine, which is not all that uncommon, but it is based around haunted paintings. This does stand out a bit. Haunted paintings are not an especially recognisable horror trope. Nor are the old fashioned ghosts in this slot all that frightening.
Yet everything else about the slot seems to be asking to be taken seriously. The array of tombstones at the top, the gloomy gothic background, the symbols on the reels.
Then the ghosts appear and the slot becomes almost comical. The theme is a bit of a misfire then. But it is certainly strange enough to catch our attention.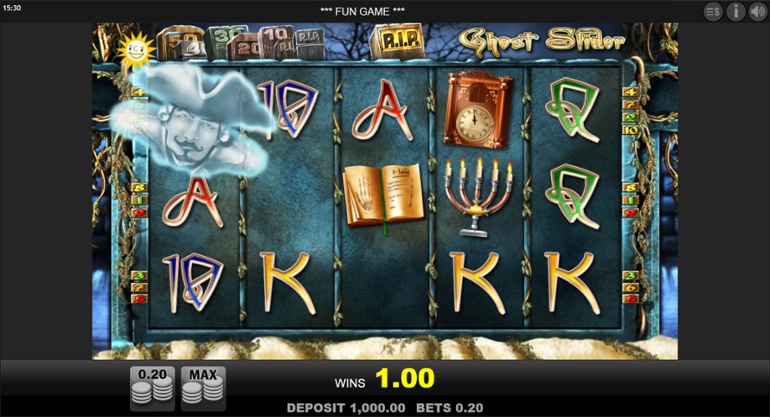 Graphics, Sounds and Animations
The graphics fall into that rather ugly realm of trying to be realistic, but not quite having enough skill in the artists' pool to pull it off.
This feels especially strange when you note that the animations are, in places, quite elaborate and varied. Though they are not much better than the basic artwork they are paired with.
The soundtrack is bizarrely out of kilter with the rest of the slot's tone. Upbeat techno music kicks in when you win with what are meant to be frightening ghost symbols.
Gameplay
Ghost Slider has five reels, each of which sports three rows. There are ten win lines for the player to hit.
The gamble system allows several options. Though the basic game is a double-or-nothing shot, players also have the option to cash out half at any point and continue gambling.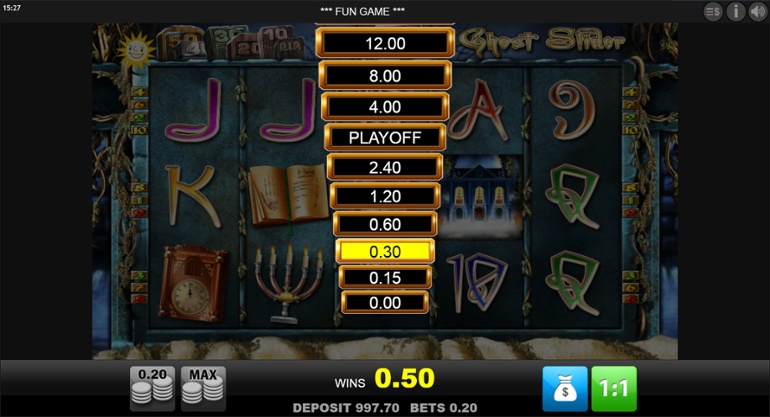 There is a cascade system whereby winning symbols are removed and new symbols drop down to take their place. This ties into the bonus system (details below), which is a simple but solid one.
Wilds, Bonuses and Free Spins
The Wild symbol substitutes for all other symbols.
If the cascade runs four times in a single spin, the free spin bonus is triggered. The more cascades, the more free spins, with a maximum number of 50 free spins.
This is a fairly simple setup, but it works quite elegantly and should satisfy players who aren't looking for an "all frills" slot.
Bet Sizes, RTP and Variance
The return to player of this game is 95.91%, a little under our yardstick for average of roughly 96%, but not enough for us to significantly shift our view on this slot.
The range of bets on the site we tested ran from a minimum bet per spin of $/£/€0.20 up to a maximum of $/£/€20.00 per spin.
The volatility of this game is at the high end of medium, which makes it a weaker match for our preferred slot machine strategies. Our slot strategies target the highest possible volatility.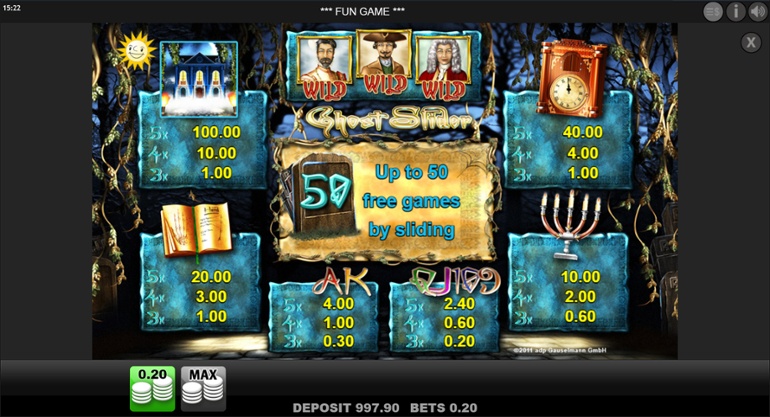 Conclusion
Ghost Slider is an unusual looking slot that could do rather better in the graphics department.
Under the hood it sports an average RTP, moderately high volatility, and a simple double or nothing gamble feature.
It's a solid slot which is neither terribly impressive nor impressively terrible.
Author:
Jon Pill
| This review was last updated: 04 Jul 2022