Elephant King review
Theme and Storyline
Like IGT's other Animal Kingdom slots, in particular their wide ranging "Buffalo King" franchise, Elephant King is a natural history based slot. This time the setting is sub-Saharan Africa in the dry season.
The ground is cracked and dry, the acacia trees are struggling in the heat. And across the land, a herd of elephants wander past zebras, rhinos, and impala, in search of greenery and water.
As you play, you'll be looking to find treasured combinations just as hard as the animals are trying to eke out their livelihoods in the realm of the elephant king.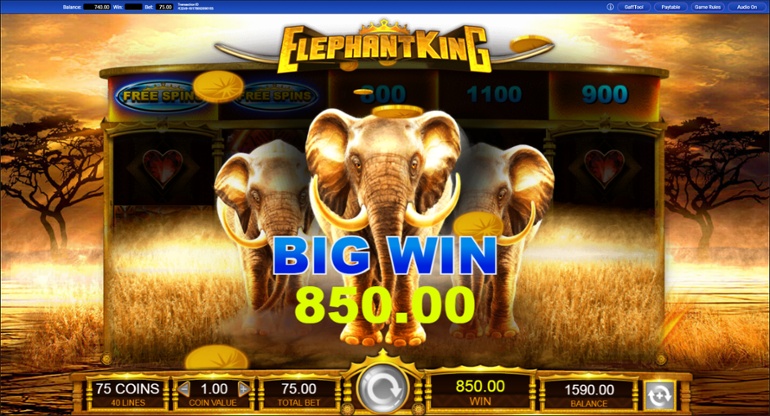 Graphics, Sounds and Animations
The graphics are designed for a bigger screen (full screen on laptop rather than mobile phone sized), they look a bit busy and overly detailed on a smaller screen. However, at a decent size they're a pretty good example of the sort of pseudo spray paint style that dominates animal based slot art.
The animations and sound feel a little more up to date than the graphics. The spin and win sounds are simple but elegant, same with the animations.
In the background, there is an ambient track that works atmospherically without winding up the player. Overall, it's a decent set of designs.
Gameplay
Elephant King has a five reel by three row base game. This also has an additional horizontal reel (called the Prize Disc) at the top that randomises certain factors to do with bonuses.
There are forty win lines running from left to right.
And there are two bonuses: a Free Spin Bonus and a Prize Disc feature (full details below).
It's enough variation to keep things interesting. Though we would gladly trade one of these features for a bit more volatility in the base game.
Wilds, Bonuses and Free Spins
The Wild symbol substitutes for all symbols on the main reels except the Bonus symbol. Wilds appear only on reels 2, 3, and 4.
The Prize Disc at the top of the reel rotates from right to left by one space. If a Bonus symbol lands on a reel (the Bonus symbol is only on reels 1, 3, and 5), then the symbol on the Prize Disc above that reel is awarded.
If the symbol on the Prize disc is a number, the player is awarded that number of coins (based on their chosen coin value). If the symbol is a Free Spin symbol, then the player receives 10 Free Spins.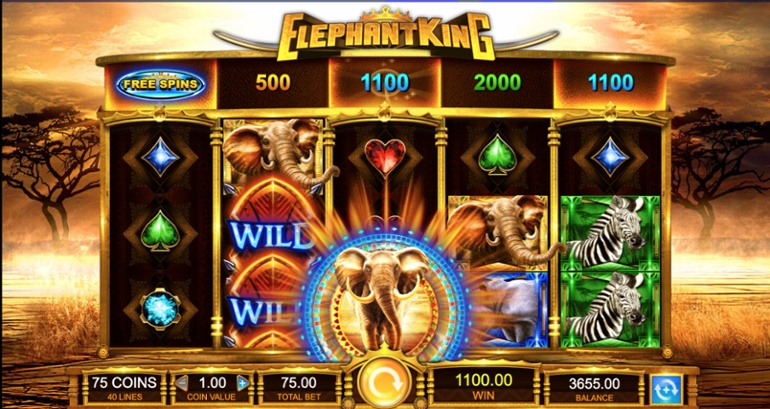 Free Spin reels are upgraded to pay out better. The Prize Disc has Extra Spin symbols added to it. Each time one appears on the Prize Disc, an extra two spins are awarded, up to a maximum of 250.
Bet Sizes, RTP and Variance
The return to player of this game is 96.02%, spot on our yardstick for average of roughly 96%.
The range of bets on the site we tested ran from a minimum bet per spin of $/£/€0.75 up to a maximum of $/£/€225.00 per spin.
The volatility of this game is medium, which makes it a weak match for our preferred slot machine strategies. Our slot strategies target the highest possible volatility, so we'd really prefer bigger swings from this game.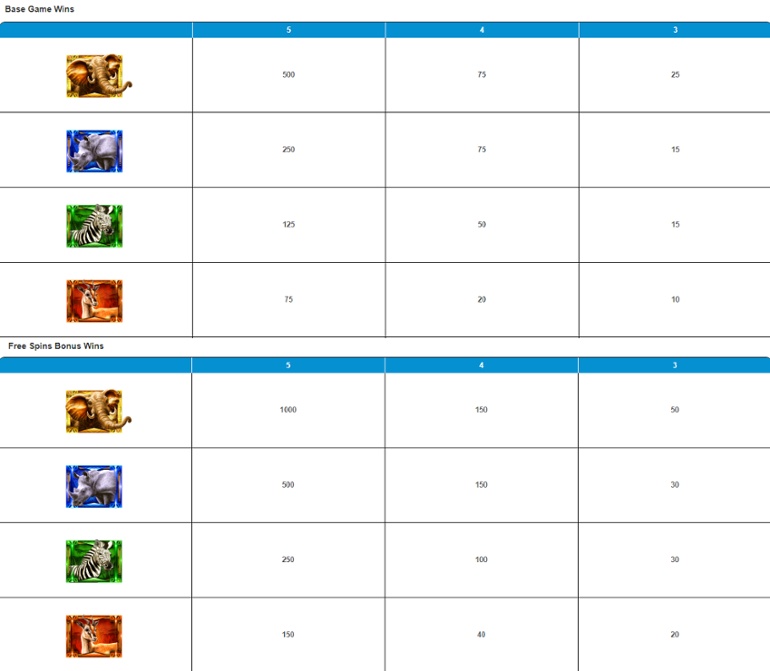 Conclusion
With a slightly clunky art style that only works when on a big screen, Elephant King doesn't make the best first impression. Its animations and sound go some way to making up for this, but are not enough to impress.
The average RTP and medium volatility aren't bad, but don't get us enthused. And although the Prize Disc is a nice twist, overall the gameplay is a bit basic.
This slot might work for some players, but on the whole, we don't have a strong recommendation for it.
Author:
Jon Pill
| This review was last updated: 20 Apr 2021