Baccarat Online Game Review
Baccarat is a variation of the classic casino card game created by games provider Habanero. It's one of two baccarat titles they have released, alongside Baccarat Zero Commission.
You can play Baccarat online for free as part of the range of Baccarat games we have on Casino Guru. Read on to find out about its design, gameplay and special features, as well as info about its basic rules.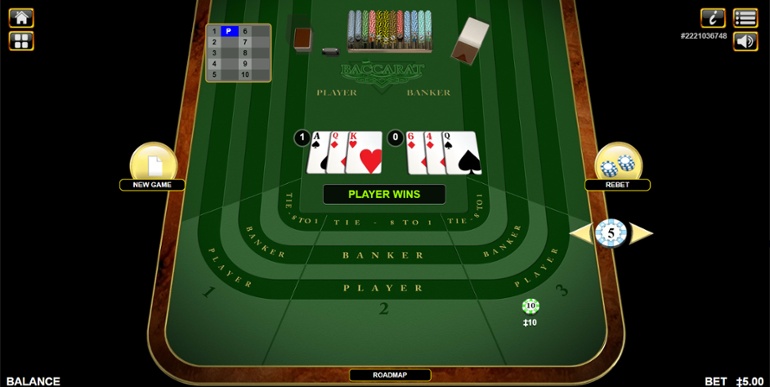 About Habanero
Habanero develops online casino games and software from its base on the island of Malta. Its portfolio consists of a wide range of slots and table games, including the baccarat online games we've mentioned.
The company uses HTML5 technology so that all its games are compatible with mobile devices, and it's regulated by the Malta Gaming Authority (MGA) that is focused on fair gaming and player safety.
How to play baccarat online for free
Playing free baccarat is easy via Casino Guru. To find games like Baccarat by Habanero, just go to our free casino games page and select 'Baccarat' from the 'Game Type' filter. You'll then see a selection of games available to you in your location.
You can then sort these by various filters, including 'Recommended' (we advise you to start with these), 'Recently Added', and 'Highest Return to Player (RTP)'.
When you see one that you like, just click on its play symbol to load the game and start playing for free.
Baccarat rules
Habanero's Baccarat follows common baccarat online rules, which are pretty simple to follow. We can summarize them as follows:
All cards are worth their face value, except 10, J, Q and K, which are worth zero. Ace is worth 1.
You must bet who will get closer to a total of 9 – the player, banker, or a tie – by placing chips on a certain area of the table.
The banker deals the cards.
You then win or lose chips depending on the outcome.
There are some variations to these rules, which you can read about in our Baccarat guide: a comprehensive overview of this popular table game.
Baccarat Game Design and Graphics
Like with many Habanero games, Baccarat boasts a sharp, slick design with a typical playing table laid out in the form of three racetracks displaying the three options: Player, Banker, and Tie. It uses bright and distinct colours, such as a vivid green for the tabletop, and the chips and cards are clearly marked.
As you play, you'll hear the swift, crisp sounds of chips being moved and cards being dealt, which suit the quick pace of the game.
Beyond the table, though, there's just a black void, which is a shame as it feels like you're playing on a floating rectangle rather than being in a casino. Habanero could improve on this for future releases, perhaps, by adding a dealer figure and surrounding casino items.
Baccarat Gameplay
Once you place your bet, the game is decided instantly, which will appeal to players who like to play quickly.
The game is simple to follow and it's easy to slip into a rhythm once you start playing. This may not be a good thing, however, as you might lost track of how much you're betting if you're playing for real money. Remember to always keep an eye on your balance as you play, not to play too quickly, and to stop immediately if you feel like you're not in control.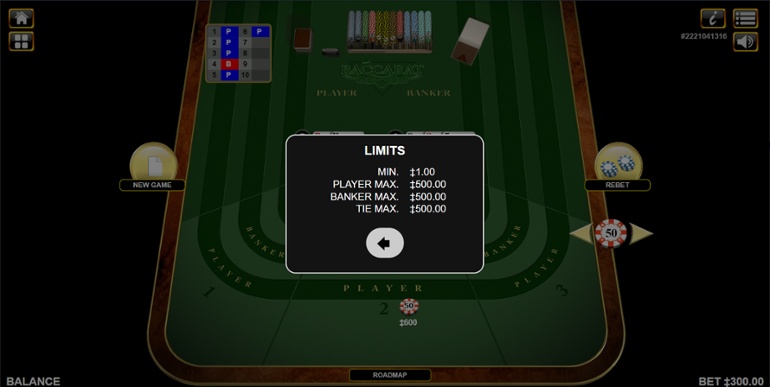 Other than the 'Deal' button, there are icons on the table that allow you to:
Undo your bet
Reuse your bet
Clear your bets
Start a new game
All of these give you some form of control over how you play, and are very simple for you to use.
Note: Baccarat's Return to Player (RTP) depends on which bet you opt for. In this game's case, it states a return of 98.94% for the Banker bet, 98.76% for the Player Bet, and 85.64% for the less common tie.
Baccarat special features
Baccarat is a game based on simplicity, and focusses on just the standard card game and a basic explanation of the rules. There are no side bets, for example, that some baccarat games allow players to make.
Once nice feature, though, is a useful 'roadmap' at the bottom of the table which shows you your previous bets and who won. This shouldn't be used as any kind of guide to what will happen next, though, with each bet a pure game of chance that's unaffected by past games.
Conclusion
If you're looking for a no-nonsense game of baccarat, then this Habanero's game is for you. It's clear, easy-to-play and doesn't bother you with complicated extras or annoying characters.
That said, you may find that the entertainment wears thin after a while, as the lack of variety makes the gameplay a little repetitive. It's crisp yet unimaginative design may have some players yawning, too.
To summarize, Baccarat by Habanero is a solid, dependable choice for Baccarat fans – just don't expect any surprises!