Reel'em In review
Theme and Storyline
Reel'em In appears to be doing all it can to create the Disneyfied world of The Little Mermaid for freshwater fish. The fish all have winning animations that seem to have been lifted from the Disney style guide and even the worm on a hook has a cheery grin going on.
It is kind of charming, and the familiar style allows the player to feel at home right away, and maybe make them try and remember the tune to Under The Sea.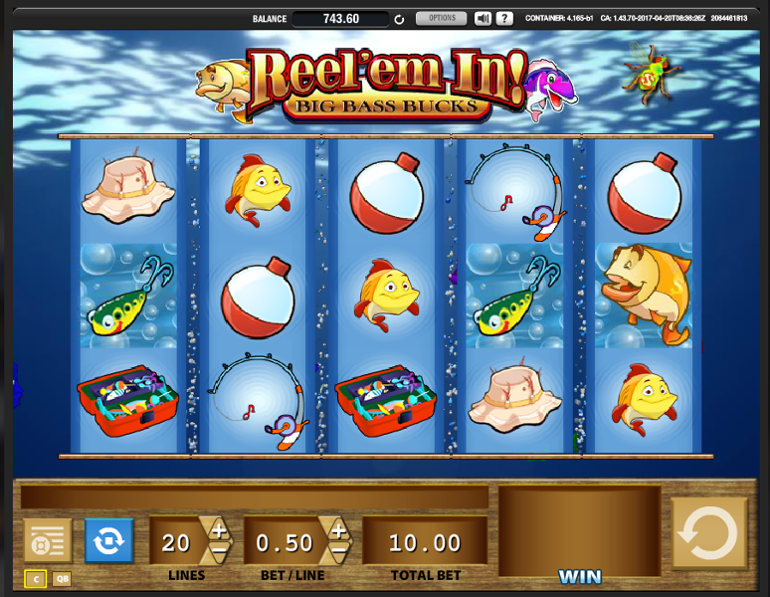 Graphics, Sounds and Animations
The graphics are a bit low-res, with pixelation showing up even in the smallest windowed version of the game. They are nicely drawn despite this defect and are easily identified with each symbol possessed of a ton of character.
The fish symbols are also given fun little animations that suit their characters and the inanimate symbols look good enough while stationary.
When you hit the spin button a banjo tune kicks in but since it is only playing while the reels are spinning it avoids becoming annoying in the way much background music does on slots. The sounds for wins and the reels spinning and stopping are solid and well made, even if it doesn't necessarily stand out.
Overall it is a fantastically designed WMS game.
Gameplay
The gameplay is where the game runs into issues.
The main game is very well made. It runs as a normal 20 winline, five reel slot, and is paced nicely.
However, the bonus system is extremely complicated (see below for a breakdown). That said the various bonuses make for some nice variations when they do come along and in practice if, you're happy to drift along with the bonuses you'll still enjoy the gameplay.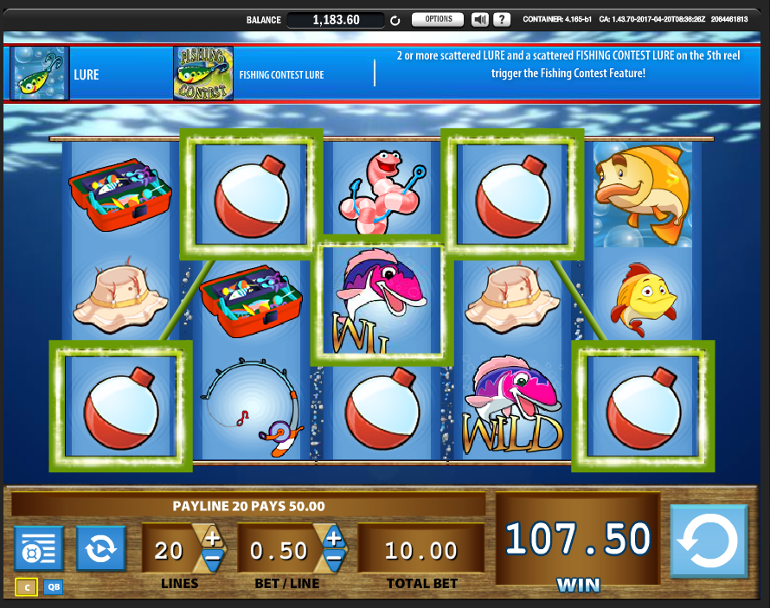 Wilds, Bonuses and Free Spins
There are several special symbols. The main two are the Wild, which subs in for any non-special symbol on a winline, and the Lure symbol which is a Scatter when playing by itself but acts as a Bonus symbol when combined with one of the other special symbols on the 5th reel.
The special symbols which appear on the fifth reel are Fishing Contest, Big Bass Hole Lure, Big Bass, and the random Fly event. When these appear along with two Scatter symbols they trigger a bonus game.
When you hit 3 or more Scatter symbols by themselves they trigger the Fishing Hole Feature. This allows you to throw a fishing line into a hole and haul out various randomised prizes which include extra throws, payouts, multipliers and combinations thereof. You can also win access to one of the bonus games.
When you hit 3 or more Scatter symbols with a Fishing Contest symbol on the 5th reel you trigger the Fishing Contest bonus in which you choose a character who throws a line five times. You win cash for each fish and a bonus for where you place in the fishing contest.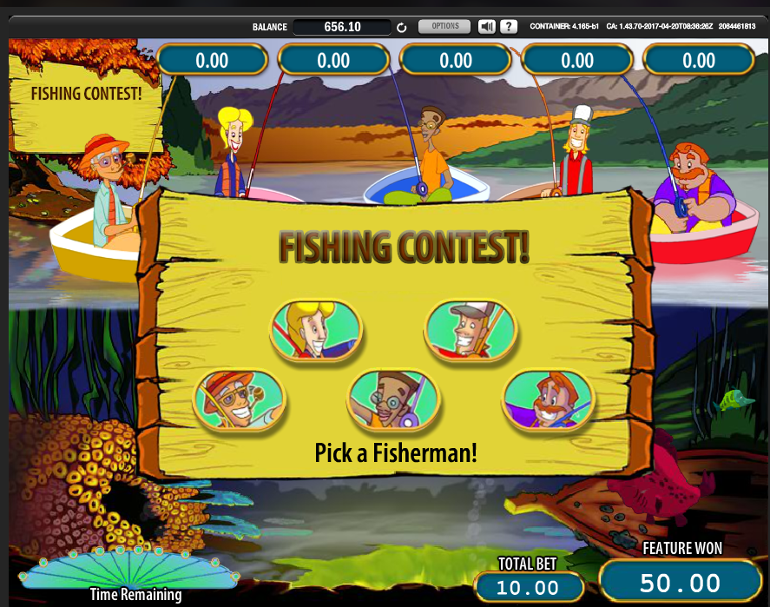 When you hit 3 or more Scatter symbols with a Big Bass Hole symbol on the 5th reel you trigger the Big Bass Fishing Hole bonus in which you choose a character. This character will then get a randomly assigned number of casts or picks. Each cast results in a random monetary award.
When the Big Bass symbol appears on the 5th reel along with the random Fly event it triggers a random reward of between x4 and x10 the total bet.
Got all that, there will be a test…
All these different bonuses make for a fun game especially if you find yourself moving between the Fishing Competition and the other bonus games.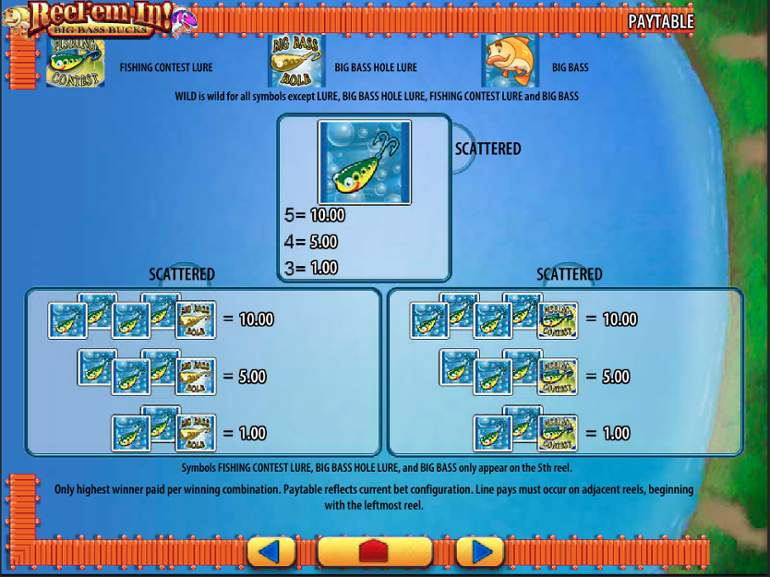 Bet Sizes, RTP and Variance
The RTP for Reel'em In is 95.99%. Since we normally take 96% as our measure of average for the industry it is pretty much exactly run of the mill.
The game has a very low variance with the main game paying out very small wins, but doing so often. As a result, this will suit those whose bankroll doesn't allow them to ride out long downswings, however our preference is for high variance games which tend to be a better match for our preferred strategies.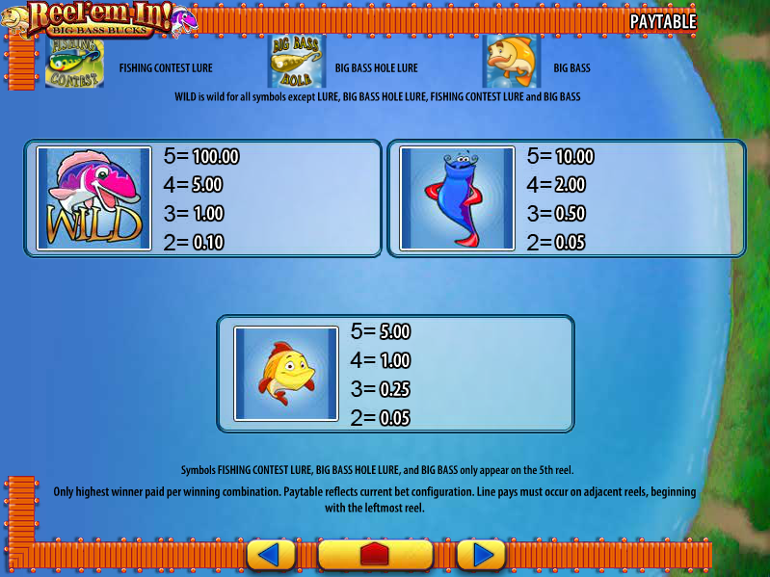 Conclusion
With plenty of bonus features and lovely design Reel'em In is a lot of fun for a slot player.
You need to have the right bankroll for the game's low variance, but with an average RTP you don't need to worry about the odds being stacked too high against you. While we tend not to favour low variance slots, if they are your preference, this is a great slot to hop into and splash about in.
Author:
Jon Pill
| This review was last updated: 14 Feb 2021