GEMiX review
Theme and Storyline
GEMiX is a fun, fast paced slot set in a realm full of wizards, mining dwarves, and lollipop princesses. By completing patterns on the reels, you can move between various "worlds" of this realm in your hunt for jewels and gems.
The high-fantasy concepts are rendered here in a cartoonish and childish way, which feels a little out of place for a slot machine. This oddness of tone is rescued from the scrap heap by excellent visual design and some fun gameplay items that help draw the player into the world Play'n GO is creating.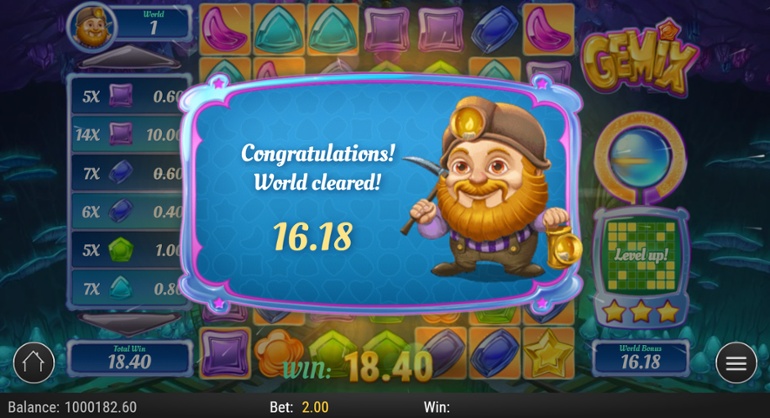 Graphics, Sounds and Animations
With its bright colours and cartoon characters, GEMiX could have chosen a very simple visual style. Instead, the grid is bedecked in well-rendered 3D gems, the numerous counters are all carefully drawn and animated to perfection, and each of the features, when triggered, involves a charmingly designed character appearing beside the reels.
The overall visual work on this slot is excellent. There is a lot going on, but it remains intuitive and pleasant to look at. And all this is customised for each of the three gameplay "worlds".
The soundtrack has the feel of a Saturday morning Hanna Barbera series and as such is both perfectly suited to the game and likely to be faintly irritating to most players.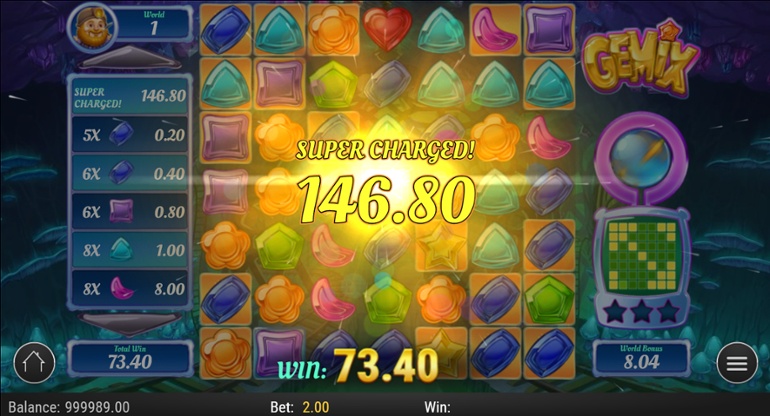 Gameplay
Instead of winlines and reels, GEMiX is played on a seven by seven grid. The player wins when a cluster of five or more of the same symbol forms. A cluster is a group of symbols connected either horizontally or vertically.
A cascade system results in winning symbols being removed and new symbols dropping in from above.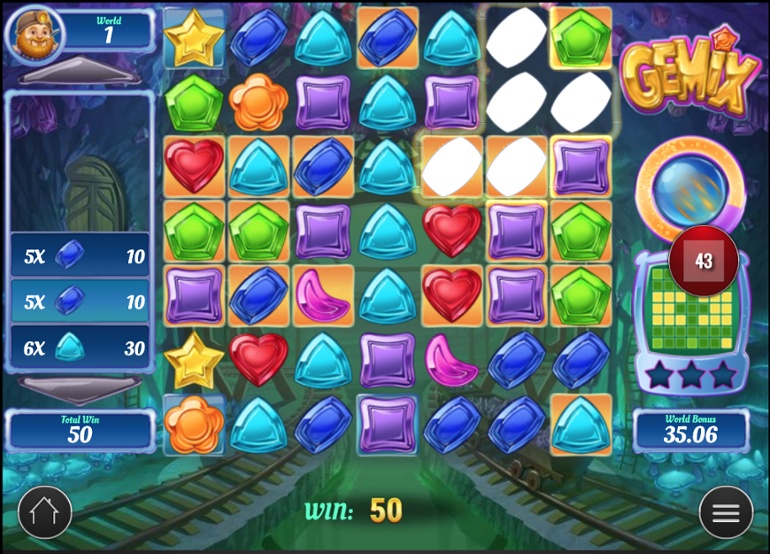 There are effectively three versions of the base game, one for each "world". The game moves between these worlds when the player fills out a pattern in the background of the reels. These patterns are filled out when the player has a winning symbol at least once on each of the squares in the pattern.
Wilds, Bonuses and Free Spins
The Wild symbols substitute for all symbols and are triggered randomly. When a Wild is triggered, what happens next depends on what "world" the player is in.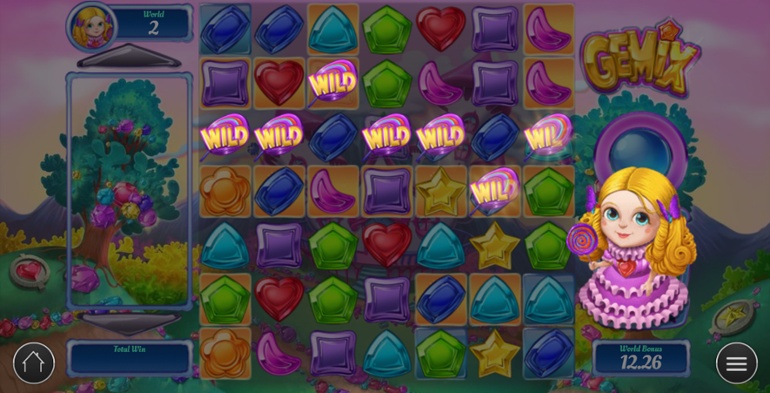 In Miner's world, up to ten Wilds are added at random to the grid. In the Princess's world the Wild starts at an edge, then spreads one symbol at a time at random until it reaches another edge symbol. In the Wizard's world up to eight Sticky Wilds are added. These Sticky Wilds do not drop down during cascades and are not removed if part of a winning combo.
Instead of a bonus game, there are a set of additional features which are triggered when a player destroys 20 symbols in one spin to fill up the Bonus meter. If the player destroys 40 symbols in one spin before triggering the meter, then an additional 3 times multiplier is added to their winnings for any subsequent wins during that spin.
The bonuses are:
Light Beam, in which one symbol shoots out light beams transforming random symbols into other symbols;
Chain Lightning, which links two corner symbols with a wandering line, all symbols on the line are then transformed into one of the corner symbols;
Nova Blast in which one symbol explodes, turning itself and the other symbols around it into another symbol;
and Crystal Warp in which all symbols of one type are turned into other symbols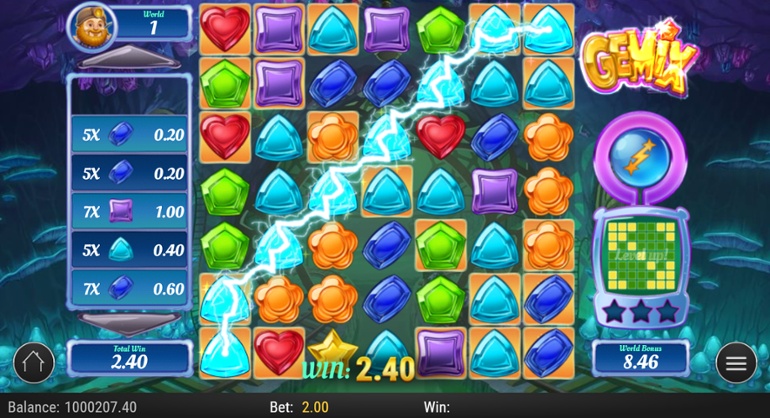 Bet Sizes, RTP and Variance
GEMiX's return to player is a roughly average 96.75%, putting it a little bit ahead of the average slot, which we estimate to have a return to player of around 96%.
The range of bets on the site we tested ran from a minimum bet per spin of $/£/€0.50 up to a maximum of $/£/€100.00 per spin.
The volatility of this game is low, making it useless to any player who intends to use our preferred slot strategies.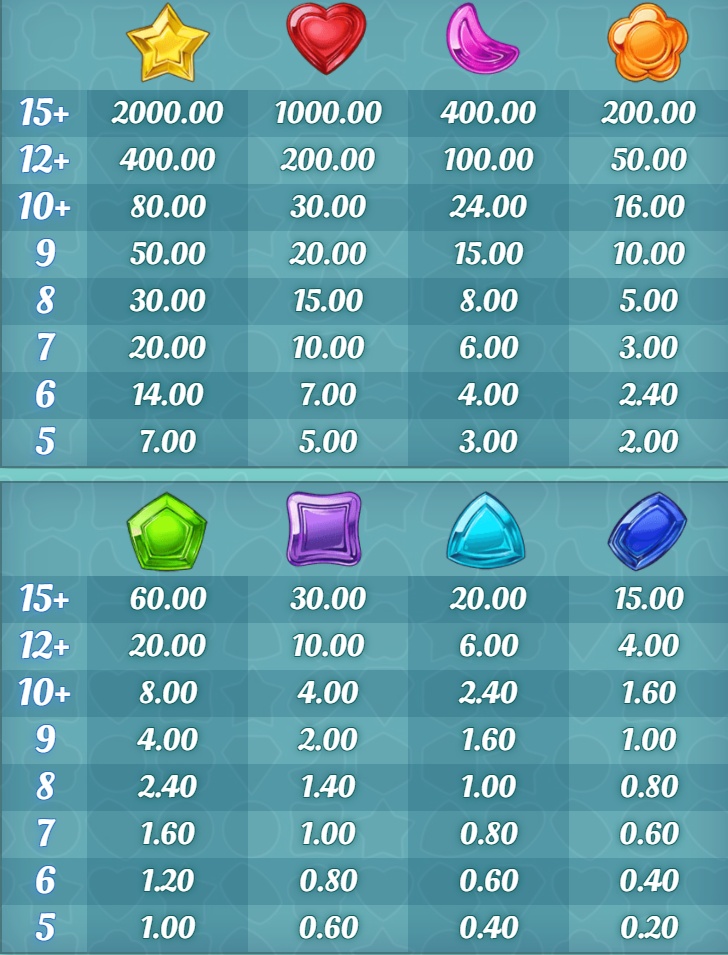 Conclusion
Unfortunately, despite a thoroughly enjoyable main gaming loop and an engaging visual style, GEMiX is let down by its low volatility.
While that means players who are pursuing our preferred strategies will want to give it a miss, players who do not object to a low volatility slot will find much to be enjoyed in GEMiX.
Author:
Jon Pill
| This review was last updated: 01 Oct 2020