Cool Jewels review
Theme and Storyline
Cool Jewels combines the beauty of water crystals and the crystalline stones that make up actual jewels.
In an icy landscape, the player's job is to match the grid of jewels to spin gold from the arctic wasteland. There's not much plot to go with this. No real story, though there's a friendly polar bear in the logo that makes the player understand they are not wholly alone in the dark northern realms.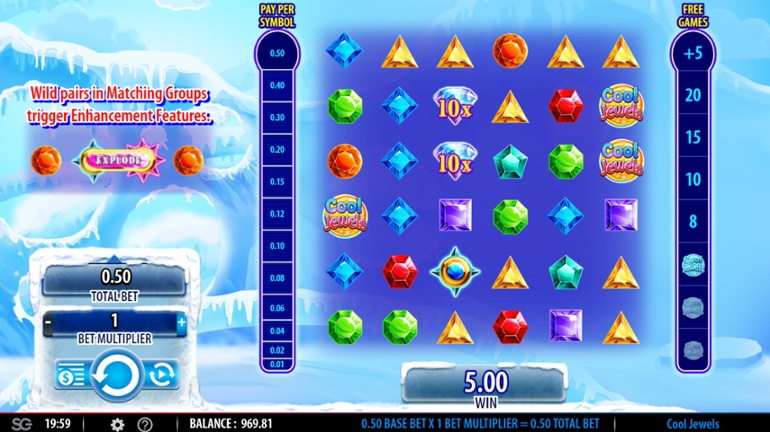 Graphics, Sounds and Animations
The graphics are pretty good, with mostly smooth animations and bright clear symbols. The background and symbols are well drawn and the heads up display elements are similarly pleasant to look at.
There is a slightly clumsy attempt at motion blur on some of the fancier symbols as they fall. But on the whole the visuals of the slot give off a polished, professional feel.
The background music is a well chosen synth track that has the kind of spangly, echoing tone of an ice cave. Coupled with this are the sound effects for the win and spin, which combine to generate a powerful sense of atmosphere.
Gameplay
Cool Jewels is a grid based slot in which each spin randomises a six-by-six square of symbols. Groups of four or more of the same symbols connected vertically or horizontally form winning combinations. As with most games, the more symbols in a combo the bigger the win.
Each winning combination is then removed from the grid and then symbols above fall down to create new combos. This is called a cascade. A spin ends when there are no new winning combinations. Each cascade event increases the chance of the player triggering the bonus game.
Along with the bonus (see below for details), there are a range of fun game features to keep players interested, many of which are based around the varying kinds of Wilds (see below for more on that too).
Overall, gameplay is smooth and well paced. A definite plus for this slot.
Wilds, Bonuses and Free Spins
There are four different kinds of Wild. The Unstable Wild, Shattering Wild, Shocking Wild, and Persisting Wild. The Wild symbols acts as substitute for all symbols except the other kinds of Wild.
Each of the four kinds of Wild have different properties. When multiple Wild types are part of the same winning combination, they trigger additional features that affect the grid until the end of that round.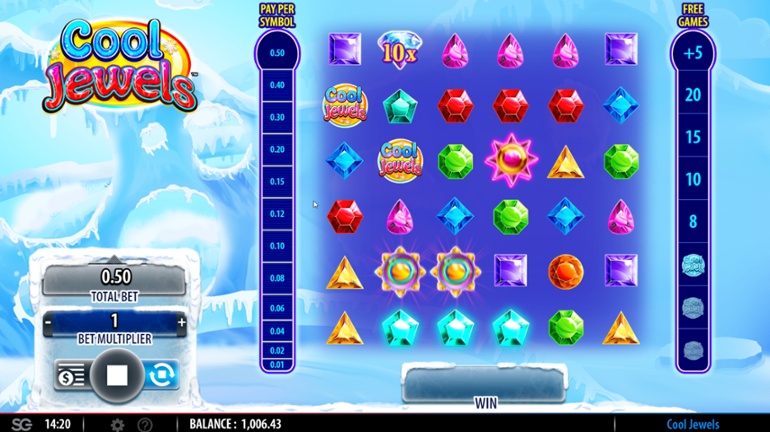 Four or more Bonus symbols destroyed triggers the free spin bonus. Wilds can work to create a winning combination with Bonus symbols, but they do not count towards the number of Bonus symbols destroyed.
For example, if a group is formed of three Bonus symbols in a line, followed by a Wild, then another Bonus symbol, then they form a line of five and count as a winning combination. However, only the four Bonus symbols in that line of five symbols count towards the number of spins the player receives.
Four Bonus symbols in a group award 8 free spins. Five Bonus symbols award 10 free spins. Six award 15, and seven award 20.
Free spins can be retriggered.
Bet Sizes, RTP and Variance
The return to player of this game is 96.10%, a little over our yardstick for average of roughly 96%.
The range of bets on the site we tested ran from a minimum bet per spin of $/£/€0.50 up to a maximum of $/£/€200.00 per spin.
The volatility of this game is low, which makes it a poor match for our preferred slot machine strategies. Our slot strategies target the highest possible volatility. Given its other positives, however, players who are going their own way may find much to enjoy about this slot.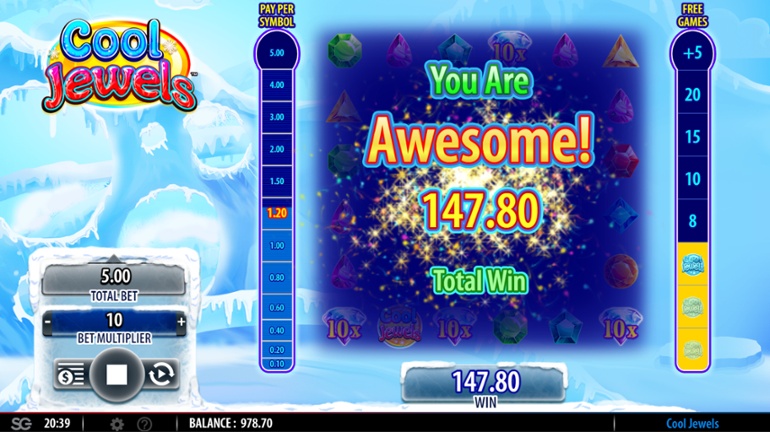 Conclusion
Cool Jewels is a fun, well made slot with some lovely features.
The visuals are excellent, a kind of ice based Candy Crush layout with a more grown up style and far better graphics. The gameplay is slick, fast paced and varied. The bonuses are fun and the randomised features imaginative.
Even though it won't work well for our preferred slot strategies, players who are unconcerned about maximising volatility may still find much about this game to be enjoyed.
Overall, this is an excellent slot.
Author:
Jon Pill
| This review was last updated: 04 Jul 2022