Bust the Bank Review
Theme and Story Line
Bust the Bank is a cops and robbers slot. With Larry and Bob the bank robbers on one side and some police officers (and one dog) on the other. In the middle are the banks who will hopefully bust wide open and payout in coins.
The scene is set nicely by the theme, but beyond that the main appeal is how it works out in the bonus games discussed below.
Graphics, Sounds and Animations
As is often the case with Microgaming skins, the animations on the slot are excellent with each symbol acting out a little drama in its square if it is part of a successful winline.
The detailed animation makes it especially odd that the actual art is very low resolution for a slot of this quality. This is fine on a smaller screen, but if you're using a decent sized desktop screen the pixelation of the symbols really shows.
That said, the rest of the design is top notch. Nice cartoons that are easy to read, look good, and have a little comic presence that adds to the game.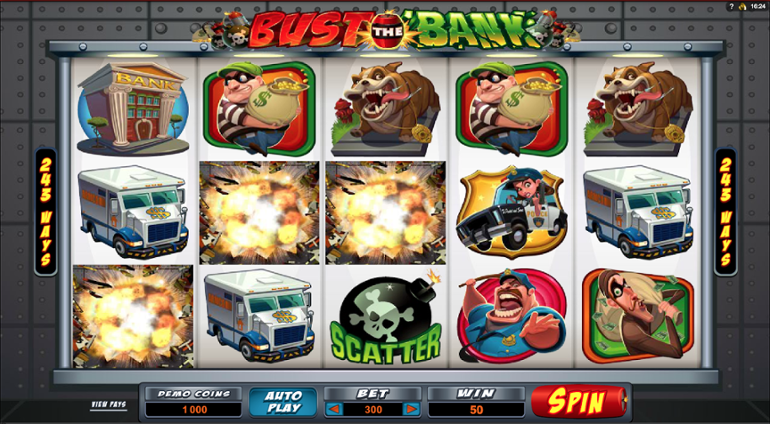 Gameplay
Bust the Bank is a '243 ways' slot, meaning that to win with a symbol it need only appear anywhere on each reel running left to right. The minimum bet is 30 coins to cover all the winlines. As a result working out your risk to reward each spin is much easier.
There are two sets of Bonus symbols, as well as two randomly triggered bonuses, which mix things up a bit as well. But neither generates any new gameplay to break up the spins.
Overall the gameplay is nothing special, but works smoothly and is well paced.
Wilds, Bonuses and Free Spins
There are two bonuses, the Safe bonus which when it lands pours coins on every symbol beneath it duplicating the coin award for each symbol the flow lands on. These can land on reel one and five.
Reel three is the home of the piggy bank bonus. When it lands it pays out a random multiple of your bet.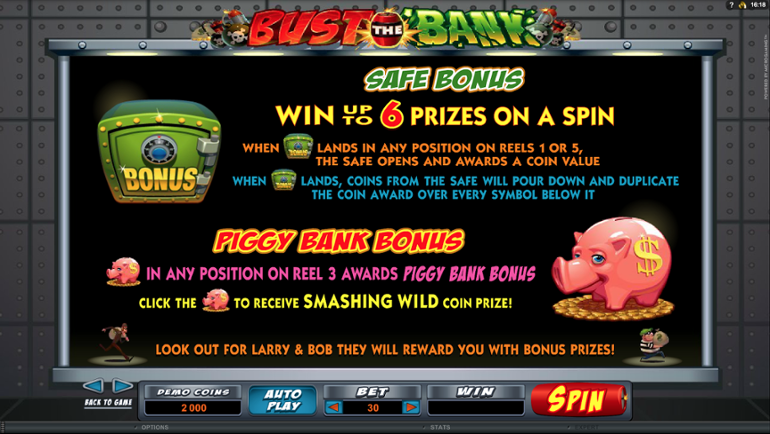 As well as the two bonus symbols, there is a randomly activated 'Thief Bonus' in which one the robbers runs across your game screen and drops a bag of coins into your win slot.
These bonuses can all be hit on the same time and stack when they do.
There is also a Wild and Scatter symbol to help you make your wins. The Scatter symbol hits are particularly desirable as they will also give you free spins if you hit three or more of them in a spin. During these free spins reels one and five become wild which allows for some massive wins when activated.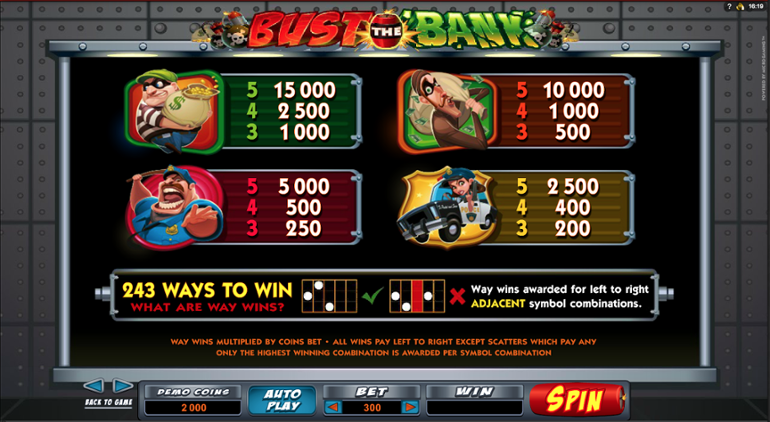 Bet Sizes, RTP and Variance
This is an average to low volatility slot. With an RTP of 96.75% which is at the high end of average, but nothing to get especially excited about.
Although there is a maximum win of 135,000 coins, the odds of hitting this jackpot are very low. Expect to win a small amount often from its numerous scatters, bonuses and free spins if you do opt to play this slot.
Conclusion
Overall Bust the Bank doesn't get much wrong (apart from some rather pixelated art). Unfortunately it doesn't do much with its solid base and so end up being uninspired.
On top of this the low volatility is black mark against it.
Author:
Jon Pill
| This review was last updated: 29 Jun 2022