Book of Gates review
Theme and Storyline
Themed on ancient Egyptian lore, this game has a mystical atmosphere.
The slot is named after an ancient text which describes the passage of souls to the next world.
Players will find themselves at a gate guarded by an Egyptian god. Like the souls of the myth, they must undergo various tests before passing. Against an eerie sunset backdrop, players will search for patterns in the hieroglyphic-like symbols and hope to keep the gods on their side.
Mythology fans will enjoy being mesmerized by this esoteric world.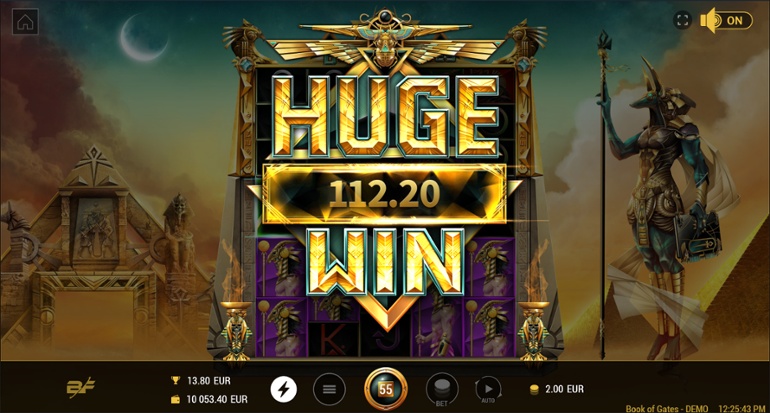 Graphics, Sounds and Animations
The haunting soundtrack is enjoyable and sets an underworld-tone. The gentle music remains undistracting and is, in fact, somewhat soothing. Players will feel as if they are at a particularly meditative spa.
Spins provoke a chiming. This enhances the sense that players are undergoing a mythical trial.
The desert sunset in the background is artfully rendered. It feels symbolic of the transition between worlds. The animation style of the gods and hieroglyphics emphasise fantasy rather than archaeology, but this is part of the fun.
The reels feel quite small. Players may prefer to play in the full-screen mode for a better view.
Overall, the front end is an aesthetically-pleasing fantasy world.
Gameplay
Book of Gates is a five reel slot. Players will get between 2 and 5 symbols per reel column. This number is determined at random. There are three additional covered rows which feature in the Respins.
To win, players need to land adjacent symbols (from left to right), regardless of their size. As a result, the base game offers up to 3,125 ways to win.
The three extra rows above the main gameplay area are uncovered bit by bit during Respins. Every time players hit a winning combination, they are given a Respin. Upon their first win, a row is unveiled, increasing the number of ways to win. This continues for the players second and third Respins until they have access to all of the rows.
Unfortunately, this basic gameplay doesn't feel immersive, and players may have a hard time getting into the swing of it.
Wilds, Bonuses and Free Spins
The Wild symbol substitutes for all symbols except the Scatter symbol.
The Wild symbol may only appear once per reel and will only appear on reels 2, 3, and 4. It will never appear on a reel at the same time as a Scatter symbol.
Only appearing in the base game, the Scatter symbol lands on reels 1, 3, and 5.
A set of 10 Free Spins are awarded when players land three Scatter symbols. Each reel will contain 5 to 8 symbols during the Free Spins round. This increases the number of ways to win up to 32,768.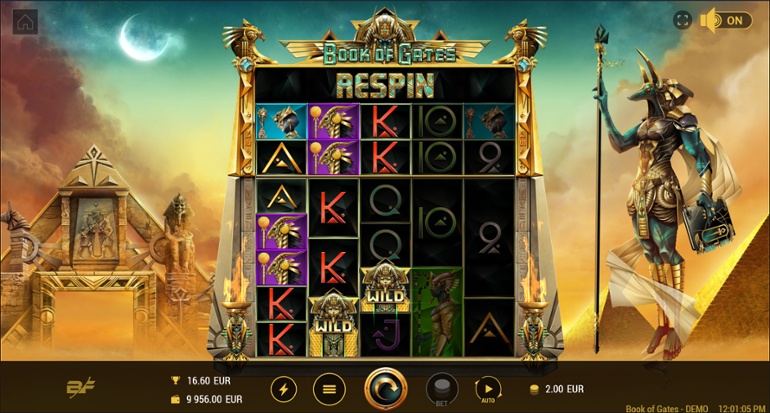 Bet Sizes, RTP and Variance
The return to player of this game is 96.03%, almost exactly our yardstick for average of roughly 96%.
The range of bets on the site we tested ran from a minimum bet per spin of $/£/€0.10 up to a maximum of $/£/€200 per spin.
The volatility of this game is high, which makes it a good match for our preferred slot machine strategies. Our slot strategies target the highest possible volatility.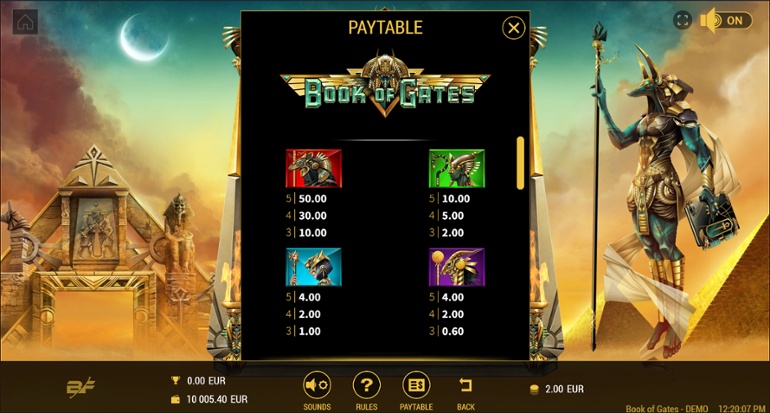 Conclusion
We do not recommend this average RTP, high volatility Egyptian mythology-themed slot.
Despite the attractive graphics, this slot feels frustratingly distant during gameplay. The eerie atmosphere is interesting, but fails to engage players, feeling more like a peek into the mythical underworld rather than a visit to it.
This lack of captivation keeps this game from making up for its mediocre RTP. Without more to draw players in, this slot's less than optimal stats keep it from being a win.
Big fans of Egyptian mythology may fancy stopping by for a look at Book of Gates, but it's doubtful they'll linger too long.
Author:
Jon Pill
| This review was last updated: 08 Oct 2021