Easy Slider review
Theme and Storyline
"The Menace is loose again, the Hell's Angels, the hundred-carat headline, running fast and loud on the early morning freeway, low in the saddle, nobody smiles, jamming crazy through traffic and ninety miles an hour down the center stripe, missing by inches...like Genghis Khan on an iron horse"
- Hunter S Thompson, Hell's Angels
Now the menace is loose again, this time in Easy Slider, a title that suggests Dennis Hopper's end of the hippie era movie. It borrows its images from the Hell's Angels' patches with winged Aces and denim patches. What the average motorcycle outlaw might have to say on having their world milked for gambling profits, and indeed what the free-wheeling anti-capitalist characters of Easy Rider (1969) might want to add to it is perhaps a discussion for another time.
If you want a sense of freedom on the open road, and you wanna get it from an indoor slot, you could do worse than booting this one up.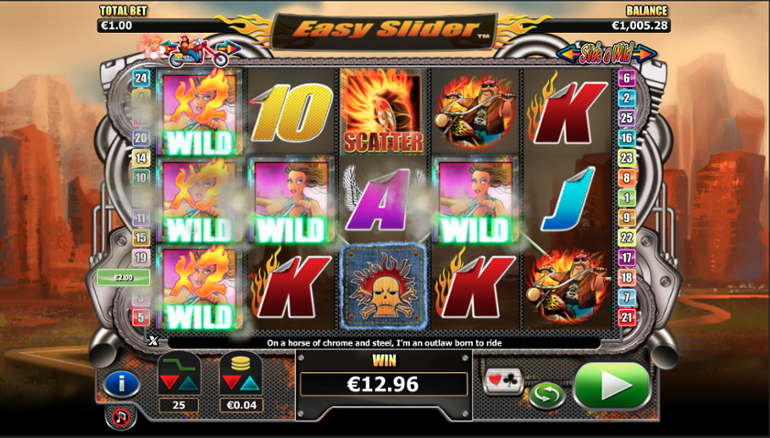 Graphics, Sounds and Animations
Like a lot of Nextgen's output, the animations in Easy Slider are fun and frequently elaborate. But for some reason, less effort is put into the actual imagery which tends to look rather cheaply turned out and generically cartoonish.
Easy Slider suffers less from these problems than some due to its rather over the top setting, but even so, it certainly could be better looking with just a few small changes.
Gameplay
The game plays as a five reel, 25 win-line slot with one or two features that slide in to enhance play.
The first feature is the titular slider. This allows you to choose which reel the Wild symbol will be stacked on. The further from reel one you place the slider the bigger the multiplier rewards for winning with Wild symbols, and the bigger your potential winnings in the bonus games (see below for more specifics on that).
There is also a black or red gamble feature, or if you're feeling risk-frisky you can bet on the next suit for to quadruple your win. It is identical to many other Nextgen games and doesn't quite fit with the aesthetic of Easy Slider but it's always nice to have the option to ramp up your volatility if you fancy.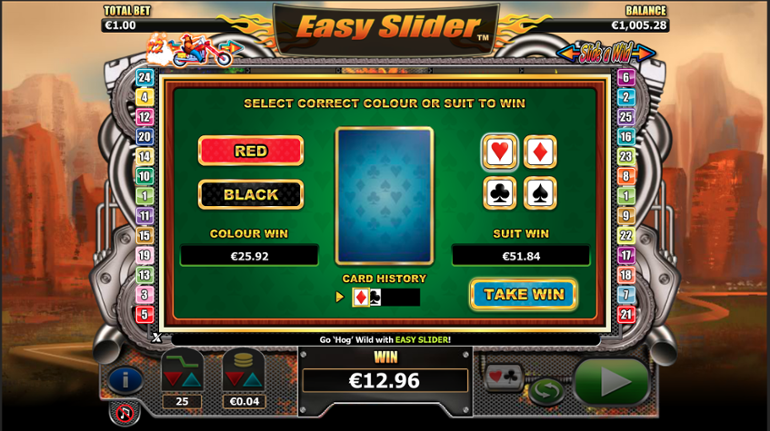 Wilds, Bonuses and Free Spins
The main way to spin up the big bucks in Easy Slider is to hit a big combo with the stacked Wild symbols. This is because Wild symbols gain a multiplier depending on where you place the slider. (See the Table below).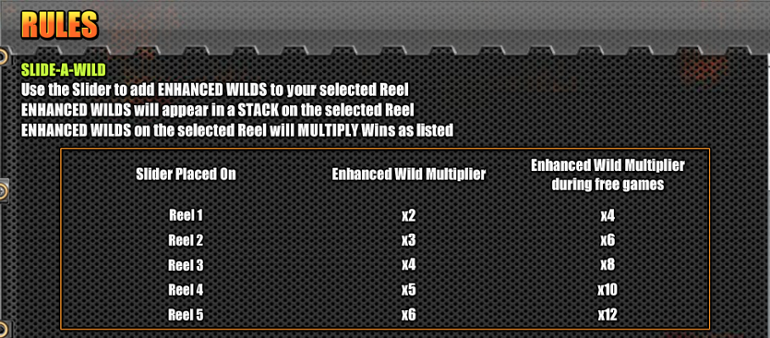 Note on the table that this also affects the "free games" with the multipliers doubling during the free spins.
Free spins are won by hitting three or more of the Scatter symbol. In this case as well as getting a payout which is a multiple of your bet-per-spin you also receive ten free spins with the enhanced Wild symbols on the reel of your choice.
Bet Sizes, RTP and Variance
The RTP varies slightly depending on where you place the slider, but it is between 95.15% and 95.60%. Even at its highest percentage, it is still slightly below average for the industry.
The volatility is a little harder to put a finger on. By placing your slider on Reel 1 you can make the game relatively medium/low volatility whereas the further along from the Reel 1 you place the slider, the higher that volatility goes as combos become less likely but vastly more profitable.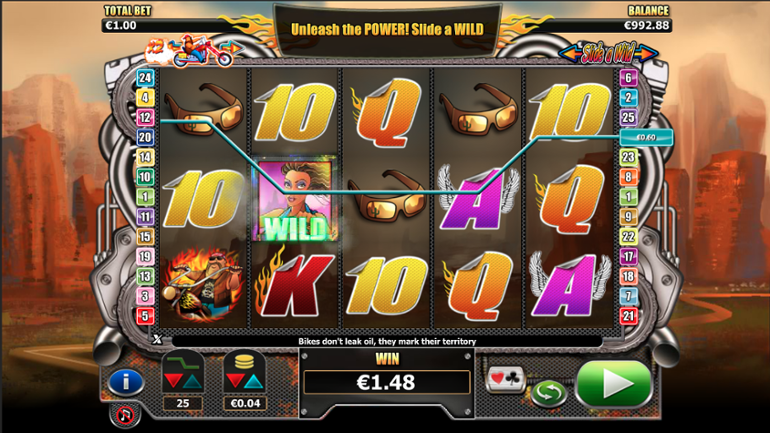 You'll have to experiment and decide what works best for your bankroll and strategies.
Conclusion
Easy Slider's main selling point is the slider. If this innovation appeals to you, this is a great slot, if not it feels pretty average with most the play, features and RTP all being somewhat mediocre.
That said, it is always nice to see games trying new things so we'd tentatively recommend this to those who think the slider concept appeals.
Author:
Jon Pill
| This review was last updated: 16 Jun 2022