Cleopatra Plus review
Theme and Storyline
Cleopatra Plus is one of a myriad of follow ons from classic brick and mortar slot machine Cleopatra. After it got a digital revamp the Cleopatra line has gone through a slew of versions culminating in Cleopatra Plus.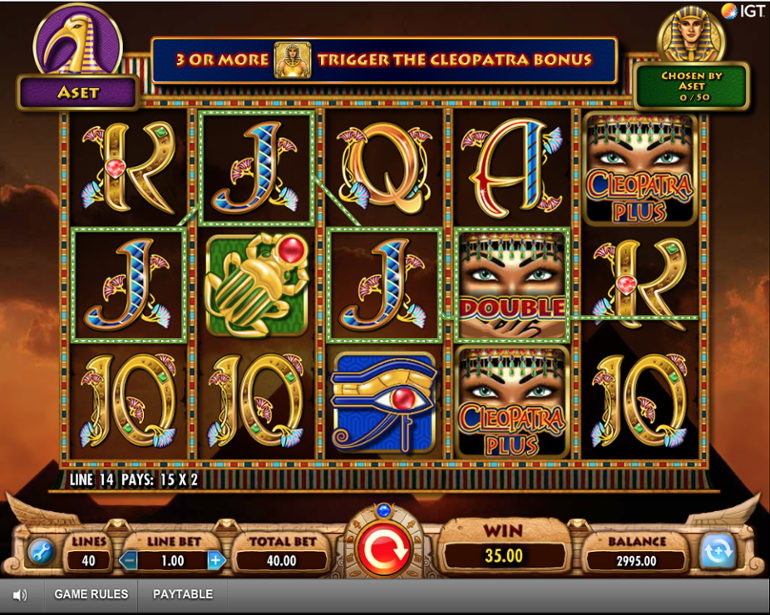 Cleopatra – the seductive beauty who seduced Julius Caesar, Mark Antony, and the imagination of artists ranging from Shakespeare to the coders at IGT – has a new gimmick this time around. She's got levelling system based on the number of topless gentleman followers she accumulates on your playthrough.
Jump in and be enchanted by the world of Classical Egypt.
Graphics, Sounds and Animations
Like many an IGT offerings Cleopatra Plus is a high-quality production. They clearly sank some money into the artwork and symbol design. The usual Kings, Queens, Knaves and Tens are given the King Tut treatment in gold and pearls.
The soundtrack also shows real production values, the kind of vaguely exotic middle eastern riff you'd expect from a game set in Egypt, with additional recordings of "Cleopatra" added for some sex appeal.
The animations are varied and smooth. There is very little wrong with the game from a visual standpoint.
Gameplay
The basic gameplay is that of a standard five reel, forty payline slot. However there are a few interesting wrinkles when it comes to the bonuses.
There is a levelling system based on winning over "followers", with higher levels improving your RTP by unlocking more and better bonus options (each one identified with and area of the "bonus map") which are looked at in more detail below.
The gameplay is solid, and works well. However, given the rarity of hitting bonuses, it does become highly repetitive.
The only interesting choice is which lucky deity you chose. These symbols are spread out at first, but as you reach higher levels they stack for bigger wins when they do hit.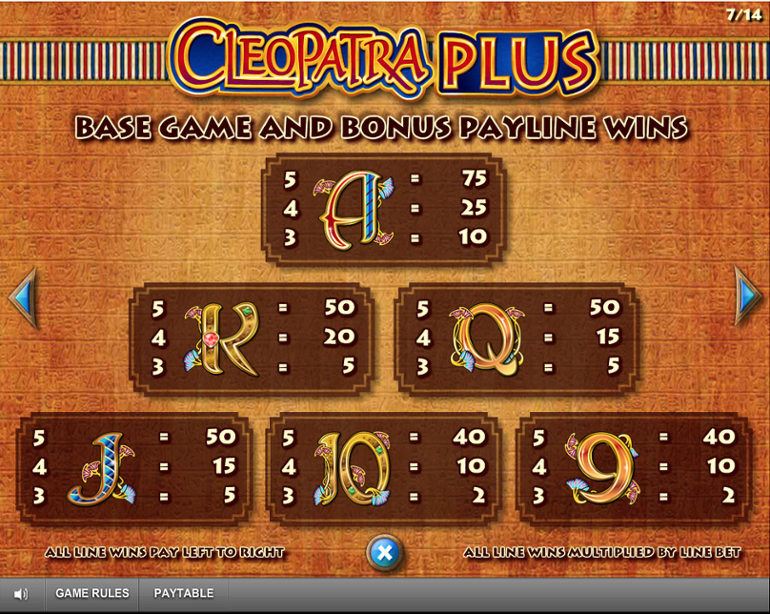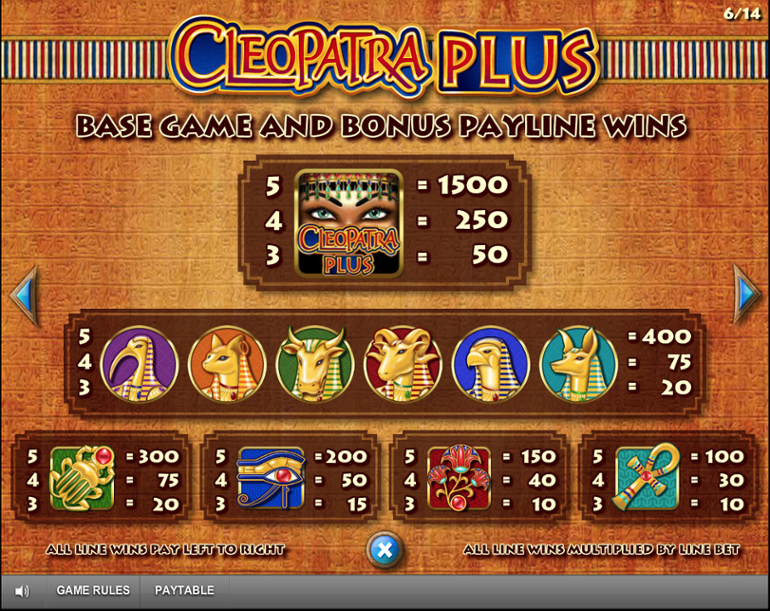 Wilds, Bonuses and Free Spins
The specialised symbols in Cleopatra Plus include a wild Cleopatra Plus symbol which also multiplies your win by two if you win using it as a wild. It's also the highest paying symbol if you manage a straightforward win with the symbol by lining a number of them up in a row.
Another nice feature is that the wild symbol often comes in stacks of 2 to 10 symbols.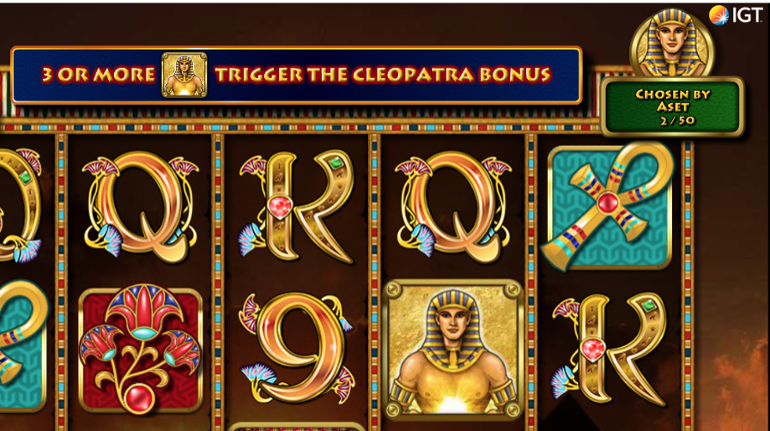 The other special symbol is the Follower symbol. Every time one of these falls on any reel you get the number of followers on that symbol added to your running total. As you increase your number of followers your options for bonus get more and better.
The Follower symbol also serves to trigger the bonus if you manage to hit three of them on any three reels. The bonus game consists of placing the number of followers you trigger the bonus with on various sites on a "Bonus Map". These sites award you free spins, payouts and multipliers for the bonus spins round which follows.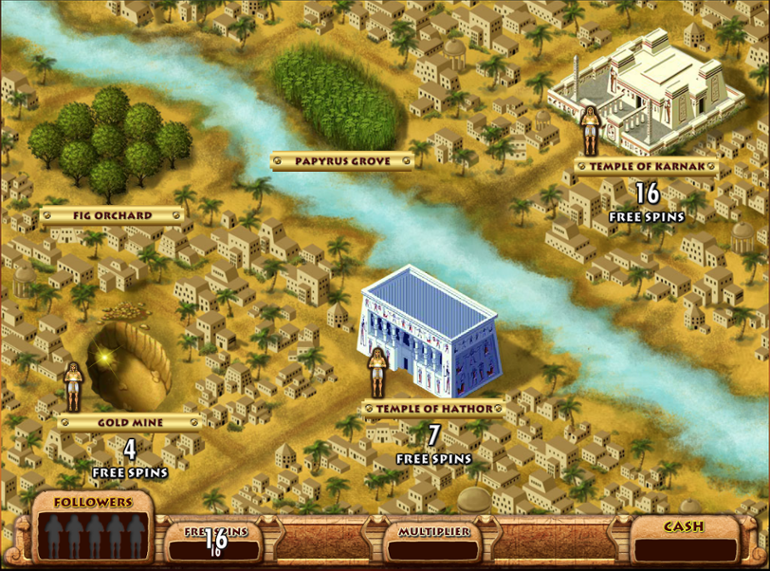 Bet Sizes, RTP and Variance
The RTP starts out as a dismal 92.89% and can only be improved by rising up through the levels. The highest RTP you can achieve is 96.50%. This is only reached if you manage to collect more than 1250 followers (which gets you to level 8) on one play-through.
If you stick with this poor payout to get the game up to the rather average 96.50% the game becomes a little more appealing thanks to its high-volatility. But getting that far is gonna be costly and a bit of a grind.
While you cannot vary the number of winlines, the number of coins you can bet per line ranges from 1 to 50. At the website we tested the coin values offered mean you could bet anywhere from $/£/€0.40 up to $/£/€2,000 per spin. Which more or less covers all bankroll sizes.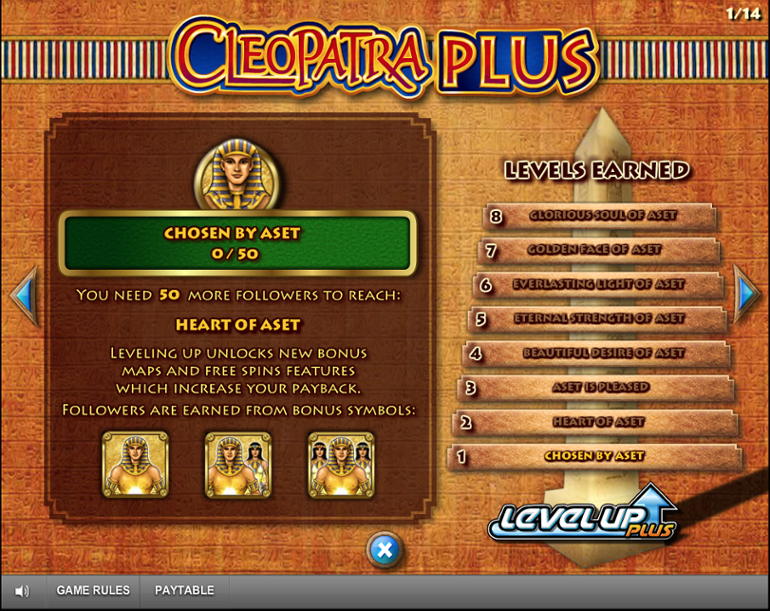 Conclusion
Cleopatra Plus is a fun, well designed game that is highly attractive in almost every way.
Unfortunately the RTP of 92.89% is unacceptably low. And it requires you sinking too much time and money into the game to level up before that RTP becomes even close to playable.
A shame since in almost every other way it is a great slot.
Author:
Jon Pill
| This review was last updated: 12 Jul 2021