Classic Fruit review
Classic Fruit is a 3-reel classic slot coming from the 1x2 Gaming portfolio. As expected the game has a simple appearance and doesn't come with any bonus features attached.
In most other classic slots the biggest excitement comes from the strong paytable, but in this game even that is absent since the top payout is set at 200 coins per payline.
Theme and Visual Details
As you have surely guessed by now the slot comes with a fruit theme, which is common to a big number of classic slots.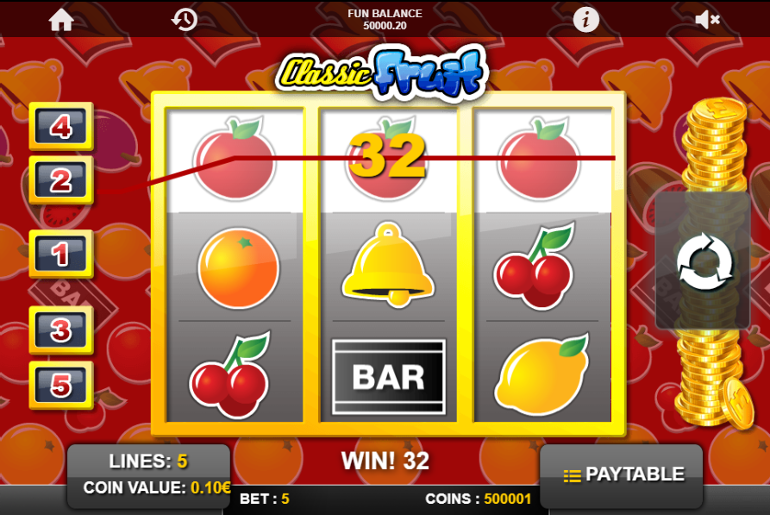 The visual details are on a low level, but the game has a vibrant choice of colors and a few decent animations which make it reasonably attractive to the eye.
Gameplay
Compared to most other classic slots the gameplay in Classic Fruit is a bit more interesting. This is mainly due to the fact that most of the low paying Fruit symbols award a payout for 2 of a kind wins. Thanks to this there's always some action on the reels and your balance doesn't get eaten up too fast.
Bet sizes and payouts
Classic Fruit is a 5 payline slot where players can bet anywhere from $0.05 up to $25 per spin.
The top payout in the game is set at 200 coins for landing a 3 of a kind win with the Red Seven symbol. The game has a low to medium variance and comes with an RTP value of 96.21%.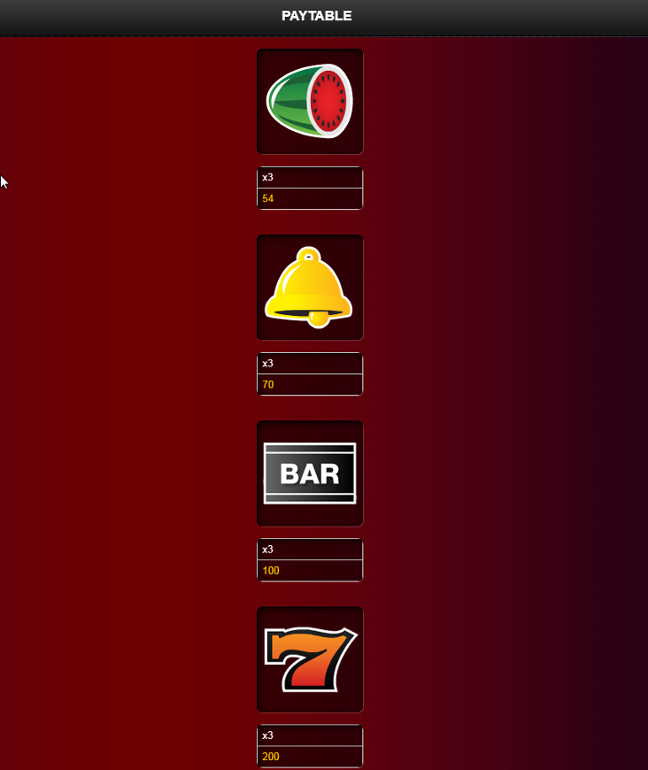 Bonus features
Unfortunately, like in most other classic slot, Classic Fruit doesn't have any bonus features. The designers didn't even add a Wild or Scatter symbol, so everything depends on the payouts of the regular symbols.
Another fact which doesn't work in favor of the game is that the symbols can't land stacked on the reels. This excludes the possibility of landing a full screen of matching symbols and getting a bigger payout.
Landing a decent 3 of a kind win on the reels of Classic Fruit can be a challenge, but luckily two of a kind wins with the Cherry, Orange, Lemon and Apple symbols are quite frequent.
This is the main reason why players can get frequent small payouts and keep their balance in place most of the time.
Conclusion
Classic Fruit is definitely not the game you would want to play if you are aiming to win big. The slot simply doesn't have the potential for big payouts, since the top prize per payline in the slot is set at 200 coins.
Players can get small to medium payouts during base play but they won't make a big impact on the positive side of your balance.
Simply put there are other better slots coming from 1x2 Gaming that you can try if you want to win big.
Author:
Maros Gasparik
| This review was last updated: 29 Jun 2022