Stunning Cube review
Theme and Storyline
This imaginative slot by BF Games is themed around a dark cyber world.
Players will find themselves in a sci-fi fantasy landscape. A sombre yet beautiful geisha looks down on players with stylish concern. She seems to know something about this mysterious place that she can't share.
The minimalist design of the reels is striking, each symbol simply a shape. They rearrange themselves mesmerically with each spin. Players will enjoy watching this futuristic cube in action and following its robotic movements.
The dystopian backdrop has a Blade Runner feel that suggests something ominous has happened. Players will want to solve the puzzle of this enigmatic universe.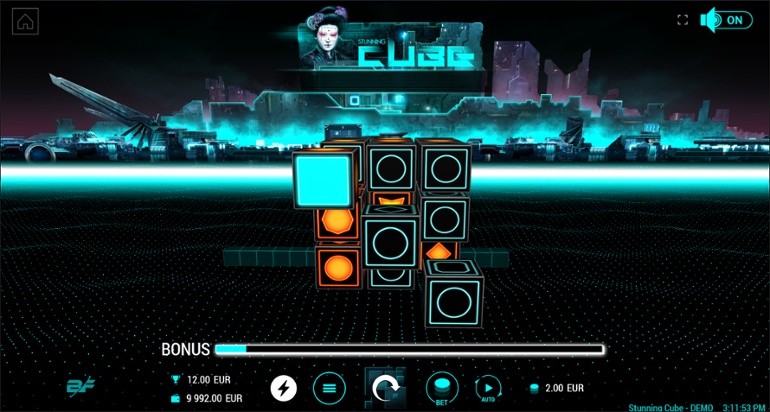 Graphics, Sounds and Animations
The novel setting is animated in a style that brings to mind the Tron or Matrix. Players seem to be floating on a rolling sea of glowing code.
In the distance, a ruin-like city looms, the sunset blood red behind it. Simultaneously wrecked and high tech, it looks like a place to be feared.
The animation of the reels captures the futuristic aesthetic. Rather than simply rolling down, they slide and rotate like a cyber cubix cube. The hypnotic design is well worth making it the slot's namesake.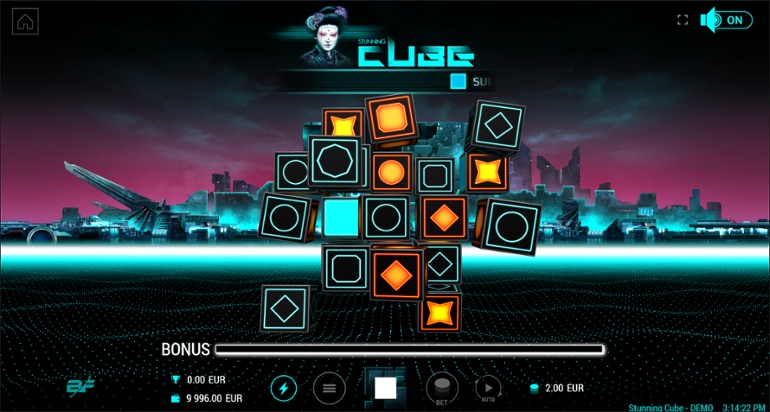 The background music is right on theme with a synthwave sound that induces tension. It adds to the immersive feeling of the game, and many players will probably leave it on, providing they are in the mood for this slot's futuristic vibe.
The cube of reels moves with a series of clicks that bring to mind a gun being assembled. This adds to the sci-fi adventure atmosphere.
Overall, this slot is captivating with its stylishly restrained design and seething sense of darkness. Players will feel they've been trapped in a digital dystopia, but they won't want to leave.
Gameplay
Stunning Cube is a three reel, three row slot, with five win lines.
Gameplay is mesmerizing and time easily passes as the cube-like reels turn and rearrange themselves like a small robot.
Wilds, Bonuses and Free Spins
The Wild symbol substitutes for all symbols. Players may also land wins by combining only Wild symbols. The largest possible win is to land three Wild symbols along a payline.
The Bonus Meter fills gradually during the base game upon each win.
When players have filled the whole Bonus Meter, this triggers the Free Games mode. Players begin with 10 Free Games on the same bet at which the Bonus Meter was filled.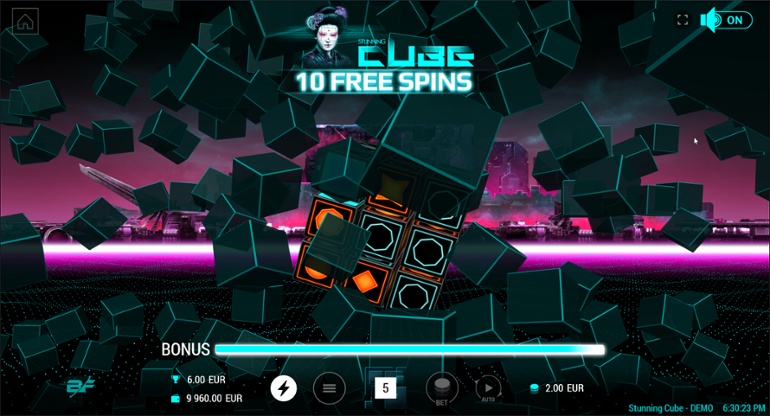 During the Free Games, a Bonus Meter also fills as players win. If filled, 5 additional Free Games are awarded to the player.
The Cube of Luck is awarded when players land nine matching symbols of Diamond, Hex, Square, or Circle on the reels. Players may then have the chance to re-win up to x6 the winning amount.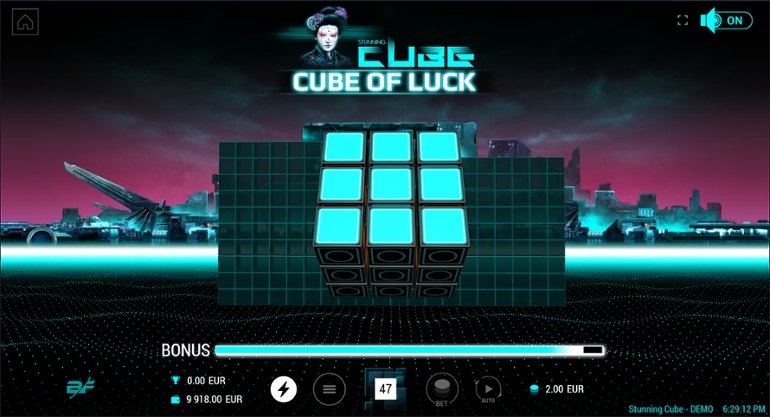 Bet Sizes, RTP and Variance
The return to player of this game is 96.06%, almost exactly our yardstick for average of roughly 96%.
The range of bets on the site we tested ran from a minimum bet per spin of $/£/€0.10 up to a maximum of $/£/€200 per spin.
The volatility of this game is medium, which makes it a less than ideal match for our preferred slot machine strategies. Our slot strategies target the highest possible volatility.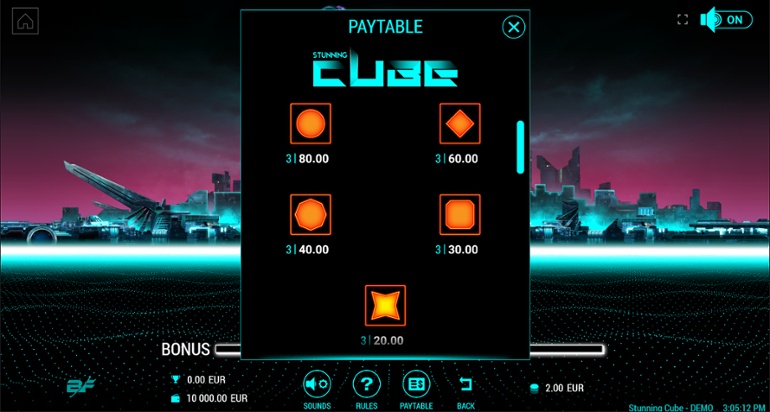 Conclusion
Though Stunning Cube's stats are not ideal for strategy, its captivating design makes it worth the visit.
Players may wish to save their bigger bets for different slots, but they won't be sorry they stopped by this stylish digital world.
We recommend this unique cyberpunk-themed slot with average RTP and average volatility.
Author:
Jon Pill
| This review was last updated: 06 Oct 2021