Big Foot Review
Theme and Story Line
If you go down to the woods today you're sure of a big-footed surprise… Big Foot takes you on the trail of America's mythical Sasquatch, a hairy man-like creature that lives in the woods and is only ever available for super grainy photographs taken by the least credible of people.
If you track him down in this game though, and you might just make your fortune.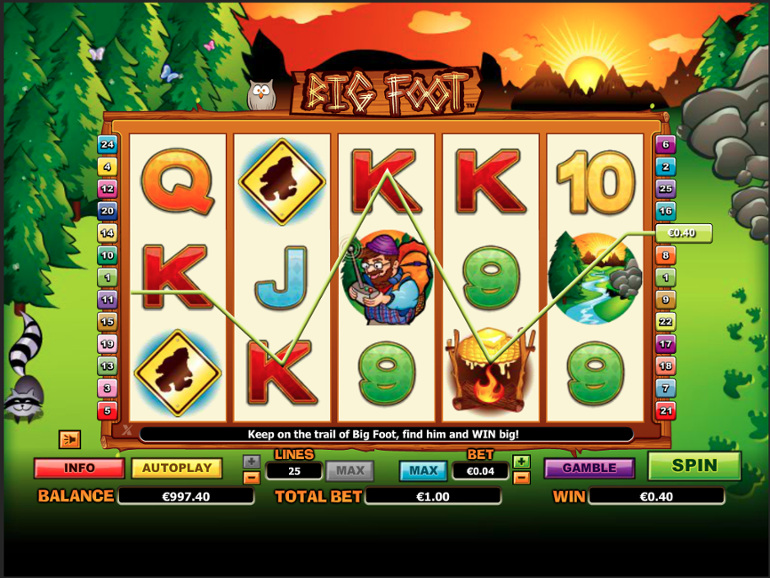 Graphics, Sounds and Animations
The Big Foot in this game is kind of cute to look at and he comes with little cartoon animals, enthusiastic bigfoot believers and gigantic corn roasting on the cob.
Unfortunately, the cutesy vibe is let down massively by the animation which is very badly optimised. It can be jerky and slow despite not being very high-def. The reels take forever to spin and all the animations are dragged out. Coupled with the poor performance this really kills any sense of exciting pacing. You can spend forever waiting for the action to catch-up.
Apart from this the game's not too badly designed (although the images look like they might have been produced in Microsoft Paint), the music is alright and the setting is well created.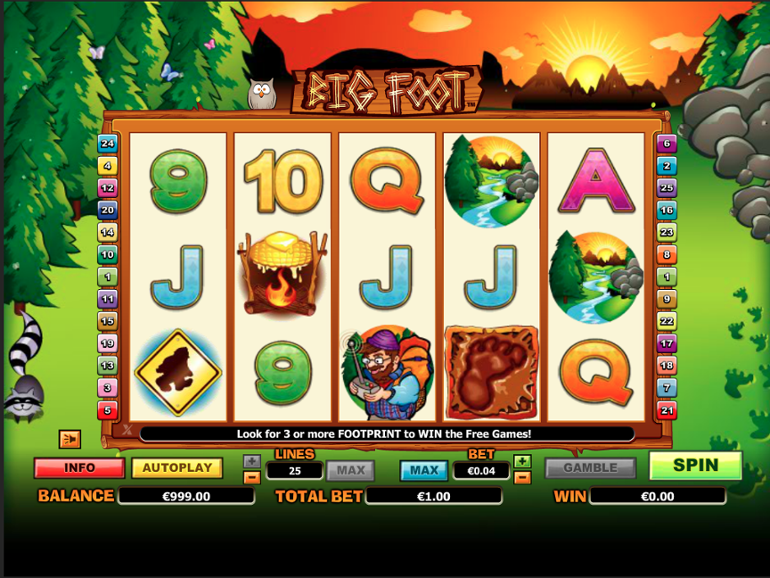 Gameplay
Gameplay is pretty fun once you get past the slow spinning reels. There are plenty of features: two bonuses (more on which below) and a gamble feature which allows you to bet either red or black on the next card or go quadruple-or-nothing with a suit bet feature.
These various features help to break up the gameplay nicely in this otherwise typical 25 win line, five reel slot machine.
Wilds, Bonuses and Free Spins
There are two special symbols – a Wild (bigfoot) symbol and a Scatter (footprint) symbol.
The Wild symbol appears on reels 2, 3, and 4 and plays as any symbol except for Scatters. If you hit a Wild on all three reels though you also trigger a bonus game in which you must click on three of five sets of eyes that are glowing at you in the dark. Each set of eyes is revealed to be a forest creature and a prize is one depending on which creatures you find.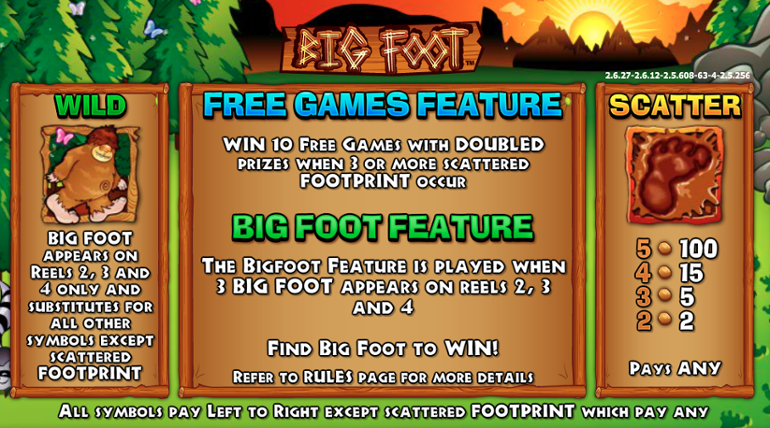 The biggest prize is for finding Bigfoot himself.
The Scatter symbol, on the other hand, pays out a multiple of your bet per spin: two scatters wins you 2-times your bet, three earns you 5, four earns you 15, and five wins you a nice, round 100-times your bet per spin.
If you hit three or more Scatters you also get 10 free spins. Free spins can be retriggered and are added to your Scatter win once done.
Bet Sizes, RTP and Variance
You can determine exactly how many winlines to play by choosing any number from 1 to 25, which gives you some nice control over your variance per spin. Which is good as this is not a very high variance game and sometimes you wanna up your exposure to the big wins.
The RTP is given by the maker as an oddly precise: 95.013%. This is nothing to write home about as we tend to think of 96% as being about average and anything under this as being a bit disappointing.

Conclusions
Big Foot is quite fun. It does sometimes suffer from some technical difficulties but once working right it can be a pleasure to play with nice design and fun features.
Its main downsides, however, are the lowish RTP and lack of opportunities for the really big wins that come with higher variance games.
Author:
Jon Pill
| This review was last updated: 14 Jun 2022