40 Super Hot review
Theme and Storyline
40 Super Hot is one of many examples of the slot genre: "fruit machine plus". Here the "plus" comes in the form of extra symbols – the game plays out on a five-by-four grid instead of the usual three or four reel fruit machines.
Beyond that, there is very little story to play with.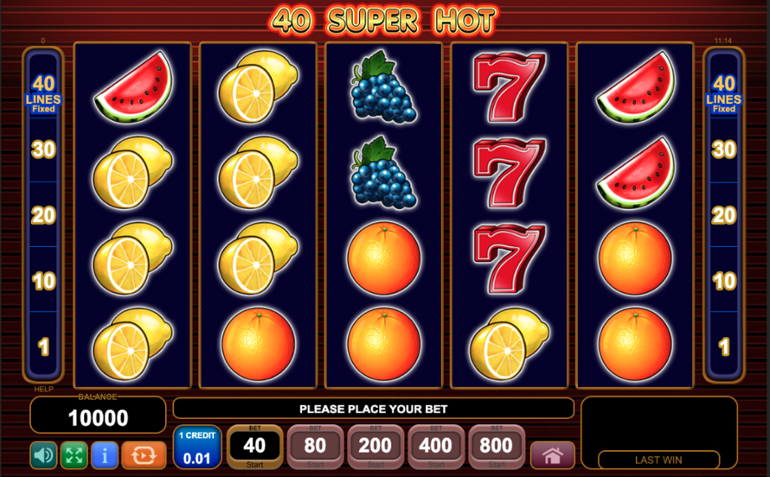 Graphics, Sounds and Animations
The graphics are pleasant. The dark background and bright symbols contrast nicely and are animated smoothly. Those animations can be very long-winded, especially while counting up a multi-win line payout. This can be easily countered, however, by simply hitting the spin button again to skip the animations and jump to the next round as soon as possible.
The sound design is mostly clicky reels and electric bells for completed spins and it all works well with the theme. There is no background music to distract the player.
All in all, it is a well-crafted slot from the visual angle.
Gameplay
Gameplay is pretty basic. The game plays out on five reels of four symbols each and symbols are stacked on all reels making for rarer wins. When you do hit, it tends to be across numerous winlines making for some nice payouts.
There are forty of those win lines to hit, hence the "40" in the name, and the betting system is based around this, taking forty coins as a minimum bet.
When you do win, you can add some variance by playing the Gamble feature. Like many simpler slots of this nature, the gamble feature is a simple game of red or black where you predict the colour of the next card off the deck for double or nothing.
Wilds, Bonuses and Free Spins
There are a few special symbols in this game. The Lucky 7s play as symbols in their own right (the most valuable symbol in the game for single line payouts) but also act as Wild symbols for other lines, substituting for all symbols except the Scatter symbol.
This Scatter symbol makes for the really big payouts, a bet of one coin per line (forty coins per spin) it pays out 200 coins for hitting three one any combination of reels, and up to 20,000 coins for hitting five Scatter symbols.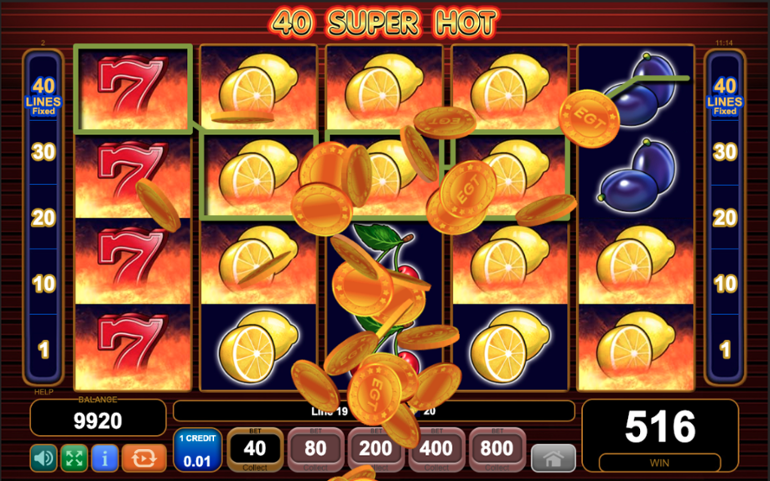 There are no free spins or bonus games in 40 Super Hot.
The game does, however, have a progressive jackpot feature, which is common for most games from EGT. If you like slots with this feature, feel free to check out other progressive slot machines or other games from EGT.
Bet Sizes, RTP and Variance
The RTP of 40 Super Hot is 95.81%. This is smack bang around the rough industry average and so doesn't particularly count for or against the game.
As stated earlier the stacked symbols make for a high-variance game, so make sure to account for that in your bet sizing and bankroll requirements. High variance works well with some of our favoured strategies.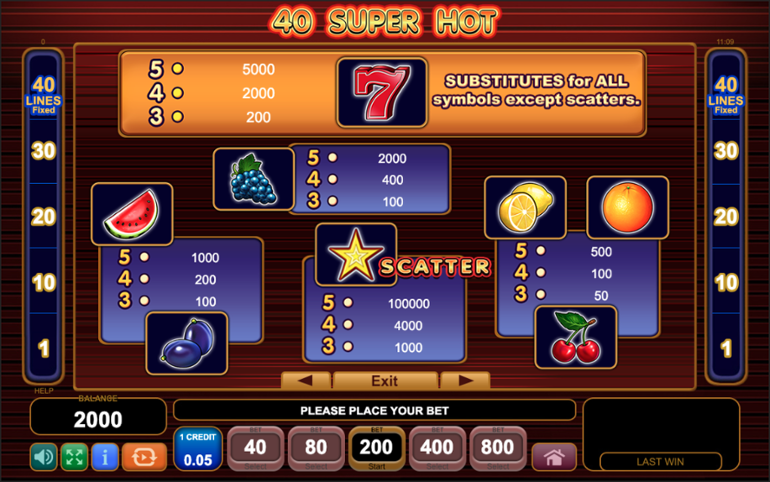 Conclusion
40 Super Hot is a solid, simple, slot machine that doesn't do a lot but does it well.
We like its high variance (and the gamble feature that allows you to increase it further) and the RTP is within acceptable bounds (if a little lower than we would normally like).
Overall playing 40 Super Hot is a positive experience.
Author:
Jon Pill
| This review was last updated: 14 Jun 2022