Mustang Money review
Theme and Storyline
The Wilds of the American West make for a common slot theme. So a slot needs to do something interesting with it, if they're going to stand out. Mustang Money does not.
There are cactuses, a neon horse, an ugly landscape of monument valley and some copy-pasted Ace to Jack symbols.
Ainsworth's Mustang Money gets an F for effort.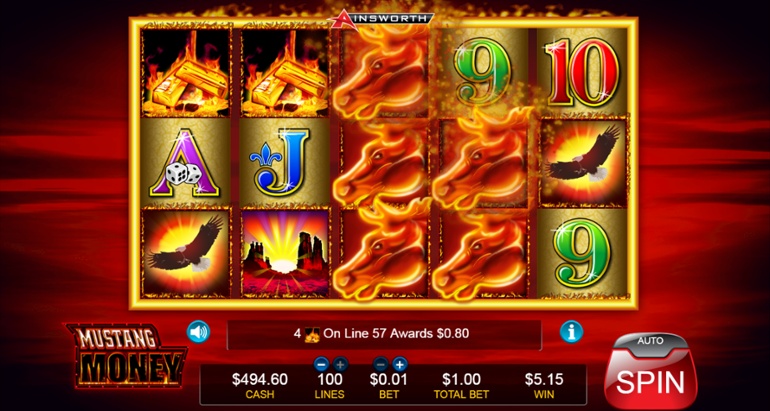 Graphics, Sounds and Animations
As well as having an unimaginative theme, Mustang Money executes that theme hideously. The entire slot is done in murky reds and oranges that look grubby and remind the player of clotting blood rather than the desert sunset they are clearly trying to emulate.
The sound effects are cheaply rendered horse beats and a panicked mare. Hardly evocative of the noble mustang. And there is no music track to speak of.
The animations cap the wholly nasty affair with cheap boxy win lines and little else that moves.
Gameplay
Mustang Money is a five reel slot with three rows. It also has a ridiculous 100 win lines, which on a five by three slot results in small three in a row wins chucking out three or four wins at once.
It is not clear that this is preferable to higher wins on fewer winlines, though it doesn't reduce the volatility, which is good for our strategies.
It has a simple free spin bonus and no gamble feature. So a straightforward game in all respects.
Wilds, Bonuses and Free Spins
The Wild symbol substitutes for all symbols except the Scatter symbol and appears only on 3 rightmost reels.
Three or more Scatters trigger a Free Spin bonus with 10 Free Spins.
During Free Spins, an additional Multiplier Wild is added to the reels. The Multiplier Wild appears only on reels two and four. This multiplier is randomly assigned. On reel two it can be either x1 or x2. On reel four it is x1 to x5 inclusive.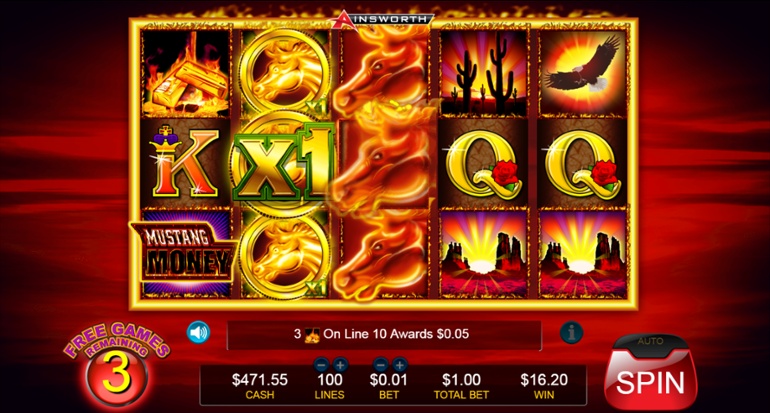 Free Spins can be retriggered.
Bet Sizes, RTP and Variance
The return to player of this game is 94.38%, way below our yardstick for average of roughly 96%. An RTP this dire would kill a slot's chances of getting a recommendation dead on its own, even without Mustang Money's other problems.
The range of bets on the site we tested ran from a minimum bet per spin of $/£/€1.00, if you play all 100 lines, up to a maximum of $/£/€100.00 per spin. That minimum bet is very high for a small stakes player who would be forced to play fewer lines if they want a more reasonable bet size.
The volatility of this game is medium-high, which would make it a moderately good match for our preferred slot machine strategies, if it had a much better RTP. Our slot strategies target the highest possible volatility.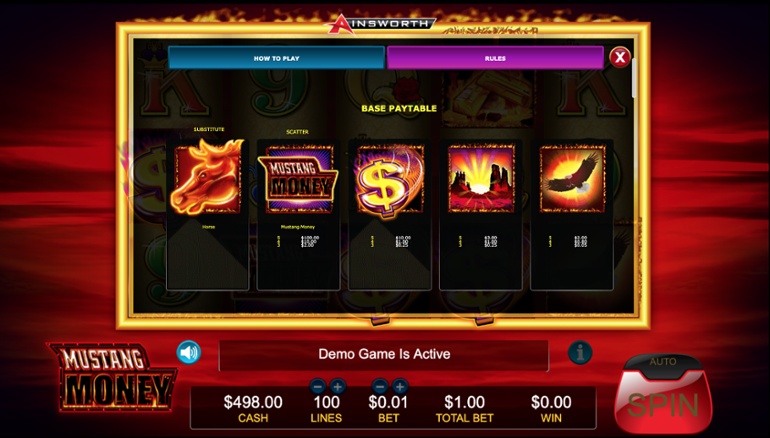 Conclusions
Visually, Mustang Money is a bit of a mess. Not disastrously so, but mildly ugly and thematically inconsistent.
Problem is, that from that poor first impression there is no turning point. The gameplay is basic and uninteresting, the minimum bet is absurdly high. The bonus doesn't add much and the volatility is okay but at the very lowest end of tolerable.
And then there is the RTP. 94.38% is far too low. Anything under 96% is poor. Below 95% is just mean spirited. Give this slot a wide berth.
Author:
Jon Pill
| This review was last updated: 22 Jan 2021