Mega Moolah review
Theme and Storyline
Mega Moolah is a jackpot based game that appears to have chosen its theme entirely at random. The title may suggest gangsters and American slang, but the theme is instead a non-copyright infringing version of Disney's The Lion King.
There is even a Rafiki-like character who has been rendered in such a way as to be even more racially problematic than the original.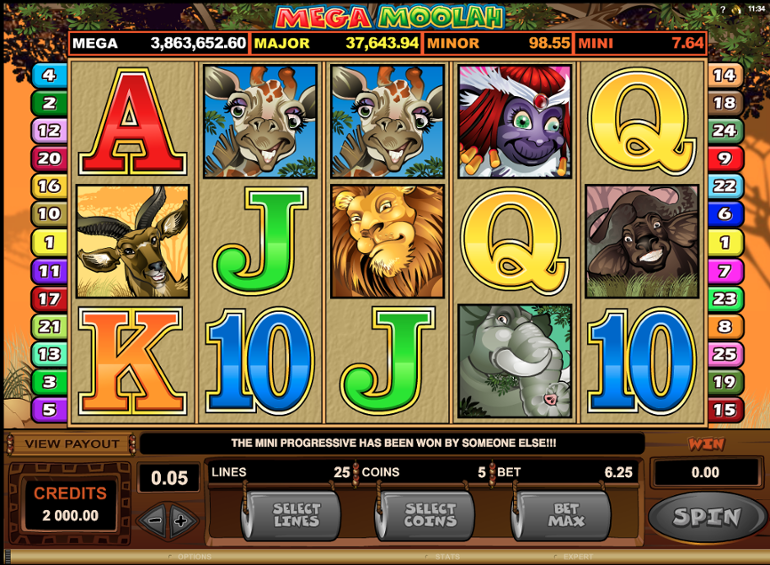 Along with the wise old monkey in a Masaii head-dress, there are various gurning giraffe, buffalo, lions and other big game as well as the ubiquitous ten to jack symbols.
Graphics, Sounds and Animations
Despite the lack of creativity shown by the theme, the imagery for the reels is solidly drawn. There is a cheeky cartoonish style to the whole slot which is fun.
In the background savanna noises set the atmosphere to outdoors and once you hit the spin button what appears to be a knock-off of Ladysmith Black Mambazo track kicks in with extra panpipes.
It is not breaking any new ground, but it more or less works.
Gameplay
Although at first glance Mega Moolah is a five reel, twenty-five winline slot with the usual minimal features (wilds and free spins, see below for detail), the randomly activated jackpot game is the real reason to be playing this game.
During this game, a wheel comes up that you spin to win one of four jackpots.
The jackpots are contributed to throughout your play (this in part accounts for the insanely low Return to Player, see below for details on that). The biggest of these is the Mega Jackpot which resets to 1,000,000 coins after a win, and which was 3.8 million coins at the time of writing.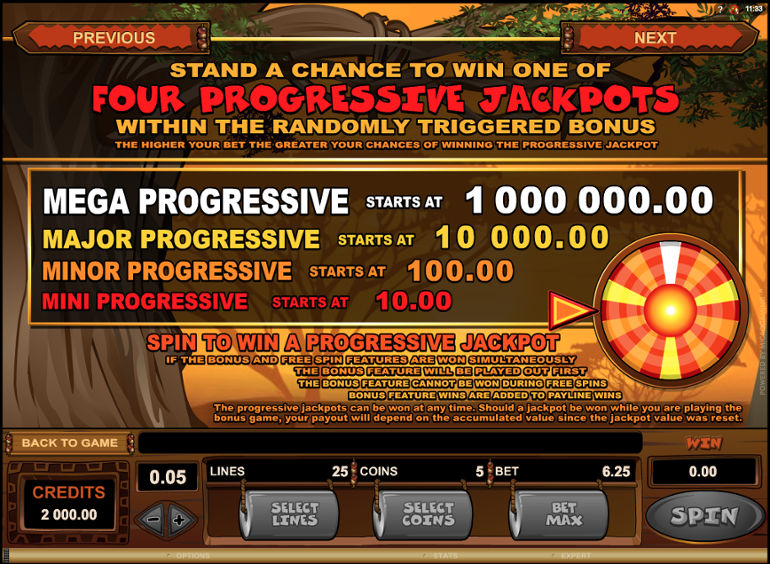 Each of the other three jackpots are a factor or two smaller than the last. The Major jackpot is always at least 10,000 coins, the Minor jackpot is a minimum of 100 coins and the Mini jackpot is never less than 10 coins.
Wilds, Bonuses and Free Spins
Mega Moolah has the bog-standard features that you expect on every slot machine.
It has a Wild symbol which plays as any symbol except the Bonus symbol, and pays out pretty well if you land it on a winline (15 times your bet per line for two in a row, up to 15,000 times your bet per line for five in a row).
If you win with a Wild symbol, it doubles your win.
The Bonus symbol pays out as a scatter – 2 times your bet per spin for two symbols up to 100 times your bet per line for five symbols. Hitting three or more also triggers fifteen free spins during which a 3 times multiplier is applied to all your wins.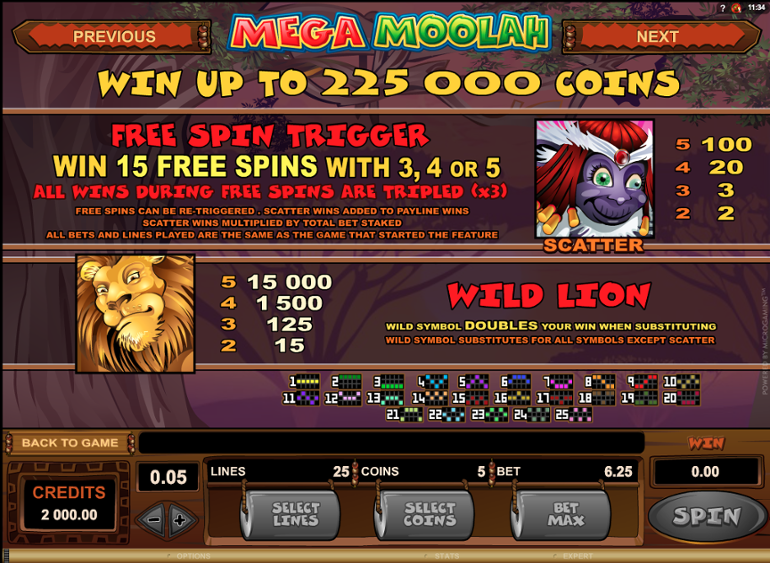 Bet Sizes, RTP and Variance
The return to player for Mega Moolah is just 88.12%. This appears dreadful but makes more sense when you consider the scale of the jackpots to which you are paying 8.80%.
No official numbers on this, but some sources quote an RTP all in of between 96% and 97% when you include the jackpot fees. These are not necessarily to be relied upon, as the publisher does not give a good sense of how the jackpot affects the RTP.
The spread of bets on the site we tested was £/$/€0.25 to £/$/€250 per spin.
Given the size of the vig and the potential jackpot, this game has the potential to have very high volatility, although the main game has medium to low volatility.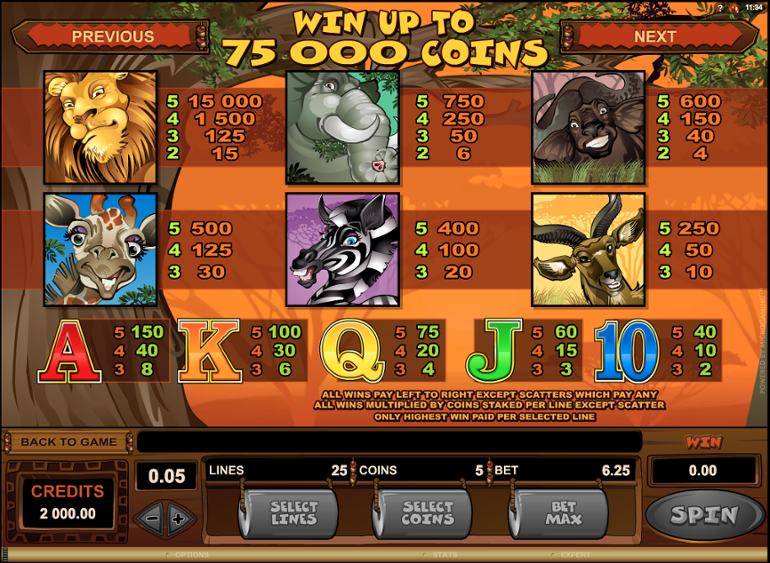 Conclusion
Mega Moolah's main appeal is the jackpots which allow the chance of life-changing wins in the way that most slots do not. It has the record for the biggest jackpot payout and so is best treated more like the lottery than a slot machine, since as a standard slot machine however it is expensive to play, not that nice to look at, and has almost no good features to make up for this.
We do not recommend this slot as a slot, but if you approach it right it offers a shot at some of the biggest prizes in online gaming.
Author:
Jon Pill
| This review was last updated: 28 Jun 2021