Hot Shot review
Theme and Storyline
Baseball, moneyball, America's golden pastime – Hot Shot is the slot to beat in the Yankee Stadium or Fenway Park. The leather catcher's mitt, ball ground hotdogs and the distinctive sewn skin of the baseball all make a show on the slots' reels, while the background bubbles with the excitement of the crowd.
Baseball is infamously slow-paced and notoriously unexciting even in the eyes of the cricket playing world, so it is perhaps unusual that such a theme would be applied to a slot where the goal is a high-speed riskathon.
Graphics, Sounds and Animations
The visual style of the slot was outdated when it was released and age has not been kind even after that. The colour scheme and visuals are dull and garish, the animations and sound effects are plain and seem to have been lifted off of truly ancient Microgaming skins.
The background track is supposed to mimic the sound of the excited crowd at the big game but instead ends up sounding like the garbled gibbering of a mid-2000s horror movie soundtrack.
Overall, this is just an unpleasant slot to be around even if you are a fan of baseball.
Gameplay
Hot Shot is a five-reel slot machine with three rows and nine win lines.
With no gamble feature, bonus feature or jackpots there is very little else to comment on. If the base game works well, this stripped-back style can work, however in Hot Shot's case we can safely say this is just yet another source of disappointment.
Wilds, Bonuses and Free Spins
The Wild symbol substitutes for all symbols except the Scatter symbol.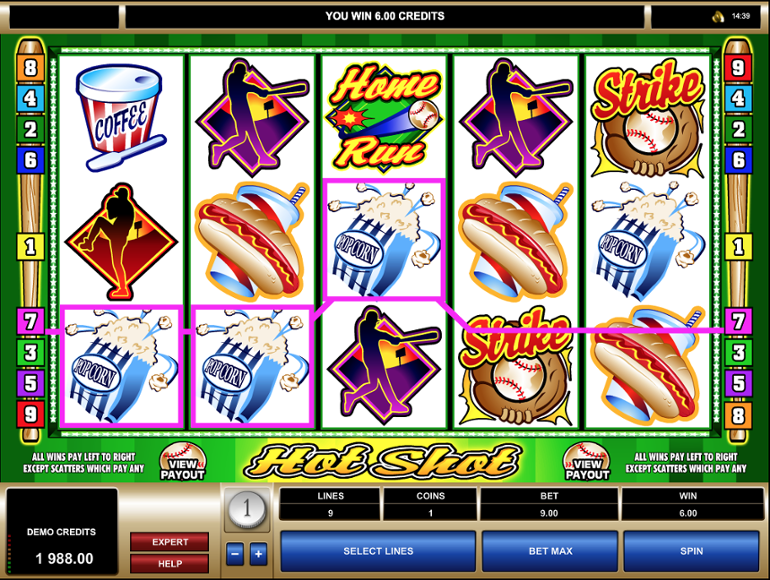 The Scatter symbol pays out for three or more symbols anywhere on the reels. The initial payout is ten times your bet per spin for three symbols with fifty or one hundred times your bet per spin for four or five symbols respectively.
There are no bonus games in Hot Shot.
Bet Sizes, RTP and Variance
The return to player of this game is a disappointing 95.56%, which is a good half percent under our yardstick of roughly 96% that we take as being the industry average.
The range of bets on the site we tested ran from a minimum bet per spin of $/£/€0.25 if you play just one win line or $/£/€2.25 if you play all nine of them. This is an absurdly high minimum bet and more or less eliminated anyone who isn't looking to risk serious cash over the course of a session.
The maximum bet size on the site we tested was $/£/€45.00 per spin, which in turn is oddly low.
Hot Shot's volatility is medium. This is unfortunate as medium volatility is not high enough to make it a good match for our slot machine strategies.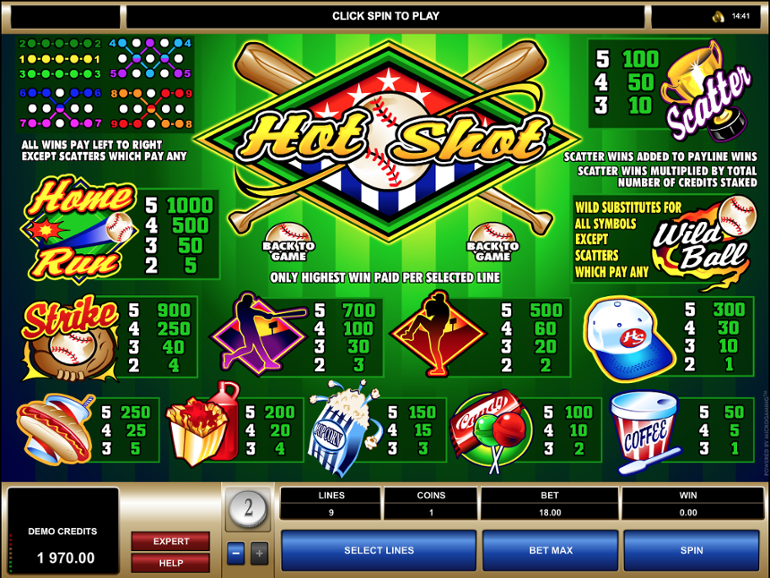 Conclusion
Ugly to look at, feature free, incredibly slow and dull to play, Hot Shot fails repeatedly.
On top of this, the slot is batting zero in the stats department. The return to player is well below average, the volatility is medium, excluding it from use with our slot strategies.
Even the soundtrack is grating. Avoid this one like the plague.
Author:
Jon Pill
| This review was last updated: 20 Jun 2020