How would you define a great online casino? Nice and modern website, fast and friendly customer support, your favorite games, generous bonuses? Yes, all of these aspects are important, but they're all worth nothing if the casino won't pay you when you manage to win something.
Winning and not getting paid is probably an even worse experience than losing.
That's the reason why in my reviews I put a strong focus on reputation. Different people can have different views on what makes a great game or effective support, but everyone wants to get paid after a big win.
My main rating criteria is simple: REPUTATION FIRST.
So how do I rate a casino's reputation? I rely mostly on the experience of other real players.
If a casino has tens of thousands of players and none of them have complained for years, you can be pretty sure that's a sign of a great and fair online casino. Some of these big casinos that play fairly are for example 32 Red, Mr. Green or Royal Panda.

For every casino review I search the internet to find any relevant complaints. Websites like AskGamblers, CasinoMeister or GamblingGrumbles are very useful for this. But I don't stop there and use Google to search for anything related on online forums or other websites.
Every complaint is reviewed in accordance with our Fair Gambling Codex. Not all complaints are legitimate and those which aren't, are not taken into account.
Then I evaluate all of the complaints by severity (amount involved, bonus money vs. real money), sum everything up and cross-check with the estimated number of casino visitors or its revenue.
You can see all complaints which I found relevant in every casino review we publish, in a table like this: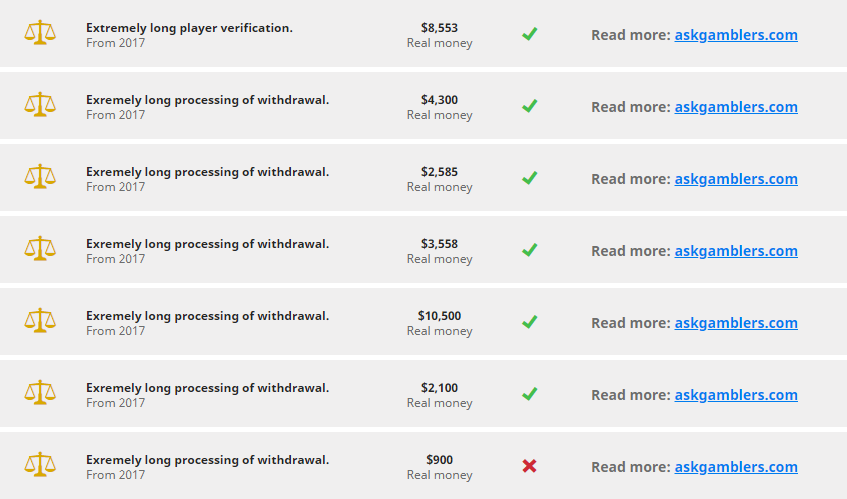 That's how I get the basic rating. Afterwards, I decrease it for things like:
Fake or manipulated games
Blacklisting by fellow websites which I respect
Costa Rica license
I also study the casino Terms & conditions in detail and look for predatory paragraphs, such as the ones in the picture below.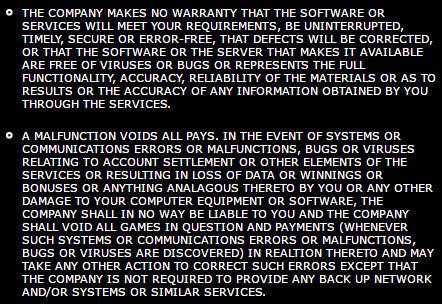 It takes me up to 12 hours to write a good review of one casino. So why am I going the extra mile on this?
I hate those generic "how perfect is that casino" reviews. Sadly, many websites about casinos contain only these types of reviews. And I think that all review websites should put effort into delivering the most valuable info they possibly can. After all, we do it to protect you and your money.
I want to give you the best and I hope that CasinoGuru visitors will appreciate that at the end of the day.
What's very surprising is that even some really big brands are performing poorly by our reputation standards. They are big companies and while they are clearly not rogue casinos, their terms and conditions appear to give them an excuse to take advantage of their customers if the situation allows it. If you are curious what I'm talking about, read my reviews of Planet7, BGO or 888.
While you should be extra careful with the brands listed above, there are some you shouldn't go anywhere close to. These clearly fall into the bracket of rogue casinos.
More crazy stuff can be seen in the number of fake casinos with fake games without any license. This is a mainly seen on Russian market. Surprisingly, sometimes those casinos have quite a solid market share. There are around 10 casinos called Vulkan, plus some fake copies of big brands like Joy Casino etc. If you are interested, I carried out an investigation about Vulkan casinos.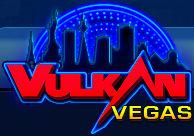 What most of those casinos have in common are fake Novomatic games. How can you distinguish fake from original? Simple detail works for me: the real games start with the following loading screen, so anything else is clearly fake.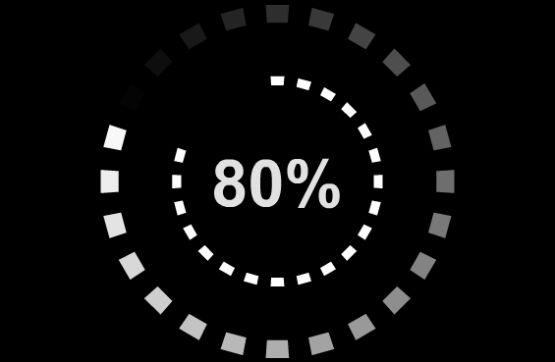 I must point out that the situation has changed a bit and now most of fake Novomatic games have the same loader as the genuine ones. That's why it's now much harder to distinguish between real and fake Novomatic games, even for me.
My advice: If you are from Russia and you like Novomatic games, try BitStarz. They have a clear reputation and are big enough to pay out big wins. The website and customer support is also in Russian language. Their bonuses are below average, but for fans of Sizzling Hot and Book of Ra it's still the best choice.
Besides big brands and obvious rogue casinos, there are hundreds of other small to middle sized operators. Here on Casino.guru you'll find reviews of a decent selection of them. They usually offer good welcome bonuses which you probably haven't used so far.
Keep in mind that these casinos haven't proven themselves as much as the respected big brands. Smaller number of players automatically means smaller revenues.
So, even if they are managed by fair and honest guys, you might not get paid. If you win €250 000 in such a casino, it's possible they'll have problems paying you, as they simply won't have enough money. If you are a high roller who likes high volatility games then better stay and play with the bigger brands.
Interesting story
I have talked to some casino managers who didn't realize the real volatility of some slot games. For example, in Book of Ra slot the player can win up to 5000-times the wagered amount in one spin. That means a possible win of €250 000 for a €50 bet.
That win is usually above payment capabilities of casino with €20 000 monthly revenues.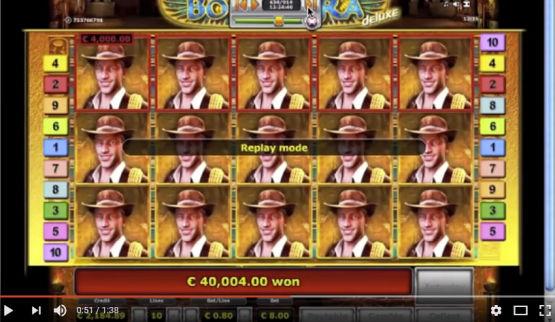 To make your life easier:
We publish our estimated "safe amount to win" for each casino, which is the amount of money the casino shouldn't have any issues paying out. It's a very rough estimate based on casino's estimated number of visitors and revenue.
My last piece of advice for now:
Always make sure you check any monthly withdrawal limits. Some casinos have withdrawals limited to $2000 per month or even less. If you get a big win while playing at one of these casinos, you may end up withdrawing your win for tens of months.  And all the time with the risk that casino will close its doors before you get all of your money.