Don't you feel uncomfortable depositing your funds into online casino?
Well, that's no longer how casinos should work!
Peergame offers a casino experience that no other casino currently offers. Powered by Bitcoin SV blockchain, our games are all on-chain games, which allows us to provide transparently fair, lightning-fast crypto casino experience with no hassle at all: No registration, no sign-in, no deposit.
Let me explain what makes us different from other casinos.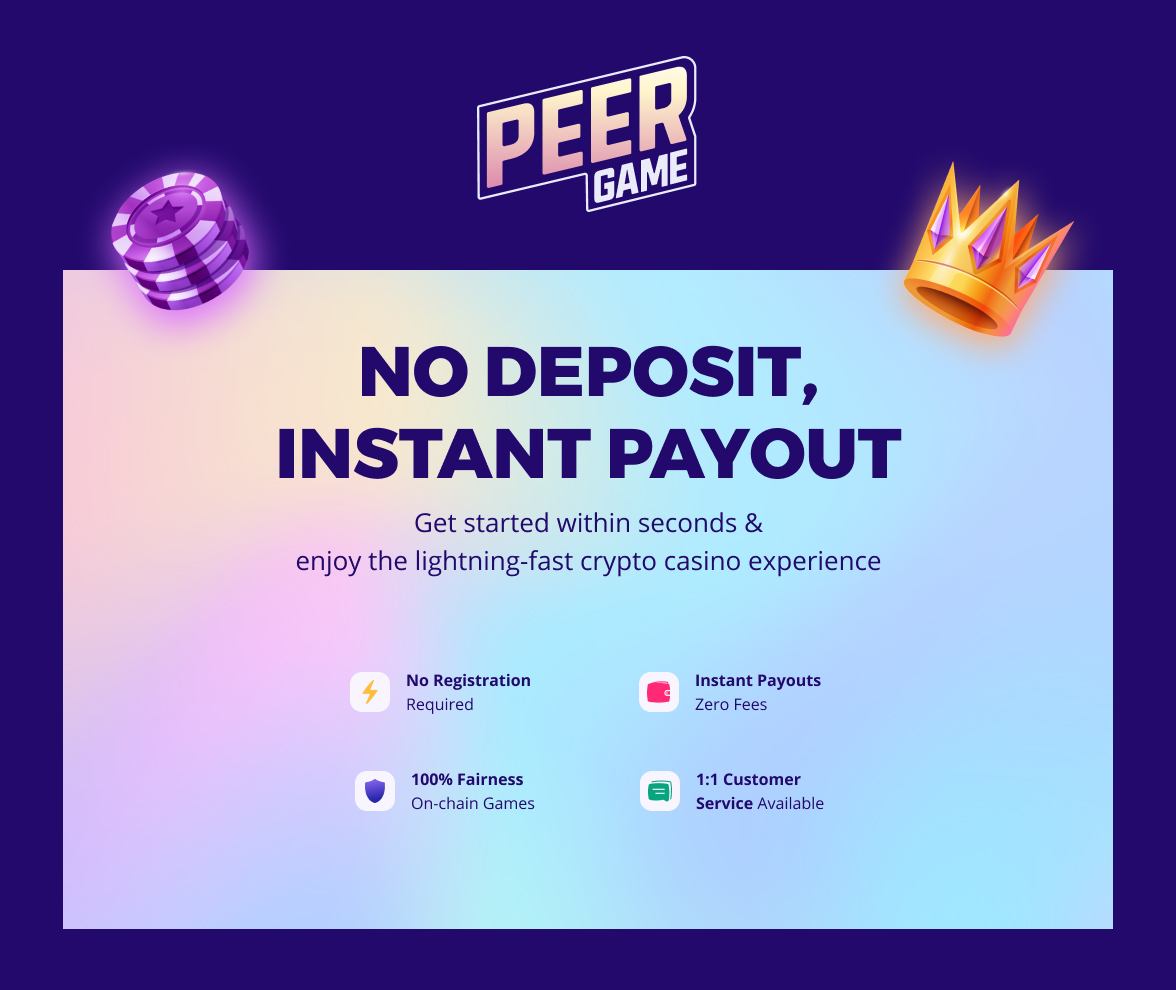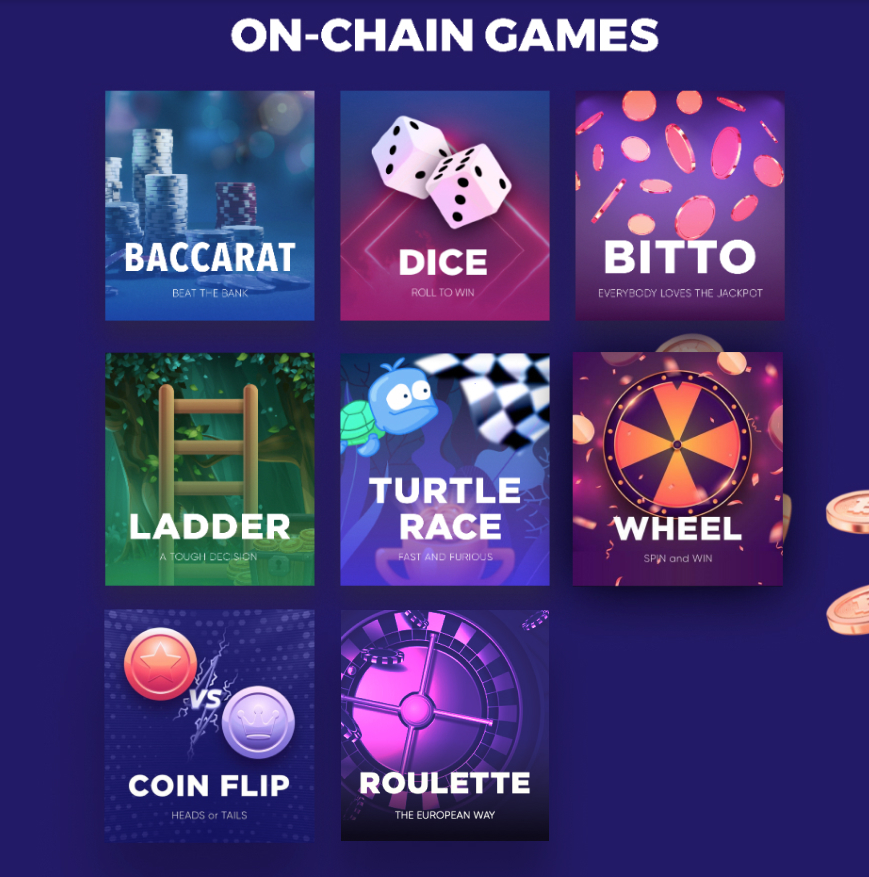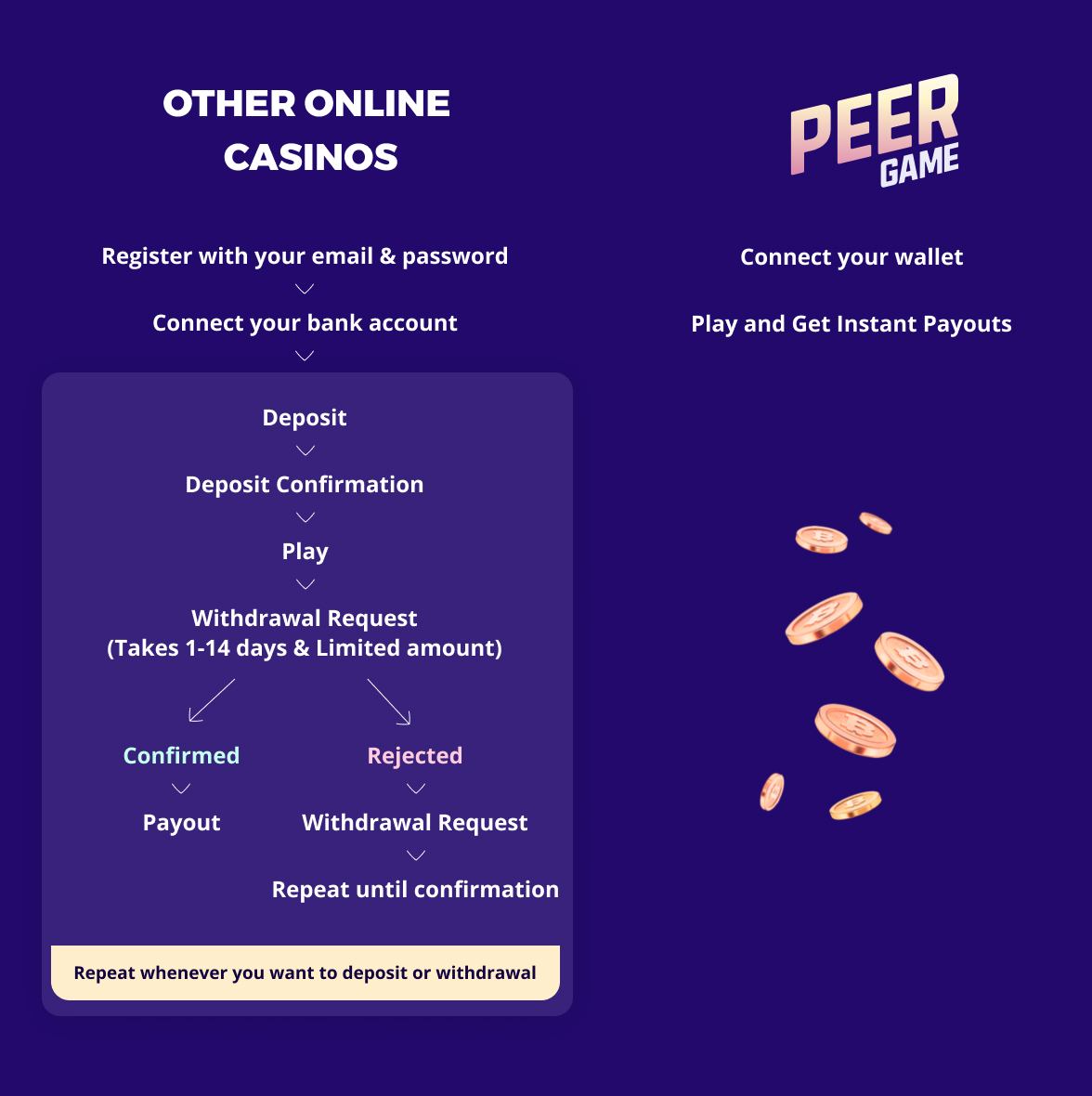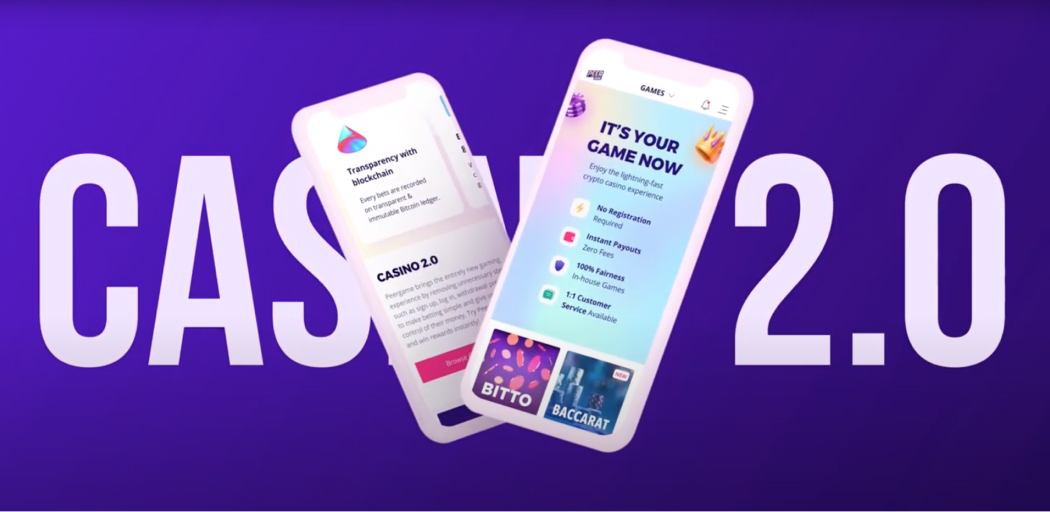 Deposit & Withdrawal
Unlike most online casinos out there, Peergame does not require any deposits.
The bets are directly placed into the game from the player's private wallet. Then you already know what this sweet deal comes with: That's right, No Withdrawal. There is absolutely no need to take multiple steps to request for a cashout and wait for the withdrawal to process, which we all know can sometimes take way longer than it should.
Your winning payouts are INSTANTLY paid out to your private wallet. All you need to do is create your online Bitcoin SV wallet that has been integrated with Peergame, and you will have a full control over your funds at all times in your private wallet, whilst enjoying our games.
So at Peergame, you can expect to experience complete freedom from the hassle of depositing and withdrawing funds, and the risks involved with them.
Provably Fair and Verifiable Results
Our on-chain games also allows our players to transparently see the details of their bets, as well as verify the results themselves to check the randomness of the outcome.
All bets made and winning payouts are recorded on Bitcoin SV blockchain, and they are immutable. We also provide Verification Tools and Verification Guide on our platform for users to check the randomness using the blockchain technology.
Check out this article about us regarding provably fair and verification.
Games
Peergame currently has 8 games, all originally developed by us: Roulette, Wheel, Bitto, Turtle Race, Ladder, Baccarat, Dice, and Coin Flip. All games are equipped with great designs, provably fairness, and easy- to-use search tool for players to check the fairness. More games are on its way on Peergame, including Sports Betting, Poker and more. So always be on the look-out.
Other things you should know about Peergame:
24/7 live chat support
Mobile friendly
Low house edge
Big Jackpot win on Bitto (Bitcoin Lottery)
Live Promotional Event at all times
Words cannot fully describe the hassle-less casino experience that Peergame offers. Just give it a try, and you will love it!
Please comment any questions you might have, or any feedbacks are always welcome!
Hope you all enjoy Peergame 🙂
2