Gold Factory Review
Theme and Story Line
The theme of Gold Factory slot is steampunk Goldrush.
The artwork combines the trains and minecarts of an old west mining town, with a gold submarine and fancy airships, not to mention all of the gold which comes in coin and bar form.
There is not much to go on for context or story, but the theme lends itself to garish yellows and a nice world of designs and some fun characters.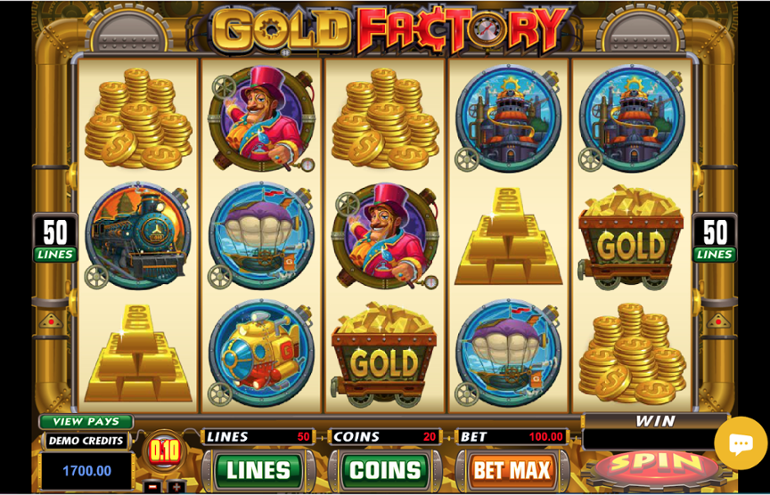 Graphics, Sounds and Animations
The graphics are slick and smooth, just as we have come to expect from Microgaming's bigger ticket slots like this one. Unfortunately, once you start to play the game the symbols are too busy and hard to read which detracts a little from the experience.
The cartoon designs also feel a little childish for a slot machine, but this will be a matter of personal taste.
On the soundtrack is a blaring loop-track, badly adjusted, so you only just hear the actually very nice win and spin noises. I would recommend going into the options and turning the music off.
Gameplay
One downside of the gameplay is that there is no autospin feature on this slot which will put some speed-freaks off.
Some of the controls are also rather fiddly, for example in order to go from playing one winline to playing all fifty you have to click the "Lines" button the 49 times it takes to cycle through all the other possible settings.
Beyond that the gameplay is simple but solid, but with little in the way of variation and not much in the way of special features to break up the pace of the game.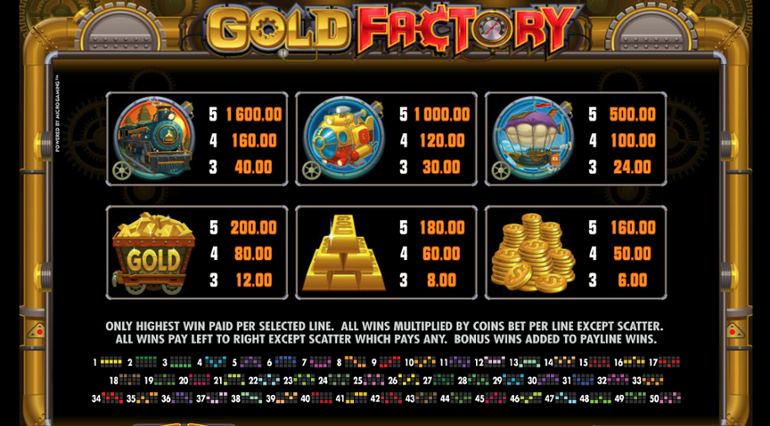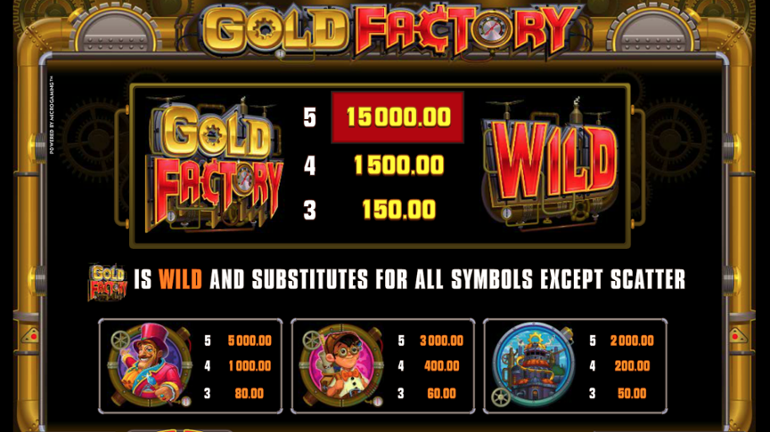 Wilds, Bonuses and Free Spins
There are just two special symbols. A basic wild symbol that works with all symbols but the scatter symbol and a Scatter symbol which doubles as the bonus symbol.
The bonus is triggered if you hit three or more scatter symbols.
In the bonus game you get to choose four of twelve items in a series of items which reveal multipliers, free spins and prizes. Some items will unlock higher level bonuses. Once the round is done you play your free spins and receive your payout.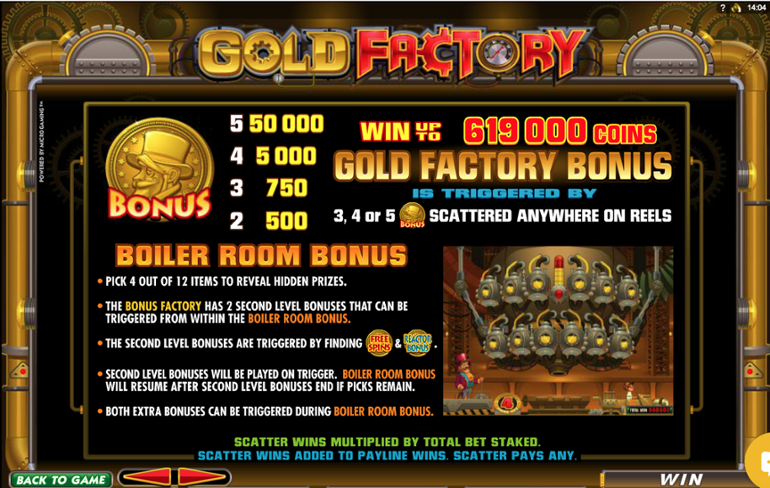 Bet Sizes, RTP and Variance
There is a great deal of flexibility in the betting on this slot. You can play any number of lines from one to fifty which allows flexibility for any budget. And you get a reasonable RTP of 96.54% for whatever size bet you place.
In the bonus rounds you can win up to 519,000 coins in the bonus round allowing you to turn a €/£/$25 bet covering every line into €/£/$259,500 in one go if you hit perfectly.
However, on the whole this is a very low variance game so large wins will be extremely rare. Instead you can expect small wins many times. As a result we cannot recommend this game.
Conclusion
A nice idea and solid programming are let down by what is a rather dull slot, that is busy to look at, has an average RTP, and a deal-breaking low volatility.
We do not recommend Gold Factory.
Author:
Maros Gasparik
| This review was last updated: 15 Oct 2020