5 Dazzling Hot review
Theme and Storyline
EGT seem pretty happy with their fruit machine formula. There are a load of slots in their Hot range, all united by the fruit machine symbols, orange colour scheme, and – in many cases – a shared jackpot pool.
The theme overall is fairly malleable and EGT apply it to many of their games. Here it is a five win line, three by five slot, while elsewhere there are more complex versions, and an even simpler three by three version.
As themes go, therefore, it has demonstrated robustness. If robustness is your thing, this could be the slot for you.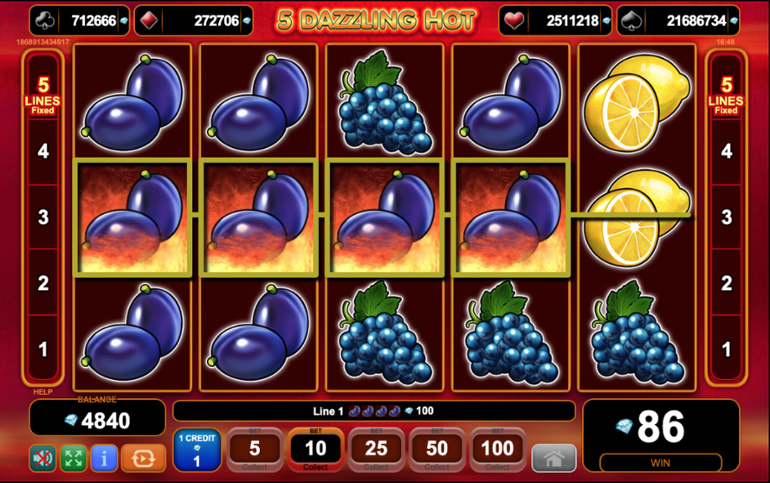 Graphics, Sounds and Animations
EGT have this down to a fine art at this point. The images are simple, easily read, and look good on their dark orange backgrounds.
The reels are well animated, with simple clear animations, and they look good on their light orange background.
There is no music, but the sound effects are also clear and simple and work well with the simple gameplay and design.
Gameplay
The gameplay elements of 5 Dazzling Hot are more or less what you'd expect from any run of the mill modern slot. There are five reels, three rows, and five win lines.
To spice things up there is a gamble feature. The main thing that is missing from a slot like this is some kind of bonus. 5 Dazzling Hot just has a randomly triggered jackpot instead (see below for details).
So, overall, the gameplay is neither a selling point nor a detraction from this slot. In fact, the gameplay is more or less invisible.
Wilds, Bonuses and Free Spins
There is no Wild symbol and no bonuses or free spins in 5 Dazzling Hot.
However, at the end of any spin the player can win a jackpot. This is randomised, but the higher the stakes the player is using, the better their chance of triggering the jackpot.
If the player is lucky enough to have triggered a jackpot, then they are offered a chance at a picking game. The player is dealt twelve cards, each of which has the name of a jackpot on the back. The player then picks cards from those twelve cards until they reveal three cards with the same jackpot on them. The player then wins that jackpot.
Bet Sizes, RTP and Variance
The return to player of this game is 95.74%, a good quarter of a percentage point below our rough yardstick for average of around 96%.
The range of bets on the site we tested ran from a minimum bet per spin of $/£/€0.05 up to a maximum of $/£/€50.00 per spin. This is a much lower minimum than many slots and may appeal to micro stakes gamers.
The volatility of this game, like many of the Hot games, is high. This makes for an excellent match with our preferred slot machine strategies, which target the highest possible volatility in the slots we chose.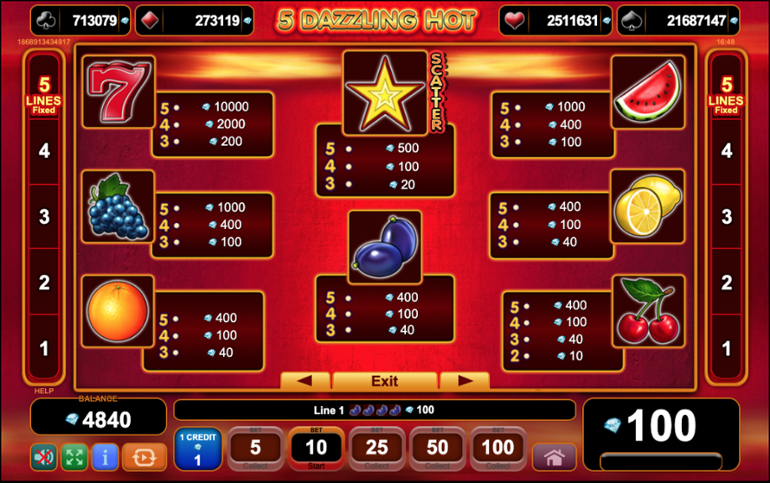 Conclusion
5 Dazzling Hot is a decent slot, simple and efficient.
The low RTP is a big stumbling block for us. One which is only partially made up for by the high volatility and the jackpot feature.
Players do need to be happy with very stripped down gameplay to get much out of this one though. But if that is your bag, we might give this slot a light recommendation.
Author:
Jon Pill
| This review was last updated: 06 Jul 2021