Thor's Lightning review
Theme and Storyline
The Old Nordic God of Thunder seems to be one of the most popular deities in the pantheon of the slots here on Earth. He also seems to get some of the most stylish slots.
Thor's Lightning is an excellent example of this, taking the immediate imagery of Thor himself, his mighty hammer Mjolnir, Muspell – the realm of fire, and the cryptic Futhark alphabet of Old Norse runes.
All of this set in a snowy waste of floating rocks that feels more Mike Mignola than Snorri Sturluson.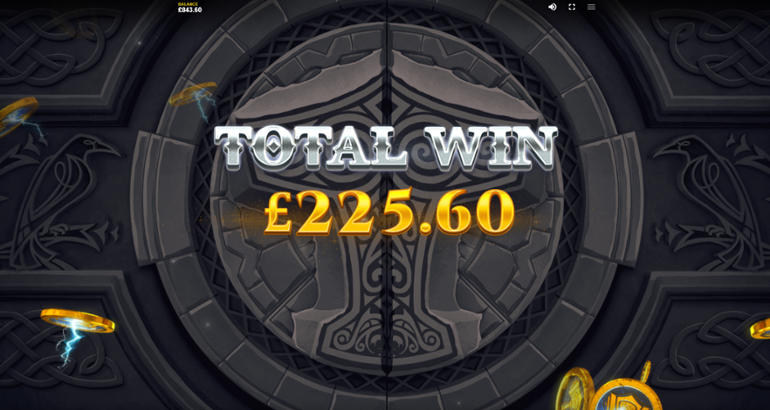 Graphics, Sounds and Animations
The graphics on this game are as striking as one of Thor's thunderbolts. A gorgeous painted backdrop and simple 3D graphics for the reels.
The symbols are gorgeous works of art that put modern complexity onto a medieval style while the audio setting eschews background music form more ambient reel and winning sounds.
It is a masterclass in front end design for a slot.
Gameplay
Part of Thor's Lightning's visual style grows organically out of the gameplay. A grid seven symbols wide and seven deep with a three-by-three block in the middle.
The middle block remains inert, only becoming active as part of the Free Spin bonus (see below for details) making the base game's playing field an unusual shape. Instead of reels and win lines, payouts are awarded for clusters of symbols greater than five in number. A symbol is part of a cluster if it touches the identical symbol directly horizontally or vertically only.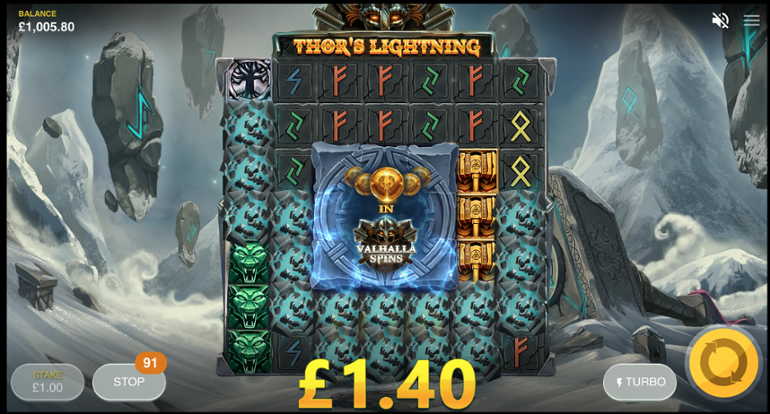 There is also a cascade system where winning symbols are removed and further symbols drop down from above to fill the spaces left behind.
During the base game there are two randomly triggered features:
the Lightning Feature removes all the low paying symbols and replaces them with either the same high paying symbol or all Wilds; and
the Hammer Feature removes a random block of two-by-two and either replaces them or nudges them to create a winning combination.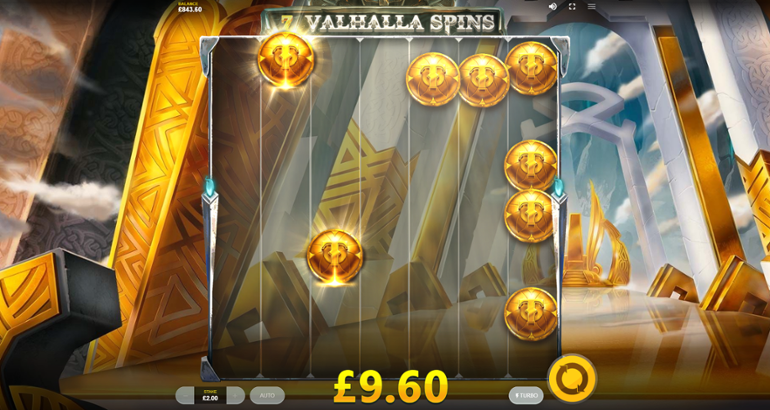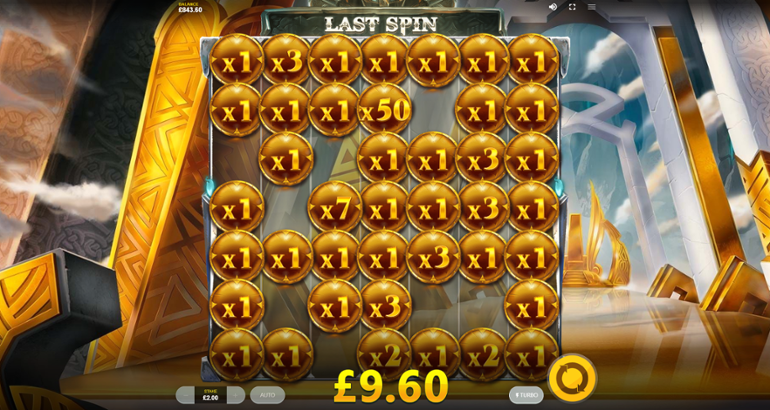 These features along with the bonuses below should keep most players invested in the game.
Wilds, Bonuses and Free Spins
The Wild symbol substitutes for all other symbols.
There are no other special symbols, instead the two Free Spin bonuses are triggered by getting winning combinations that include all the squares alongside the middle block.
When all these squares are "unlocked" one of two Free Spin options is triggered at random.
Valhalla Free Spins take place with a new symbol on the reels, which add multipliers and remain in place on the reels until the end of the Free Spins.
During Muspell Free Spins all low paying symbols are removed from the reels and the Lava Flow and Lava Shower features can trigger at random. Lava Flow creates identical symbols on at least two connected reels and Lava Shower destroys one type of symbol for an additional spin.
Bet Sizes, RTP and Variance
The return to player of this game is 96.08%, which is almost as close to dead on our yardstick for average, which is roughly 96%, as a slot can get.
The range of bets on the site we tested ran from a minimum bet per spin of $/£/€0.20 up to a maximum of $/£/€40.00 per spin.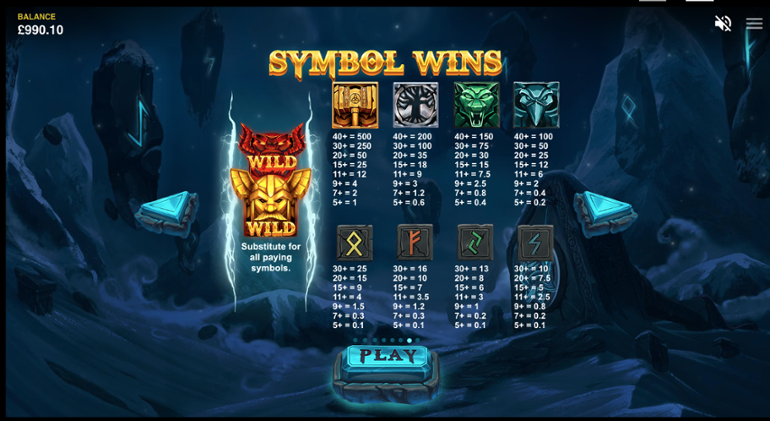 The volatility of Thor's Lightning is relatively high, putting it in the realm of slots which would work with our slot machine strategies.
Conclusion
It is a shame that Thor's Lightning is not particularly well known or widely played as it is a truly excellent slot. Innovative gameplay is paired with pitch-perfect design, an inoffensive return to player and high volatility.
We highly recommend this slot to our readers.
Author:
Jon Pill
| This review was last updated: 09 Nov 2020