Pussy Cat review
Theme and Storyline
Who doesn't like cats? They are cute, fluffy pest control machines. Maybe they can be a little distant, a little cruel, but we like it when someone plays hard to get.
Unfortunately, Ainsworth's Pussy Cat features very little of our furry friends, instead opting for cat toys and comic sans ten to queen symbols.
As far as universally loveable themes, that seems like a missed opportunity.
Graphics, Sounds and Animations
In fact, the lack of cats is not the only missed opportunity. In making the various visual decisions that need to be made when building a slot machine Ainsworth – the Australian based slot maker that made Pussy Cat – seems to have made all the wrong decisions.
The game is, simply put, hideous to look at. The imagery is rendered in cheaply drawn icons and ugly colours. The whole thing looks like it was rendered in Microsoft Paint circa 1999, not a release from early 2019 as it, surprisingly, is in fact.
The sound design is the only place they made the right choice, eschewing a musical accompaniment and keeping win chimes and reel noises to the most bog standard specifications possible.
Gameplay
The game is a 25 win line slot with a standard five by three grid. The main variation in the gameplay comes from the somewhat convoluted selection of Wilds, Bonuses and Free Spins covered below.
The gameplay is pretty typical and the additional variations manage to do nothing to elevate the game beyond complete boredom.
Wilds, Bonuses and Free Spins
The Wilds appear on reels 2,3 and 4 and substitute for all other symbols except the Scatter.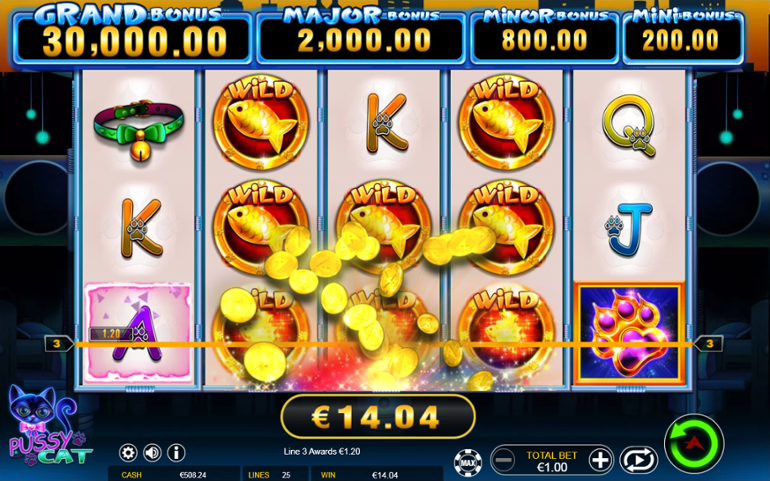 The Scatter pays out from any position (2x your bet for 3 symbols, 20x for 4, and 50x for 5) and triggers a respin if you hit exactly two of them. During the respin the reels with a Scatter on them are held in place. Three or more Scatters triggers the Free Spins bonus.
During the Free Spins bonus there are a number of changes to the reels: a Silver Wild is added to reels 2, 3, and 4 in addition to the regular Wild; both Wilds and Silver Wilds are each assigned a random multiplier between one and six times; a new paytable is in effect; and the Grand, Major, Minor, and Mini Bonuses are brought online.
The Silver Wilds play just like regular Wilds but if you land both a Wild and a Silver Wild on one winline your win is multiplied by the total of the two multipliers on the Wild and Silver Wild symbol involved.
If a reel is covered by three Wilds, the player also wins one of either the Grand, Major, Minor, or Mini Bonuses.
Bet Sizes, RTP and Variance
With variance at the high end of medium, so we can give this a mild recommendation on this aspect of the slot. Overall though we would suggest avoiding this slot in favour of something with a little more volatility.
The return to player on this game is a dismally low 94.16%, which is much too low at almost 2% lower than our estimated average of 96%.
The site we tested offered a bet size ranging from a minimum bet per spin of £/$/€1.00 to a maximum bet per spin of £/$/€40.00. This is an oddly low range of bets.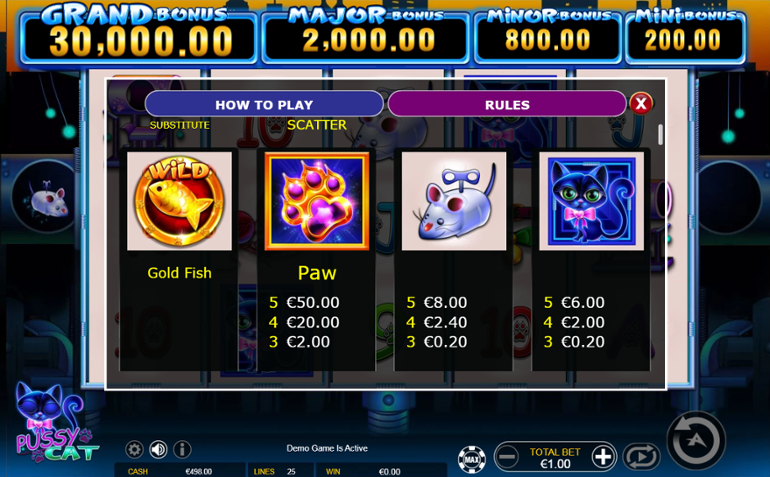 Conclusion
This is an ugly game, with a hideously low return to player. Together these would normally be enough to eliminate any possibility of a recommendation.
The only redeeming feature is the high(ish) volatility and, in particular, the jackpot style Grand and Major bonuses.
Author:
Jon Pill
| This review was last updated: 19 Mar 2020