Magic Mirror Review
Theme and Story Line
Magic Mirror is based around a fairy tale world. On top of the standard symbols of Ace to Ten there are also medieval Princesses, magical Unicorns, ancient Tomes, and Celtic Rings on each reel.
If you are fond of the Middle Ages or high fantasy novels, the style of this slot this might go well with your sense of taste.
However, the tough realism of Game of Thrones it is not.
Graphics, Sounds and Animations
The graphics in Magic Mirror are simple, bright and easy to read. Though they are perhaps a little uninspired and much to kitsch for our liking.
But they are animated cleanly and there is some nice weight to the way the reels are animated. This sense of weight is augmented by some solid sound design. Like the artwork these sound effects are a little cheesy, but they are effective.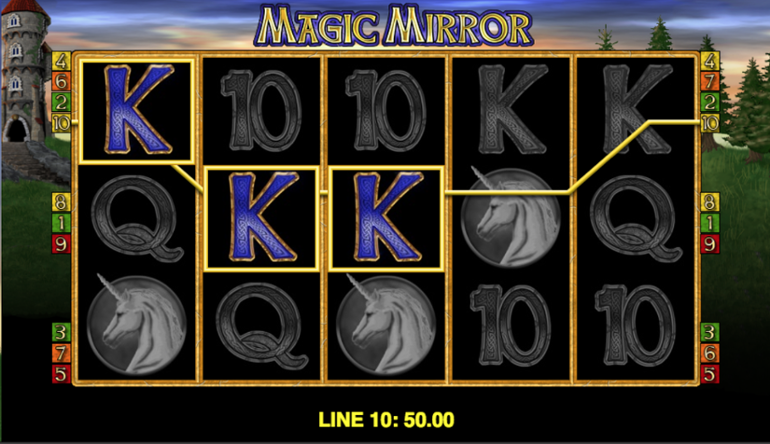 There is a pleasing thunk when each reel stops; and a good tension building noise that increases with each Scatter symbol that falls signalling the potential to win a bonus round.
Overall it is nice enough to look at.
Gameplay
The gameplay of Magic Mirror is centred around the 5 reels and 10 lines. You cannot adjust the number of winlines which means you lose a little control but you do earn some of that control back with the 'Gamble' feature.
The Gamble feature is triggered when you win certain combinations on the reel. This feature allows you to bet all or half of your winnings in one of two minigames.
The first minigame is a simple game of red or black. The other is also a ladder mini-game where you can flip a coin to move up the ladder or down it, each time you move up, you increase increasing your win, each time you move down you lose your stake. These games might affect RTP, but the company do not specify how much difference they make.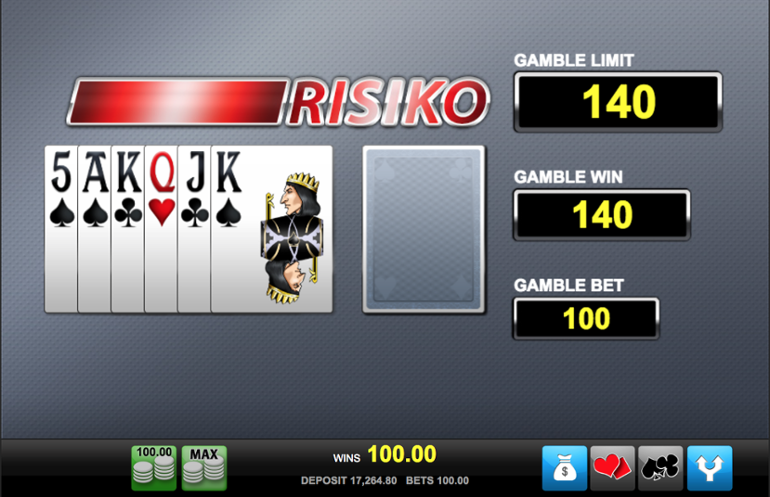 Wilds, Bonuses and Free Spins
The Magic Mirror symbol is a Wild symbol combining with any other symbol to form the highest value win on a given pay line. The Magic Mirror symbol also plays as a Scatter symbol if there are other Magic Mirror symbols on other reels. It can play as both if there are multiple winlines involved.
The Magic Mirror symbol has a third function when three or more hit; when this happens, as well as the scatter payout you receive a bonus of 10 free spins. This bonus feature is very simple for a game with some other nice features.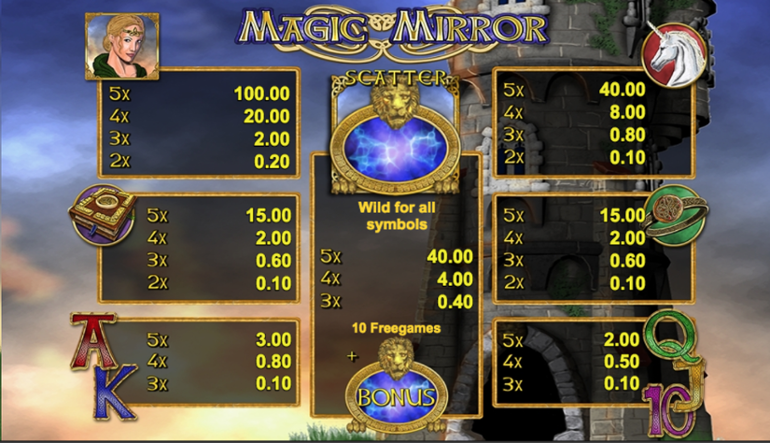 The bonus is also not very generous and tends to pay out relatively small wins most of the time.
However if you do get a run going with the 'special symbols' feature during the bonus you can hit the big bucks. This feature assigns a special symbol for the bonus spins, when hit these then expand to cover the whole reel. If you retrigger the bonus you can add then another Special symbol allowing you to build up a big win. This only happens rarely.
Bet Sizes, RTP and Variance
The RTP on this game is 95.94%, around the industry average of 96%. That said it would not be hard to hunt about for something with a rather better return.
We are also not big fans of the very low variance of the game. Which provided regular small wins and frequent, but small bonuses. For more on why we like higher variance slots see our strategies page.
Conclusion
Overall the slot machine is quite well made. It is not great to look at, but not horribly designed. The sound and graphics are smooth and work and the minigames are fun and work well to break up the game's monotony.
Unfortunately this lower than average RTP and low variance make it unsuitable for our recommendation.
However if you are in the market for a low variance slot, the additional features make this good fun for your money.
Author:
Maros Gasparik
| This review was last updated: 13 Oct 2020