Crown of Egypt Review
Theme and Visual Details
The theme for Crown of Egypt is the world of ancient Ancient Egypt, in the palaces of the pharaohs and the temples of great animal headed gods. It has a background of sand coloured monuments and symbols drawing on the rich world of the empires and kingdoms of North Africa.
You might seduce the gorgeous Cleopatra for a massive payday, or be blessed by Horus' eye for rather less.
It's a common theme in the world of slot machines, associations with the riches of grave-robbing and the treasure hunters of the early 20th Century make the gold coins of the slots go well with the golden treasures of Tutankhamun or Hatshepsut.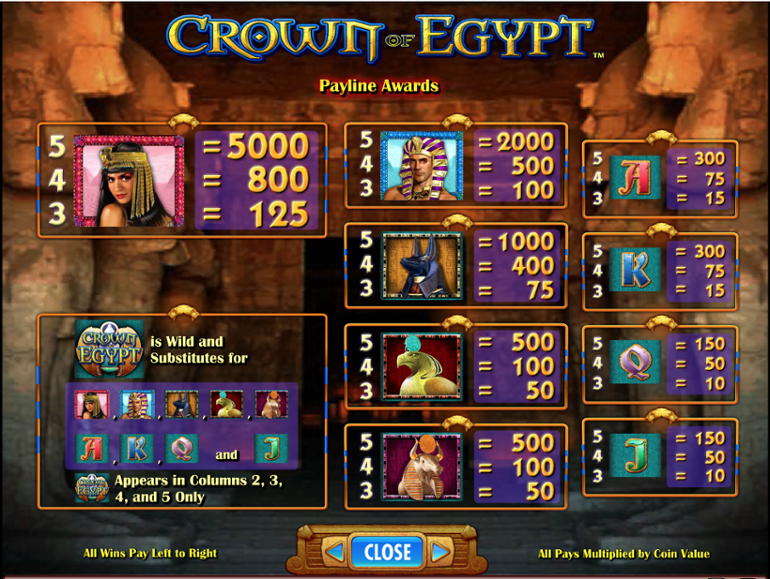 Graphics, Sounds and Animations
Crowns of Egypt is a high class slot, plenty has been spent on producing intricate and lifelike symbols (perhaps too lifelike, slots often look better stylised).
More effort still was put into the animations, one of Crown of Egypt's gimmicks is that every symbol functions as a separate reel. So when you hit spin you get to see all 20 reels whizz around independently.
The music is appropriate and pleasant, adding to the ambience without being too noticeable. And the sound design matches the animations impressively.
All in all it looks and sounds great.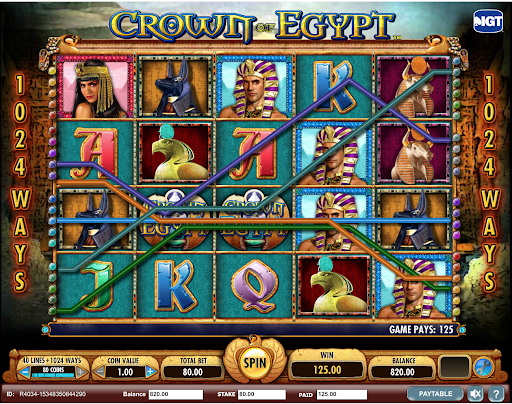 Gameplay
Gameplay is a bit of a disappointment. This is a pretty standard slot in that regard. There are no gamble or minigame features which is a shame on something that is as well designed.
The separate reels and the optional 1024-ways payouts are largely cosmetic additions and in practice this is a bog-standard five reel slot.
Which is fine so long as you're not hoping for bells and whistles.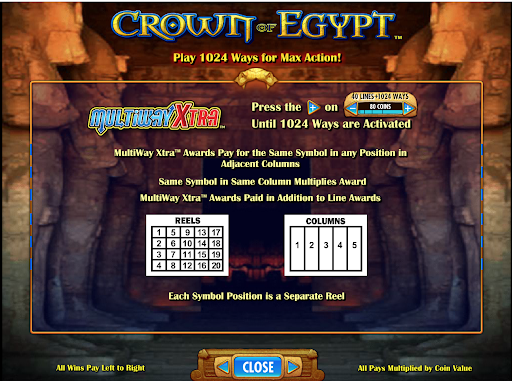 One thing to note is that if you are playing the basic winline based version of the game (between one and forty lines) the payouts are different to the 1024-ways wins. In fact while the winline payouts are pretty standard, the 1024-ways will only pay out on 4 symbols or more.
So keep an eye on that if you are playing a system that requires moving up and down the number of winlines.
Wilds, Bonuses and Free Spins
There is a basic bonus system whereby you win free spins if you hit two or more Pyramid symbols. These only appear in column three and you can win a maximum of 130 free spins.
These bonus spins are even auto spun for you, reducing your interactivity to another level and reminding you that this slot is pretty basic.
There is also a wild Crown of Egypt symbol that appears in all the columns except column one. This substitutes for any symbol but the Bonus.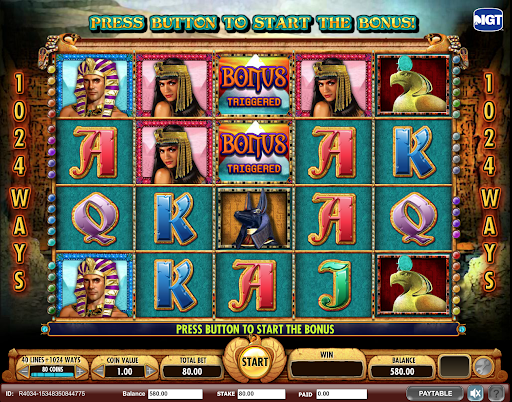 Bet Sizes, RTP and Variance
RTP is where Crowns of Egypt really lets the side down, at 95.03% its right at the bottom end of what passes for average in this business.
The volatility of Crown of Egypt is also only medium, although this can be ramped up by playing fewer win lines.
Unfortunately boosting the volatility this way also removes the one thing that makes this slot unique (its Multi Way Xtra system).
Conclusion
Crowns of Egypt is a pleasant slot experience. Unfortunately it is also very basic, a fact which its Multi Way Xtra system fails to disguise.
While this may not be an issue for many casual players the low RTP probably will turn many more people off and the low volatility makes it less useful for most of our recommended strategies.
It was almost a really excellent slot, but let down in the details of its execution.
Author:
Jon Pill
| This review was last updated: 16 Jun 2022