Mystery Reels Megaways review
Theme and Storyline
Mystery Reels Megaways puts a shine on the fruit machine style slot. The chromium jukebox design of the reels feels retrofuturistic and the background is a minimalist abstract with hints of the Vegas nightlife.
The reels are decked out in all the classic symbols: bells, lucky sevens and fruits of all kinds.
The theme doesn't amount to much more than these visuals, but it is all presented in an updated style that makes it work, more or less.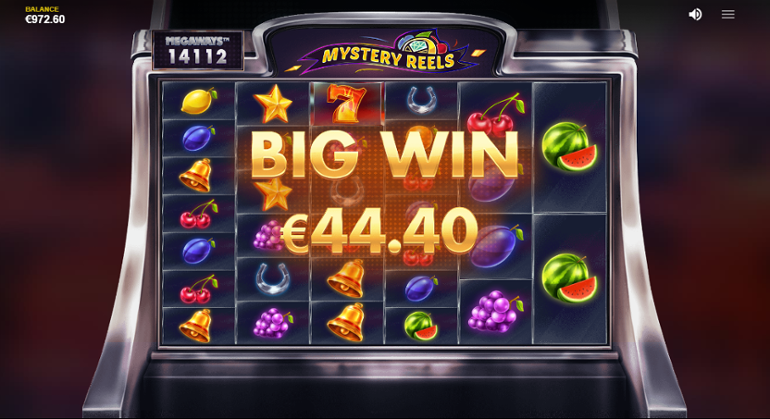 Graphics, Sounds and Animations
The visuals do their best to make an old idea new. The symbols are given some 3D polish and just about everything is given a regular polish too. Every surface and animation is reflective in the extreme, putting out a megawatt glow from every facet.
It looks fantastic and is a delight to play.
However, these visuals are accompanied by a tiring Eurosynth dance track which becomes old within the time it takes to spin the reels a few times and is best retired from use by the mute button.
Gameplay
Mystery Reels is played on a six reel slot with an any ways wins system. The number of symbols on each reel is randomised each spin but is between two and seven.
With up to seven symbols per reel and an any way wins system, that makes for a maximum of 117,649 possible winning combinations.
On top of this, there are the Mystery symbol and Free Spin bonus described below. This is not a lot of features but the constant respins (courtesy of the cascade system) should keep it from boring most players.
Wilds, Bonuses and Free Spins
Unusually, Mystery Reels Megaways does not come with a Wild symbol on the reels. It does, however, have a Mystery symbol.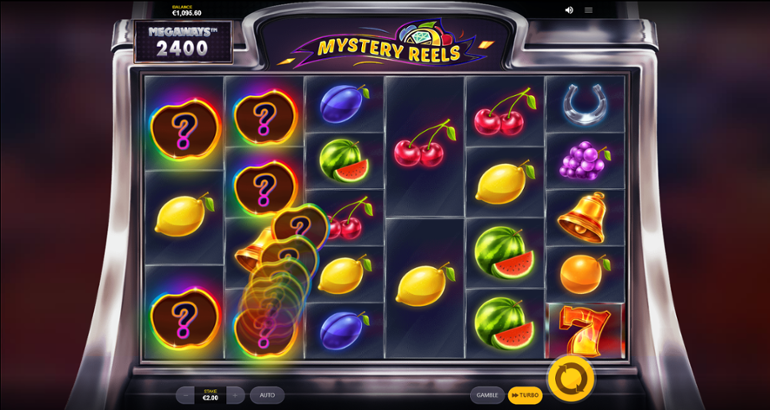 This special symbol clones itself a random number of times, moving up or sideways each time. When it comes to a halt, all its clones are turned into the same random paying symbol.
Landing three Free Spin symbols triggers a Free Spin bonus. You are awarded eight free spins, then are given the option to either collect or gamble them. If you choose to collect, the Free Spin bonus is launched, but if you choose to gamble, there is a minigame in which you spin a wheel. You can end up with four free spins if you lose, or up to forty free spins if you are lucky.
Hitting three Free Spin symbols during the Free Spin Bonus adds five free spins to your total. As you play your Free Spins, every win adds one to your multiplier. Multipliers do not reset until the Free Spin bonus is completed.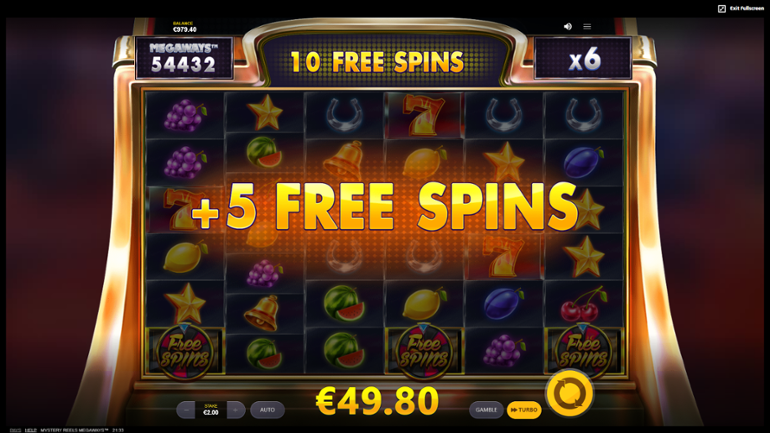 Bet Sizes, RTP and Variance
The return to player of this game is 96.18%, a little over our yardstick for average of roughly 96%.
The range of bets on the site we tested ran from a minimum bet per spin of $/£/€0.20 up to a maximum of $/£/€10.00 per spin. This is an oddly narrow range for any game and precludes a great many bet size preferences at the lower and upper ends of the bankroll spectrum.
The volatility of this game is high, which makes it a good match for our preferred slot machine strategies especially if you follow the best spin strategy which is to gamble unless you have won 20 or 30 free spins.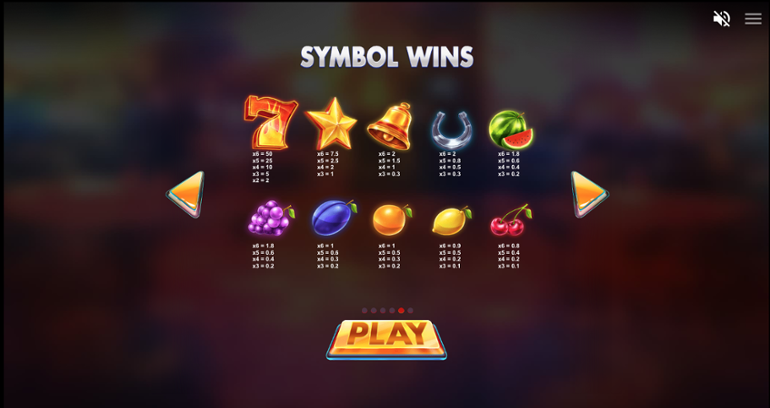 Conclusion
With its cascades and Mystery symbols, Mystery Reels Megaways has plenty going on in the base game to keep players interested. Which is good because the theme is a little dull.
Where it really stands out is in the high volatility (helped by its Free Spin Gamble feature) which is something we are always hunting for. Coupled with an acceptable, if rather average, return to player, this is a good match for our slot machine strategies.
We recommend this game.
Author:
Jon Pill
| This review was last updated: 09 Nov 2020