Honey Rush review
Theme and Storyline
Honey Rush is all about bees. The reels make up a honeycomb, the symbols are mostly flowers, and in the background the shadows of bees buzz about in a way that made this reviewer try to shoo them off his screen more than once.
The bees may be dying across the world, but here on the internet they are prospering.
Graphics, Sounds and Animations
Honey Rush is an excellent example of slot design. The background is pleasant, thematically relevant, and simple enough to let the reels shine.
The reels come with sharp, well designed symbols that are animated with great slickness and enough flare to keep things interesting. Animations are clear, quick, and clean.
Coupling this with the pleasant music and fun sound effects, the overall design of this slot is hugely commendable.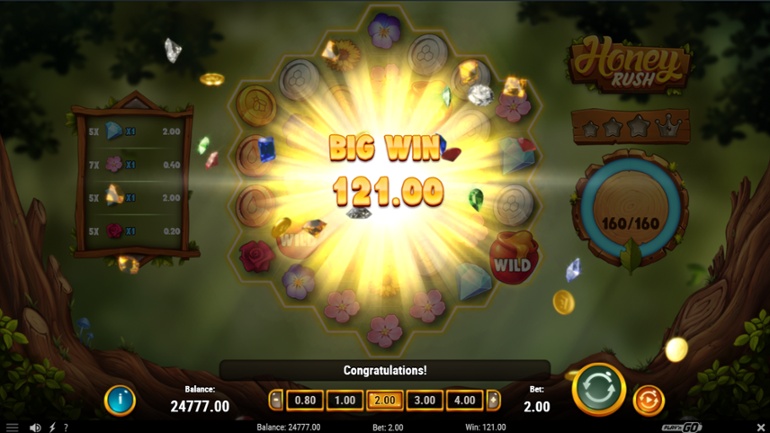 Gameplay
Honey Rush is played on a hexagonal grid made up of smaller hexagons. During each spin, each small hexagon gets a symbol added to it. Winning combinations occur when five or more identical hexagons make up a group.
A cascade system is then triggered. Winning symbols are removed. And the symbols above fall down to take their places. New symbols fill the top row, and any new wins are calculated.
Honey Rush has some additional features to keep things interesting (these are detailed in full below). All in all, the gameplay is varied, fun, and paced to keep things buzzing.
Wilds, Bonuses and Free Spins
Any non-winning spin has a chance of triggering the Worker Feature. This adds a winning cluster of 7 to 15 symbols to the reels.
A counter tracks the number of symbols that are part of winning combinations during a spin.
Getting more than twenty winning symbols in one spin (or its following cascades) will trigger the Drone Feature. This is like the Worker Feature but with no maximum cap. Additionally, a Sticky Wild is added to the reels.
Sticky Wilds substitute for any symbol. After a winning combination, the Sticky Wild moves one space in any direction before the cascade is triggered. Wilds can also come with a multiplier of x2 or x3. The multiplier is applied to any winning combination that includes the Sticky Wild.
At 40 symbols on the counter, the player wins another Drone Feature and Sticky Wild. Same again at 80 symbols. Hitting 160 on the counter triggers a Queen Feature, which adds a winning cluster of between 20 and 37 symbols.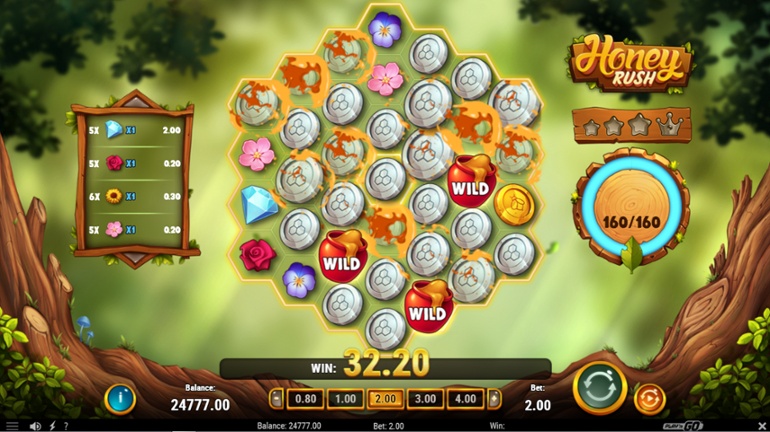 Bet Sizes, RTP and Variance
The return to player of this game is 96.54%, well over our yardstick for average of roughly 96%.
The range of bets on the site we tested ran from a minimum bet per spin of $/£/€0.20 up to a maximum of $/£/€100.00 per spin. This should cover most bet sizes, though ultra-low and ultra-high stakes players might have to look elsewhere for their kicks.
The volatility of this game is high, which, coupled with the high RTP, makes it a great match for our preferred slot machine strategies. Our slot strategies target the highest possible volatility.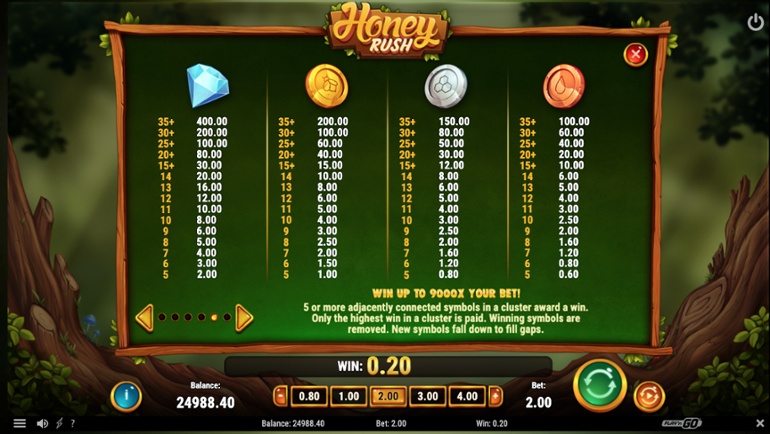 Conclusion
The key appeal of this game is its high RTP coupled with its high volatility. But it backs these features up with excellent gameplay and thrilling bonuses.
The fact that it is well designed, well paced, pleasantly animated, and possessed of a great soundtrack is the icing on the cake.
The slightly unusual reels might not be to everyone's taste, but for the majority of players we think Honey Rush will taste sweet enough.
Author:
Jon Pill
| This review was last updated: 19 Feb 2021