Gold Rush review
Theme and Storyline
Set during one of the gold rushes of the 1800s, Gold Rush from Rival uses a cartoon style to draw the player into a Wild West world where the "wild" is really emphasised.
The background image is of a stream, rich in golden nuggets just waiting to be sifted out by a canny prospector. The reels are money bags and a prospecting old timer with a bushy white beard.
The Gold Rush has plenty of other games set in and around it, but this one does have some of the meditative simplicity of sitting by a river and cautiously panning for the tiny granules of gold in amongst the silt.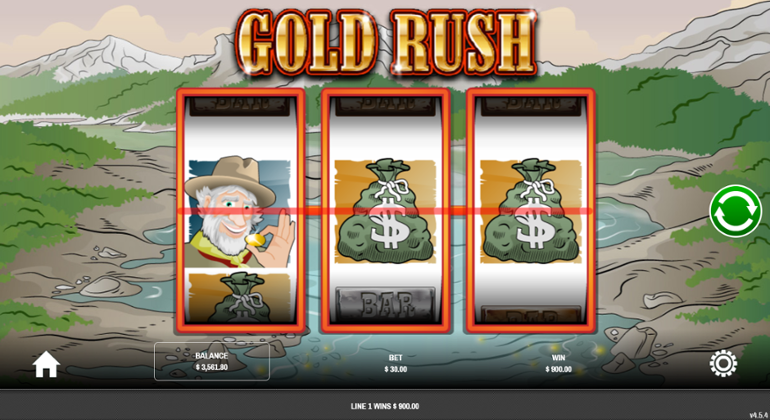 Graphics, Sounds and Animations
This slot has a pretty basic visual set up and it feels a little old fashioned in some of its design choices. However, it does manage to pull the style off.
The cartoon images and background make for a soothing world, as does the sound track, which is made up of wind soughing through the landscape.
The animations are very basic, a flashing line to indicate a win and the spin of the reels are really the only movements in frame. Whether that is charming minimalism or just boring will depend on the type of player picking up the game.
Gameplay
Gold Rush is a simple three reel slot with one win line. It is as simple as it gets, so players should be ready for that kind of stripped down style.
It does manage to get in a Wild and a Scatter, which not all such small scale slots manage.
Players can also opt to play with one, two or three coins. Given the control over the coin values, players should always opt to play with three coins if possible, as this provides a proportionally larger payout on the most valuable symbol. Most times the payout for three coins is three times higher than for one coin, with the top value symbol it is four times higher.
Wilds, Bonuses and Free Spins
The Wild symbol substitutes for all other symbols except the Scatter. Wins including a Wild get a x2 multiplier, with two Wilds there is a x4 multiplier.
The Scatter symbol pays out for two symbols anywhere on the winline. It pays out equal to the player's bet per spin.
There are no bonus games, free spins, or any other special features in this slot. This is minimalist gaming at its most minimalist.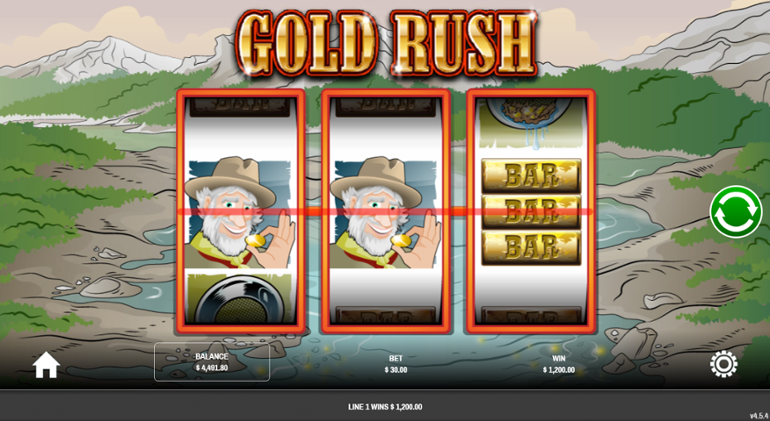 Bet Sizes, RTP and Variance
The return to player of this game is 95.94%, more or less spot on our yardstick for average of roughly 96%.
The range of bets on the site we tested ran from a minimum bet per spin of $/£/€0.01 (easily the lowest stakes we've seen in those currencies) up to a maximum of $/£/€30.00 per spin (which is also quite low, though will still cover most gamblers' preferred bet per spin).
Due to its age, it is hard to find details on Gold Rush's statistical data. We were unable to find public listings for its volatility. However, with a maximum win of 400 times the player's bet, this is certainly not a high volatility slot.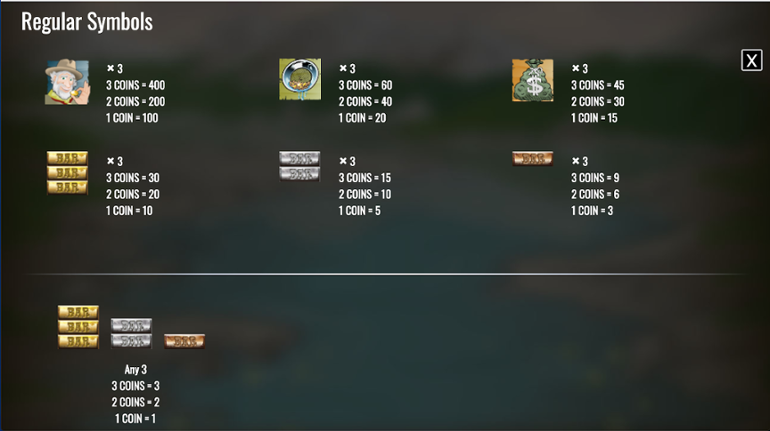 Conclusion
Overall, Gold Rush is a very pleasant game to play, with a simple gameplay mechanic and a surprisingly chilled out tone for a slot machine.
The RTP is pretty average, and the volatility isn't high enough to really work with our slot strategies, but other players might enjoy it.
In the final analysis, Gold Rush does what it does well. But it doesn't do much.
Author:
Jon Pill
| This review was last updated: 24 Aug 2020