Clover Lady review
Theme and Storyline
Clover Lady has a medieval fantasy theme.
Players will head out on a quest through a magical forest where they'll find mysterious fruits and nuts made of jewels. A beautiful hooded lady and a mysterious direwolf are on hand to guide players through this enchanted realm.
This slot is a good choice for fans of Game of Thrones and Lord of the Rings, as well as any players looking for a little high fantasy escape.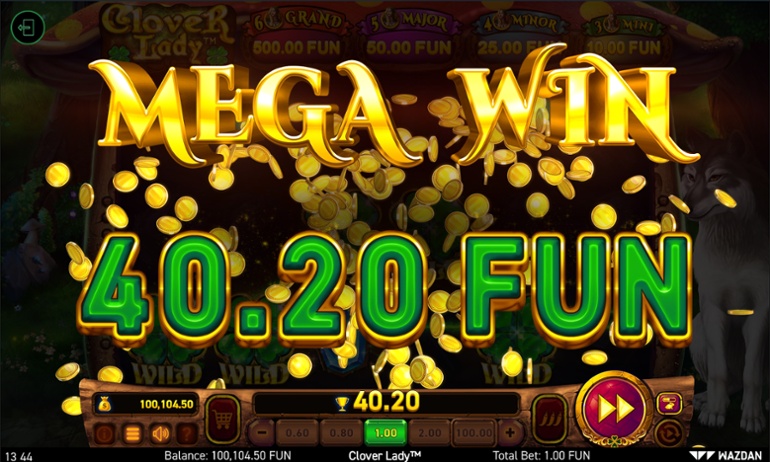 Graphics, Sounds and Animations
The soundtrack is filled with airy flute notes mixed with a bird song, creating the ambiance of a medieval forest. The jingle of coins and a wolf howl punctuate dramatic moments and add life to the world.
As players spin the reels, they'll see an array of colorful gems in the form of fruits, nuts, and letters. This creative portrayal of the edible symbols adds to the magical quality of the world.
Beside the reels, a stoic direwolf watches, and occasionally the ethereal Clover Lady herself appears, hooded in a green cloak.
The reels themselves are crafted from a large toadstool, bringing to mind a fairy's house. Beyond the reels, players will glimpse a forest filled with flowers, mushrooms, and the gentle glow of magical fireflies.
Overall, the animation and soundtrack create a whimsical fantasy world of nature and magic.
Gameplay
Clover Lady is a six reel, three row slot with 10 win lines.
Wilds, Bonuses and Free Spins
The Wild symbol substitutes for all symbols except the Bonus symbol and the Direwolf symbol.
The Direwolf symbol multiplies wins by x1.5, and if players land multiple Direwolf symbols, then each one increases the total win by x0.5.
When players land at least 3 Bonus symbols, the Clover Jackpot Bonus begins. During this feature, every Bonus symbol and Direwolf symbol sticks to the reels.
The Clover Jackpot Bonus begins with 3 re-spins, and any Bonus symbols or Direwolf symbols that land reset the number of re-spins to 3. This continues until players either run out of re-spins, or all reels are filled with Bonus and Direwolf symbols.
At the conclusion of the Clover Jackpot Bonus, players are awarded a prize for the number of Bonus symbols they have gathered, and this prize is then multiplied by the collected Direwolf symbols.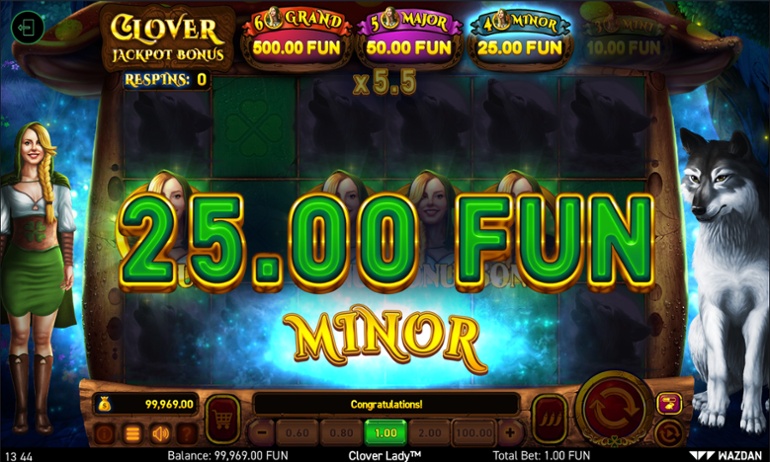 Bet Sizes, RTP and Variance
The return to player of this game is 96.21%, above our yardstick for average of roughly 96%.
The range of bets on the site we tested ran from a minimum bet per spin of $/£/€0.20 up to a maximum of $/£/€100 per spin.
Players can set their desired volatility level in Clover Lady by clicking the icon below the reels. They can opt for either low, medium, or high volatility, making this slot a potentially good match for our preferred slot machine strategies. If players select the high volatility setting, they'll be in line with our suggested strategy of targeting higher volatility slots.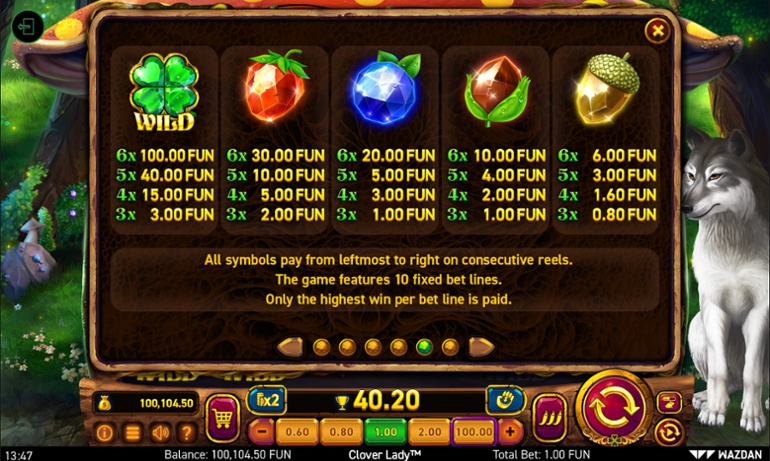 Conclusion
We recommend this high RTP, adjustable volatility fantasy-themed slot.
With a magical frontend, decent RTP, and volatility that can be set to suit players' needs, Clover Lady is a solid choice.
The bonus features also add some extra flavor to this engaging slot.
Author:
Jon Pill
| This review was last updated: 11 Nov 2022