Turbo 27 review
Theme and Storyline
Turbo 27 is another in the genre of "fruit machines for the 21st Century". A simple three-by-three (3 x 3) grid with 27 winlines (one for every combo of three symbols left to right).
It has the usual set of symbols, bars, bells, sevens, fruit etc… that are standard for this sort of game.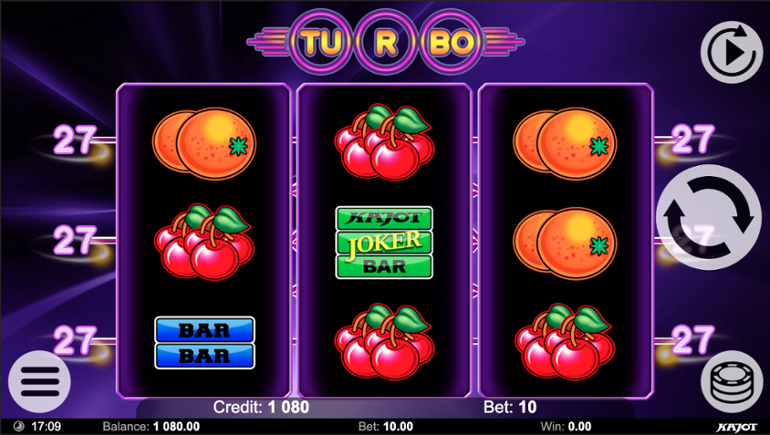 Graphics, Sounds and Animations
The design is in keeping with its stripped back nature: black background, nine visible symbols in the 3 x 3 grid, and a simple reel animation.
The sounds effects are also a little underdeveloped, they come on rather abruptly when you spin and feel badly mixed and more than a little disjointed.
Apart from the sound troubles (easily solved with the mute key), the animations are well produced and the whole slot has a nice, high budget feel.
Gameplay
The 3 x 3 grid design means you can only win with a 3x combo making the payouts simple as they come. This makes for the 27 win lines that give the game its name.
With no real bonus games, no gamble options, and no randomised features the gameplay is truly the simplest you can expect of a slot.
For some people, this will be a bit dull but for purists, this might be the purest slot out there.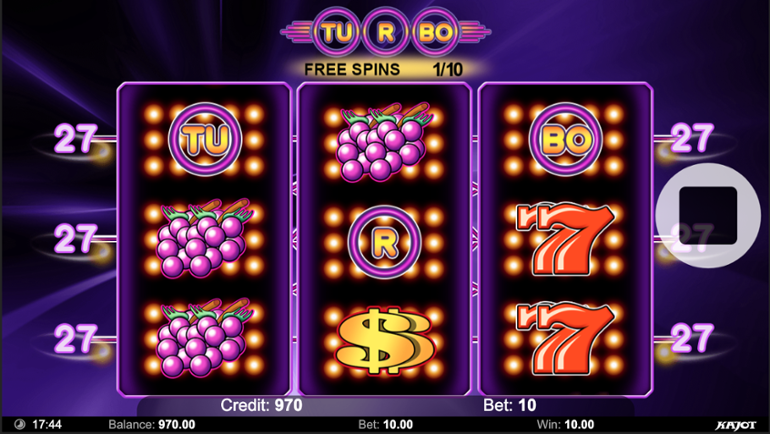 Wilds, Bonuses and Free Spins
There is a "Joker" symbol that acts as a Wild, substituting for any symbol apart from the Bonus symbols.
The Bonus symbols (the letters that spell out TU-R-BO) trigger 10 free spins. Although you cannot retrigger the free spins, if you do manage to hit the R again during your free spins you do get a 2x multiplier for your total free spin wins. As a result, if you can hit the R a couple of times it can make for a huge pile of gold at the end of it.
You can also get a 2x multiplier should you hit all 27 win lines at once by getting nine matching symbols and filling the entire grid.
Bet Sizes, RTP and Variance
The bet sizing for this game is deeply irritating with little help in choosing coin number and size. However, once deciphered it provides a good range with the site we tested allowing a bet per spin of between £/$/€0.10 to £/$/€100.00. All bets are bet per spin, rather than per line.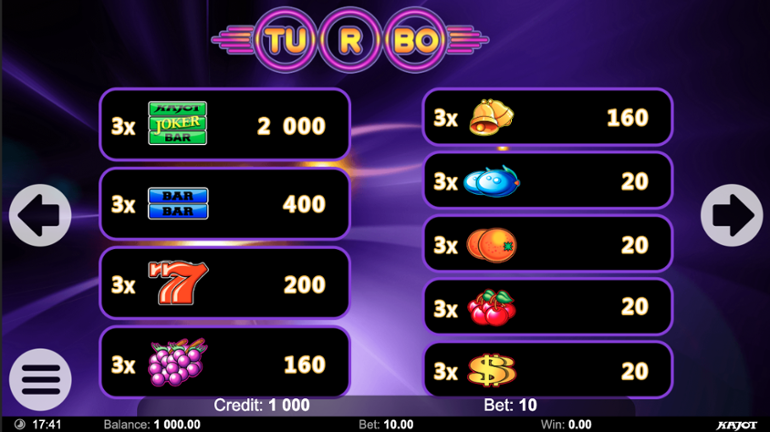 The variance is pretty high in Turbo 27 which works well with some of our recommended strategies. Unusually for the industry, it is difficult to get official numbers on the slots RTP.
Conclusion
If you like your games fast and simple, this is the one for you. Very little by way of gimmicks and features, just click and play on a small grid, with simple payouts on classic symbols.
The lack of official RTP is a bit of a red flag and makes it very hard to recommend whatever other positives the game may have.
Author:
Jon Pill
| This review was last updated: 19 Dec 2019