Pharaoh's Fortune review
Theme and Storyline
Pharaoh's Fortune takes the player back in time to the remarkable historical world of ancient Egypt. Sarcophagus masks and pyramids mark the locations of the interred remains of the great kings on the reels, and the background is laced with line drawings of hieroglyphs.
Egypt is an oft revisited theme in the world of slot machines where the iconography is instantly recognisable and the association with buried treasure is both thematically relevant and eminently marketable.
Pharaoh's Fortune doesn't dig very deep into this theme, seeing as it is a pretty light slot in terms of moving parts and available features. But the theme is there and works adequately.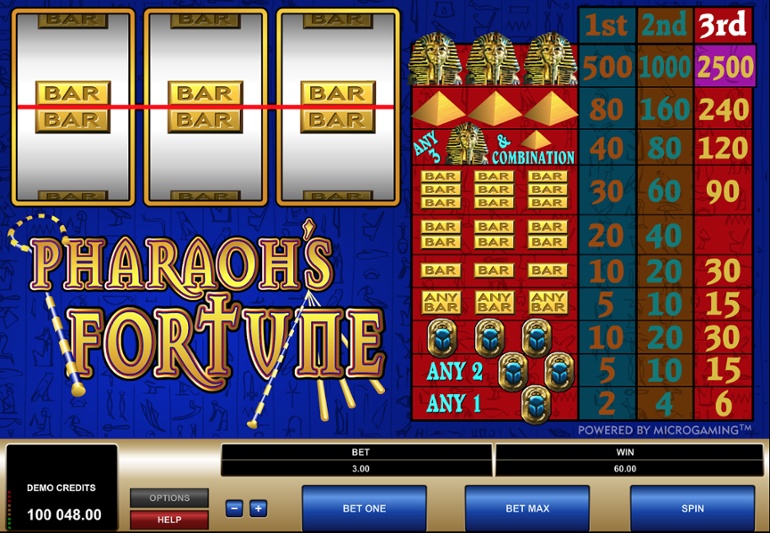 Graphics, Sounds and Animations
The graphics have the kind of simplicity you might expect from a much older slot. There is almost nothing on the screen that moves, apart from the reels. The only other animations are blinking lines to indicate a win and blinking numbers to indicate how big a win it is.
There is little audio to go with this. When the reels spin, there is a rushing sound that could as easily be the wind soughing across the desert sands as much as it could be the noise of a reels turning around and around.
Overall, there's not much to hieroglyph home about as this slot is boiled down to only the most vital parts.
Gameplay
Like the visuals, there is nothing going spare on this slot's gameplay: three reels, one win line – it even gets away with just four symbols if you don't count the different kinds of Bar symbols as separate.
To this minimalism is added nothing. No gamble feature, no bonus, no special symbols.
Wilds, Bonuses and Free Spins
Pharoah's Fortune has no Wild symbol, no Bonus game, and no Free Spins. It is a stripped-down minimalist slot experience. For some players that is a selling point. However, if you enjoy having a few more features on your slot machine, you should go forewarned that this game is one desert in which you will not find that oasis.
Bet Sizes, RTP and Variance
The return to player of this game is 95.93%, very close to our yardstick for average of roughly 96%.
The range of bets on the site we tested ran from a minimum bet per spin of $/£/€0.25 up to a maximum of $/£/€75.00 per spin.
The volatility of this game is not disclosed by the publisher. As a result, we cannot assess it's output.
Conclusion
Pharaoh's Fortune is pretty straightforward and simple.
The RTP is in the range of average by our measure and the graphics are clear and alright to look at. It is a hard slot to praise, but doesn't come in for much criticism either.
The main decision as to whether or not a player will enjoy it is how important special features are to that player. If they like bells and whistles, they should jog on, if they enjoy minimalist slots, they should pull up a sarcophagus.
Author:
Jon Pill
| This review was last updated: 07 Jul 2021