Lucky Pot review
Theme and Storyline
Leprechauns and the luck of the Irish is the craic for Lucky Pot, which sets itself beneath a rainbow in the famously verdant countryside of Ireland.
ll that green makes for a pleasant setting for a game, even if the pot of gold idea is largely done to death by the slot machine industry. As metaphors go, it is not particularly subtle.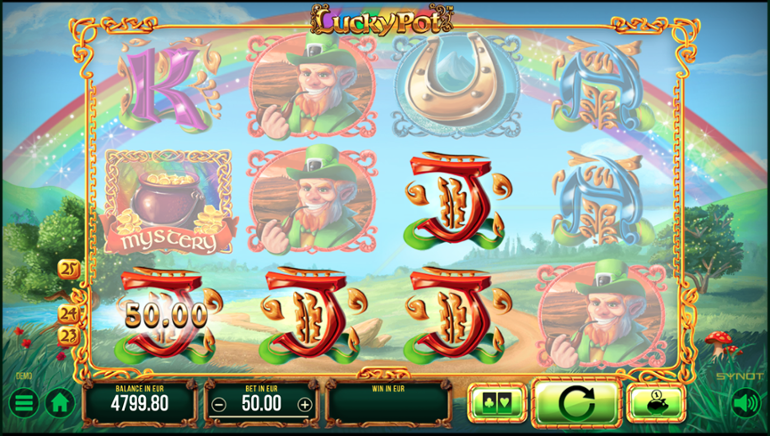 Graphics, Sounds and Animations
The graphics are extremely well put together; but while they excel at the technical level, at the level of taste they leave a fair bit to be desired. The visuals are overly pastel in a way that feels cheap and lacking of weight.
On the other hand, the animations are put together with great care and the sound design is excellent. The musical soundtrack perfectly pastiches Irish folk music without becoming annoying and the slots have a pleasant heft to their spinning sounds.
Gameplay
Lucky Pot is a four reel slot machine with three rows and 25 win lines.
The game has a few small details that liven up regular play. The one you will have most use of is a double or nothing gamble feature in which you can bet your winnings on the colour of the next lick of paint off a deck of cards. This is an excellent feature for upping the volatility of the game (more on which below).
If you happen to fill every reel with the same symbol, you not only win on all 25 win lines, but your winnings are doubled for that spin.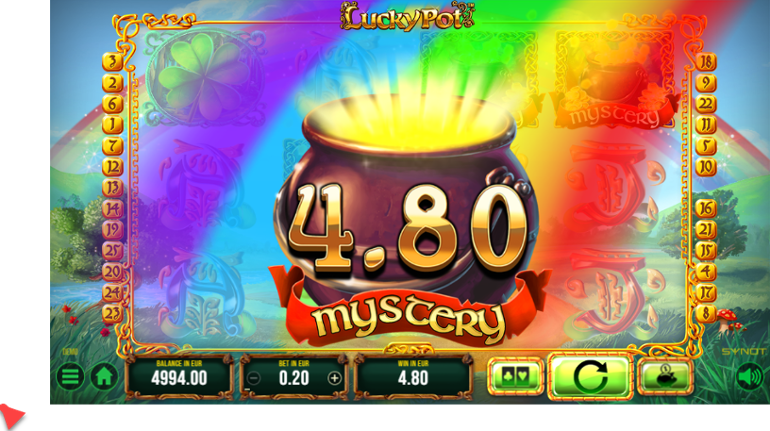 Wilds, Bonuses and Free Spins
There is no Wild symbol in Lucky Pot.
There are no bonus features in Lucky Pot either. However, three or four Scatter symbols in one spin pay out a random multiple of your bet. The multiple will be between one and sixty-four if you hit three Scatters, and between four and one hundred and twenty eight for hitting four Scatters.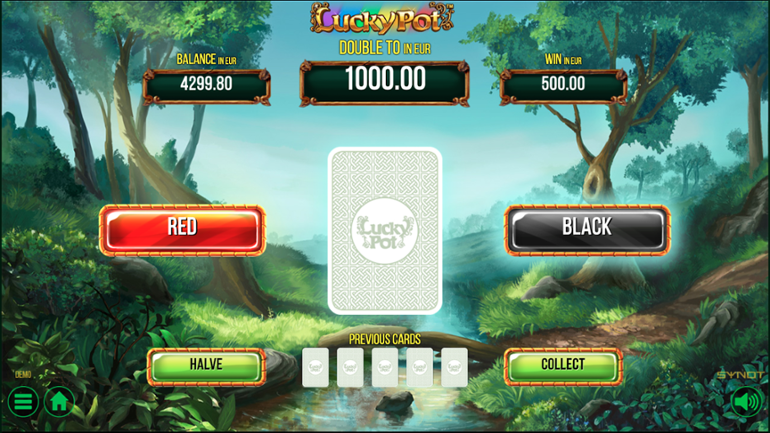 Bet Sizes, RTP and Variance
The return to player of this game is 98.00%. A really excellent return to player and well above average for the industry. Unfortunately, the volatility of this game is low to medium, meaning that you cannot take full advantage of the low vigorish with our preferred strategies.
The range of bets on the site we tested ran from a minimum of $/£/€0.20 to a maximum bet per spin of $/£/€50.00. This is a pretty good range cutting out only the highest and lowest of rollers. Most mid-stakes players will be well covered here.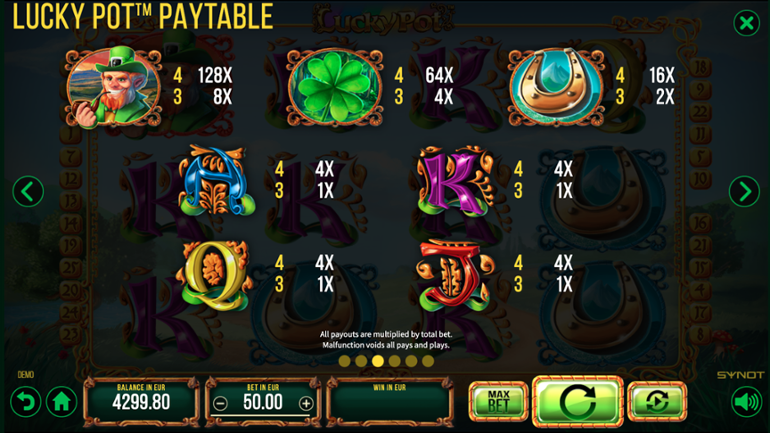 Conclusion
Lucky Pot is a deceptively high-quality game at the visual level, but under its shiny surface, the slot machine is actually a very simple one. Nevertheless, it is an interesting slot made by Kajot.
There are no bonuses or Wilds. Instead, the game relies on solid fundamentals and a few twisty symbols in the base game to spice things up. This might be more effective in a game with higher volatility.
The return to player is the main draw with a vig of only 2% and a gamble feature that allows you to crank up the volatility to a level that is more appropriate for our preferred strategies.
Author:
Jon Pill
| This review was last updated: 27 Sep 2019