Jackpot Jester 200,000 review
Theme and Storyline
The exact theme of Jackpot Jester 200,000 is a little hard to place.
The whole game looks a bit odd. The goal seems to have been to recreate the actual experience of playing a pub fruit machine in a tropical swimming pool. One can only hope that everything is sufficiently waterproofed in this NextGen's slot machine.
That said, when you have a set of gameplay mechanics as interesting as this game, you don't always need to package it in some sort of fancy storyline.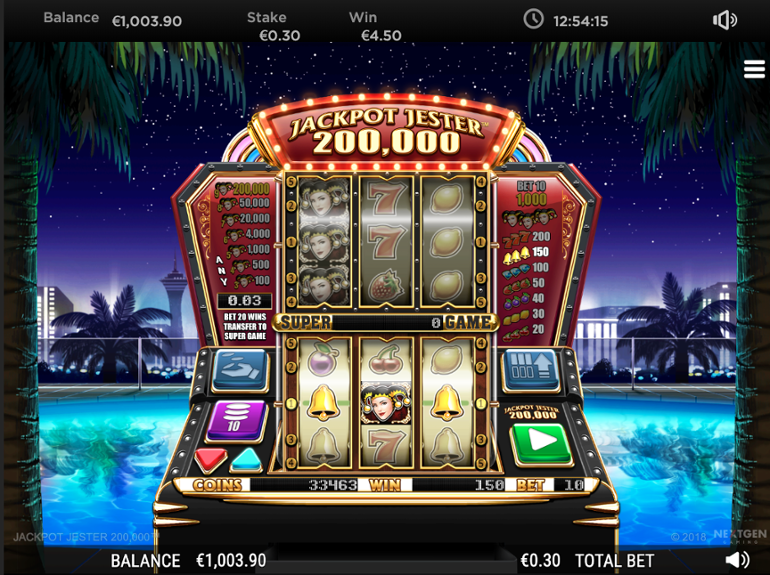 Graphics, Sounds and Animations
The graphics are gorgeously clear in super hi-def. Unfortunately, they are also rather small; the frame around the actual game is huge and as a result, the buttons and symbols are all shrunk right down. This problem is compounded by the double reels that make up the game area.
Despite being so small the animations are smooth and the sound design is very unobtrusive, a little background electronica and some gentle splashing. The machine makes nice clunks and bleeps when the reels spin.
All in all its a bit of a work of art.
Gameplay
If you wanted you could play this game as a three reel, five pay line slot machine. To do this, you just choose the 10 coin option (you have a lot of control over how much each coin is worth so this is really just a way of choosing game modes.
If you chose the 20 coin option though, your winnings are applied to the Super Game or 100 coin mode which we will come to in a sec.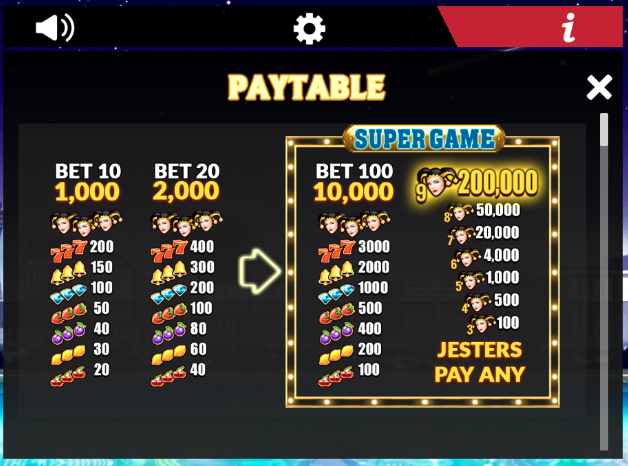 You can also just hit "Collect" to cash out your Super Game coins. Keep the coins in the Super Game line though and once you have 100 coins there, you can switch to 100 coin mode.
The 100 coin mode switches the game to the upper tier of the machine. You still play three reels and five pay lines. In both 10 and 20 coin mode, all symbols are stacked except for the Jester and the Jester plays as a Wild symbol.
In 100 coin mode, the Jesters are stacked along with all the other symbols. The Jesters also switch from being Wild to Pay Any, effectively becoming Scatters.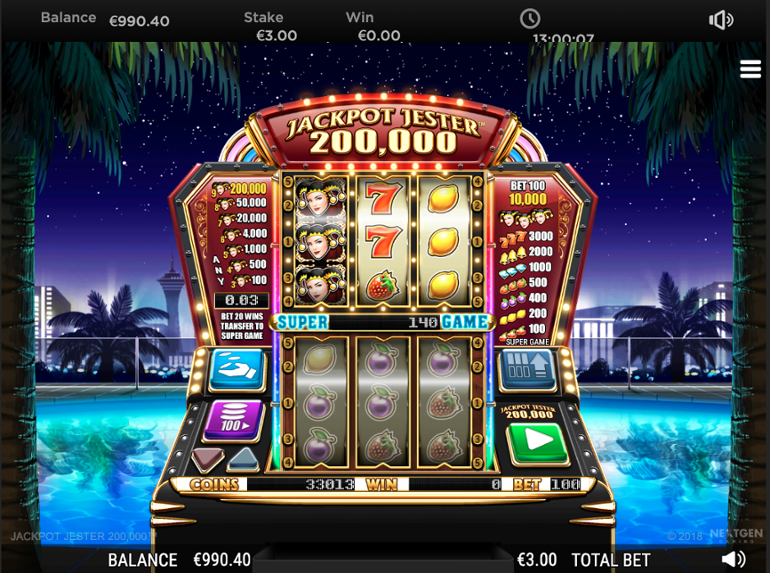 Wilds, Bonuses and Free Spins
There are no Bonuses or Free Spins in this game however the Jester symbol does act as both a Scatter and a Wild depending on context (see Gameplay for details).
Bet Sizes, RTP and Variance
The RTP of 95.08% for Jackpot Jester 200,000 is a bit lower than we would like. The industry average is around 96% and coming nearly a full percentage point under that is not endearing.
Depending on how you play Jackpot Jester 200,000 this game can be either a medium volatility game (if you stick to 10 coin mode or regularly collect your Super Game coins; or it can be extremely high volatility game if you decide to roll your winnings over into the 100 coin mode.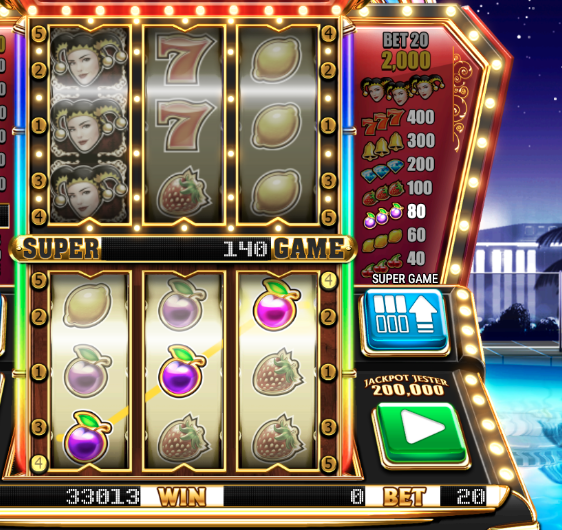 Bet sizes are managed pretty simply by setting the coin size. For example, €/$/£0.05 coins in "20 coin mode", will make for a €/$/£1.00 bet per spin. The site we tested allowed coin sizes from €/$/£0.01 to €/$/£1.00. That means the spread of bets you can make are from €/$/£0.10 to €/$/£20 per spin.
This is fairly limited but a bet of €/$/£20.00 per spin would allow you to gamble €/$/£100 per spin once you switch to 100 coin mode.
Conclusion
With its unusual setup and ingeniously simple play style, Jackpot Jester 200,000's gameplay probably suits the real high-variance speculator better than most other players.
To really enjoy it you have to be ready to gamble in 100 coin mode as much as possible.
Author:
Jon Pill
| This review was last updated: 15 Feb 2021