Gypsy Moon review
Theme and Storyline
Leaning heavily on problematic stereotypes of travelling communities as sources of mysticism and fortune-telling, Gypsy Moon's theme has not aged especially well. Even the name courts disaster in the UK, where many people categorise the term "gypsy" as a slur.
Ethnic insensitivities aside, Gypsy Moon offers up a Victorian vision of the gypsy fortune teller as a kind of gothic connection to some old and pagan magic. The background is a moonlit night sky with candles, crystal balls and tarot cards on the reels.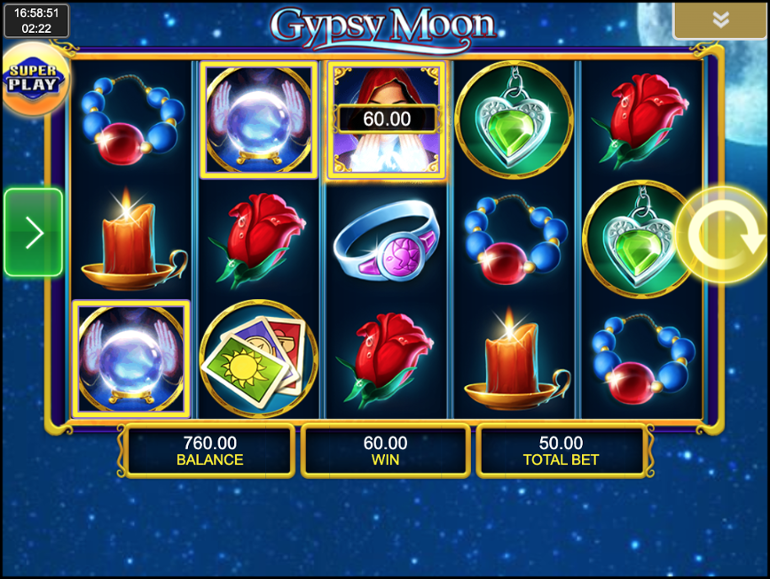 Graphics, Sounds and Animations
The graphics are beginning to look a little dated, but are not unattractive. The symbols are well drawn and the background of stars is pretty. The deep blue colour scheme gives the whole game a nighttime feel that fits with the gloom of a fortune telling.
The animations do what they need to in order to keep things clear and readable though and each symbol has a simple winning animation.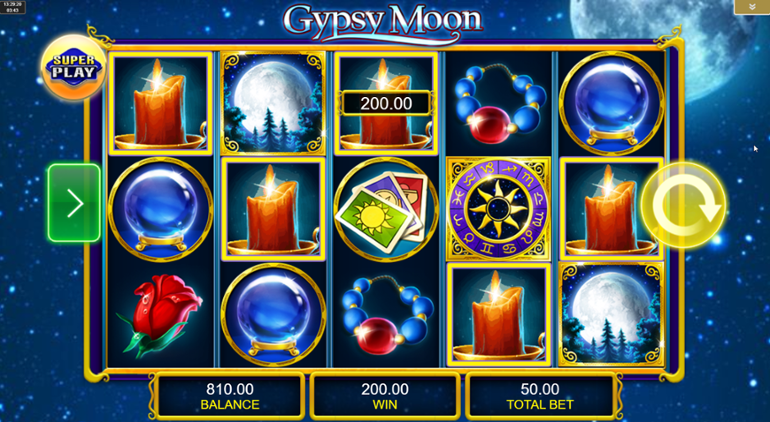 The sound is also simple but effective. The music that accompanies a spin is atmospheric and the sound effects that signal a win are exciting.
Overall, the slot is not especially elegant, but it looks alright and works well enough.
Gameplay
Although at first glance Gypsy Moon has a nice simple five reel setup with three rows, it also hides an intriguing innovation. By clicking a button, Gypsy Moon can toggle between an any way wins system (giving 243 ways to win) and thirty fixed paylines.
Where the 30 win lines take thirty, naturally enough, the any ways system takes 50 coins. Unfortunately, this interesting option is more or less pointless as the game provides no information on exactly how this affects volatility or the return to player.
Wilds, Bonuses and Free Spins
The Wild symbol substitutes for all symbols except the Scatter symbol.
Three or more Scatters will trigger the Free Spin Bonus. This Bonus provides four options that balance either a large number of spins with a small multiplier or a small number of spins with a high multiplier.

The more Scatters you hit, the higher the spins and multipliers of the four options. For example, three Scatters will give the player a choice between: 30 spins and a x1 multiplier, 15 spins and a x2 multiplier, 10 spins and a x3 multiplier, or 7 spins and a x5 multiplier.
The Bonus can be retriggered up to a maximum of 500 free spins.
Bet Sizes, RTP and Variance
The return to player of this game appears to range from 92.02% to 96.18%. For reference, our yardstick for average is roughly 96%. It should be noted that most sources, including the makers, are inconsistent on how much the RTP actually is, and although they acknowledge that the two modes affect the RTP, there is no reliable information on how the RTP is affected.
It is a little unclear from the publisher's literature what effects that range. The RTP is certainly different depending on which set of win lines you choose. Many publishers offer better RTP to higher stakes players, which may be what is happening here, or RTP may depend on which bonus game the player chooses with the higher volatility options most likely having the best RTP.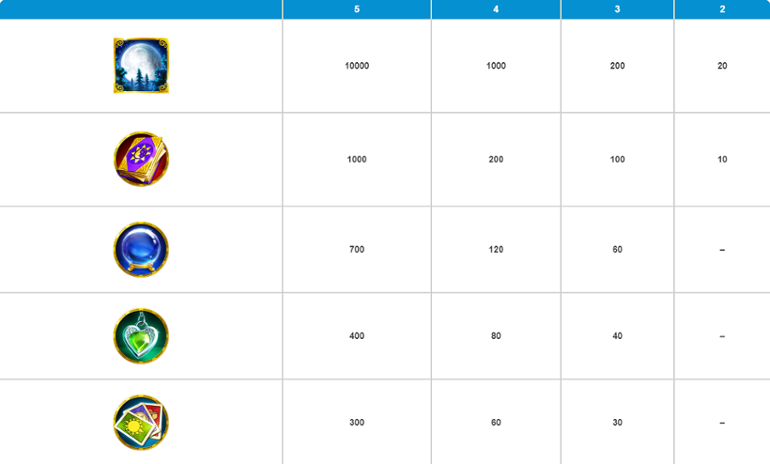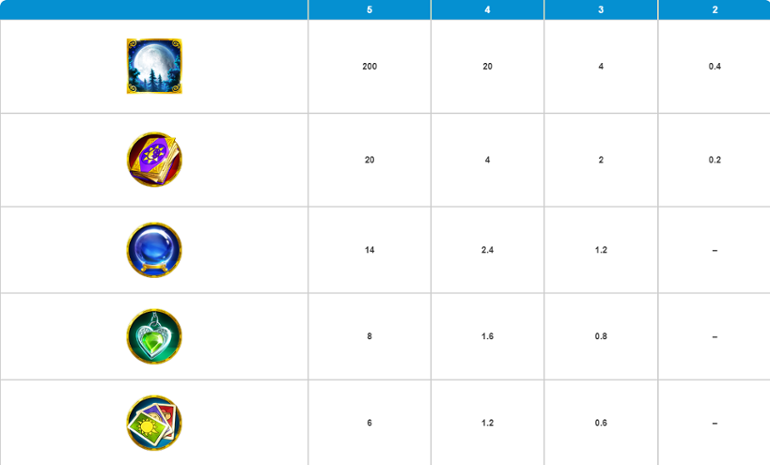 The range of bets on the site we tested ran from a minimum bet per spin of $/£/€0.50 up to a maximum of $/£/€50.00 per spin.
The volatility of this game is medium, which makes it a weak match for our slot machine strategies.
Conclusion
Gypsy Moon is an interesting but difficult slot.
It has some interesting features like its wide range of bonus choices and the fact it can be played as an any way wins slot or a 30 win line slot.
On the other hand, it has no reliable RTP information and uses unhelpful stereotypes to build its world.
We would also prefer a higher volatility to match this slot with our slot strategies. If the RTP was higher it might make up for it, but the shady info on RTP all but rules this one out.
Author:
Jon Pill
| This review was last updated: 17 Jul 2021