Crazy Chameleons review
Theme and Storyline
Crazy Chameleons creates a pantheon of kookie cartoon surfers who happen to be lizards. The multicoloured pals ride gnarly waves with boards as fancy as their swim-trunks.
Seagulls, sand, and blue horizons are the main symbols, with the crazy chameleons of the title being the highest paid symbol. It's a fun ocean going setting with some real attitude.
Try not to catch the sun out there on the beach or you'll end up changing colour too.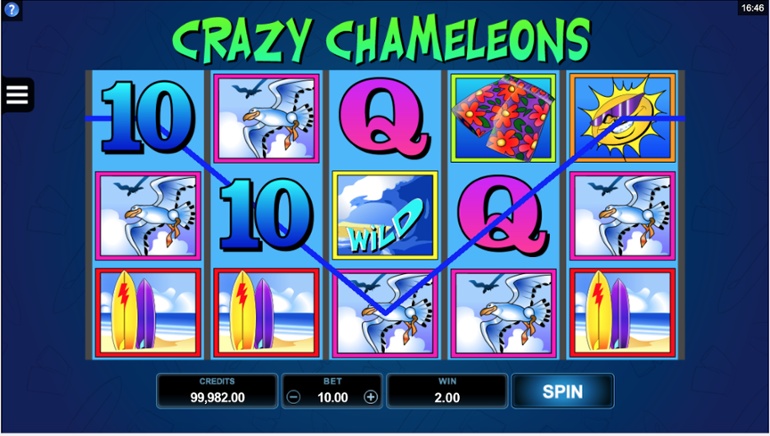 Graphics, Sounds and Animations
Crazy Chameleons has a rather old fashioned look about it. The artwork is cartoonish and pixely. Apart from the chameleon(s) there aren't any other characters to spice things up. Instead, the graphics are made up of rather plodding beach scenery.
The age also shows in the simplistic animations. A line appears to show a win, but there is no movement to the slot apart from the spin animations.
Adding to the static feel of the slot is the lack of music. A dirty guitar sting kicks in after a win, but the main game is otherwise silent apart from some ocean sounds.
Gameplay
Microgaming's Crazy Chameleons is a five reel, three row slot, with five win lines. The win lines pay out in both directions.
There are no bonus games, gamble features, or randomised features. The gameplay is very simple in a way that seems jarring when squared against the flamboyance of the theme.
Wilds, Bonuses and Free Spins
The Wild symbol substitutes for all symbols.
There are no bonuses or free spins though. This is unusual for a slot with so much character. Normally a minimalist play style goes with minimalist themes. But not here.
Bet Sizes, RTP and Variance
The return to player of this game is 96.07%, more or less exactly on our yardstick for average of roughly 96%.
The range of bets on the site we tested ran from a minimum bet per spin of $/£/€1.25 up to a maximum of $/£/€25.00 per spin. This is a rather high minimum spin, so low-rollers should probably keep on rolling.
The volatility of this game is at the low end of medium, which makes it a very poor match for our preferred slot machine strategies. Our slot strategies target the highest possible volatility.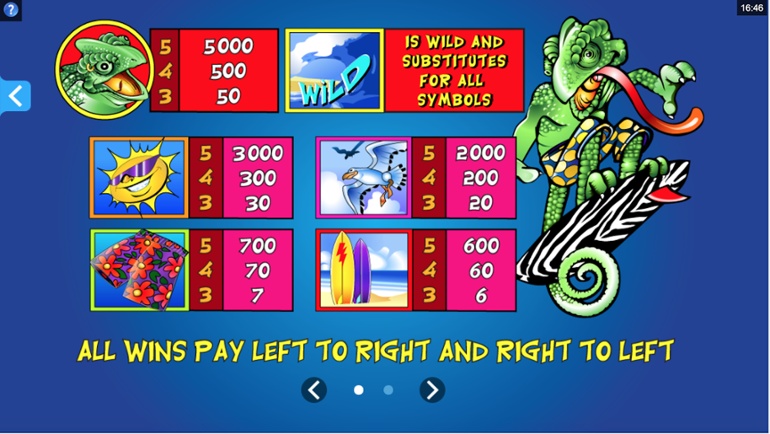 Conclusion
The low volatility of this slot precludes it from getting a recommendation regardless of any other aspect of the slot.
But this one really doubles down. The gameplay is minimal, the bonuses non-existent. There are very few sound effects, less music, and one animation. The theme is barely fleshed out, there is just one character and it appears very rarely.
Everything about this slot feels lazy or unfinished. We do not recommend it.
Author:
Jon Pill
| This review was last updated: 09 Jul 2021