CSI review
Theme and Storyline
CSI: Crime Scene Investigation ran for 15 season, and created three spin-offs. The slot machine uses the cast from the later seasons in which Ted Danson takes the lead.
As you play you can collect evidence to play bonus rounds, while collecting wins from the faces of familiar characters.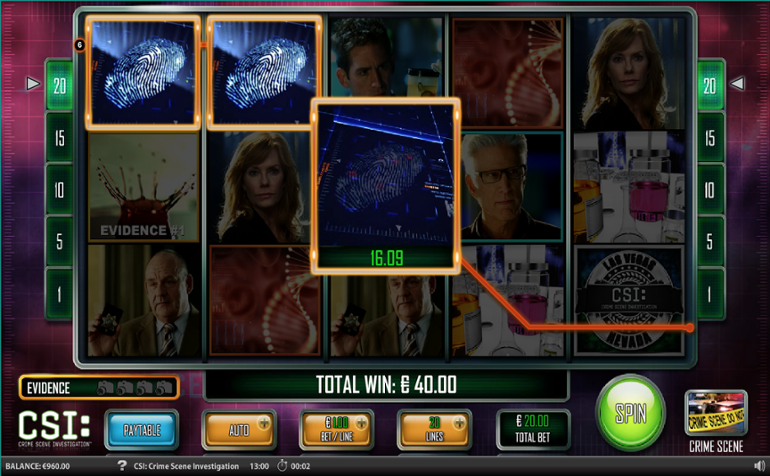 Graphics, Sounds and Animations
The music is a mix of non-copyright infringing The Who-like sting at the start then an atmospheric techno soundtrack that drives the game forward. Visually the whole slot is given that early two thousands futuristic computer vibe that the show always had.
Unfortunately that vibe does feel a bit clunky and old fashioned now; nothing dates faster than the cutting edge.
Overall though the style is not too disastrous.
Gameplay
The gameplay is a more or less straightforward five-reel, twenty winline slot. With a couple of basic bonus symbols (more on that below) to break up the monotony.
Unfortunately this style of play is a bit too basic to be really interesting. A fact made all the more disappointing by CSI's fancy layout which suggests more bells and whistles.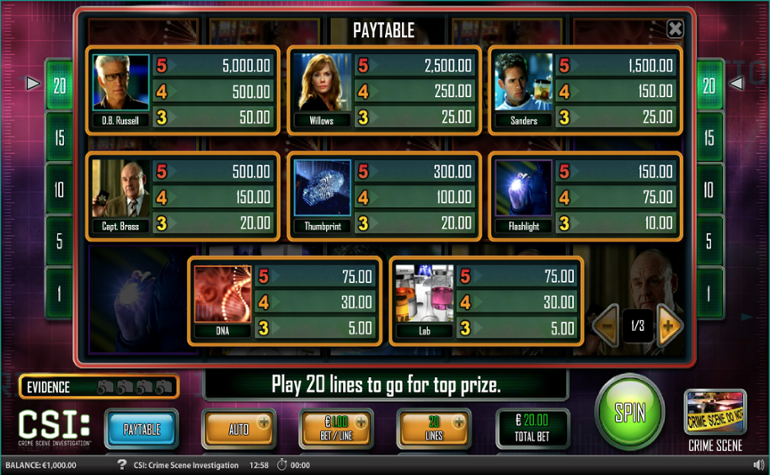 Wilds, Bonuses and Free Spins
There are four bonus symbols in the CSI slot machine.
Hit the CSI logo three or more times to get free spins (5 spins for 3 symbols, 10 for 4 symbols, and 30 for 5 symbols). You can double all the prizes during the bonus if you've collected any of the Evidence symbols.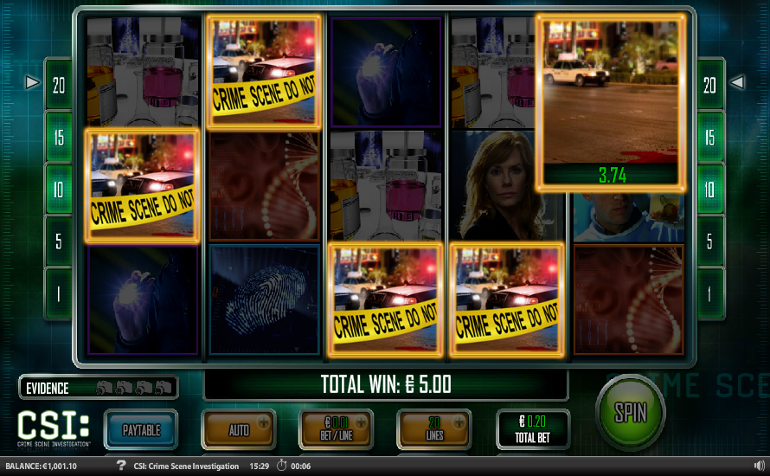 Evidence symbols come in four forms: Blood, Bullet, Shoeprint and Fiber. If you get three or more Crime Scene symbols on adjacent reels you can start collecting Evidence (and collecting a payout). Collect all four Evidence symbols and you win a jackpot of 400x your line bet.
The Lock'n'Respin triggers if you hit one Lock'n'Respin symbol. Any winning symbols will then lock in place while the others are respun to make new combinations.
The Stokes symbol acts as a Wild substituting for all symbols apart from the bonus symbols described here.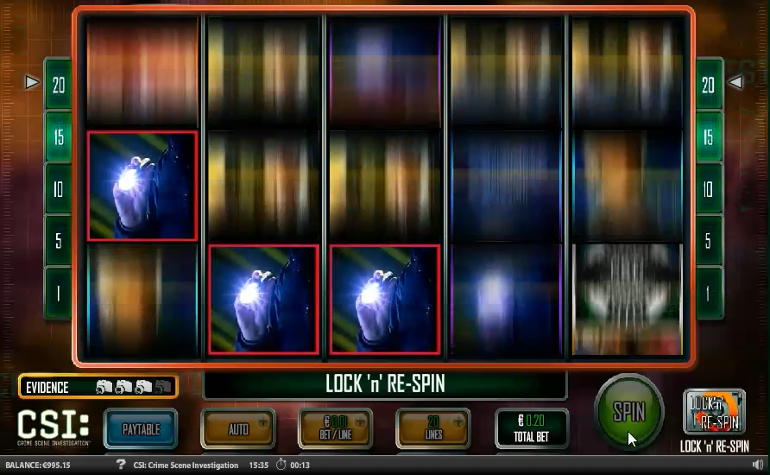 Bet Sizes, RTP and Variance
The RTP on the game varies depending on how many lines you play from 94.84% for playing five win-lines at the lowest and up to 95.13% for playing 20 win-lines. The RTP amounts are not obviously patterned though with one win-line having a slightly better return (94.89%) than five-lines.
This is not a great RTP and the fact that there is almost no data out there on the volatility of the CSI: Crime Scene investigation slot does not make it easy to recommend.
The game does offer a wide range of bet sizes which may appeal to some players. With amounts ranging from £/$/€0.10 per spin up to £/$/€100.00 per spin.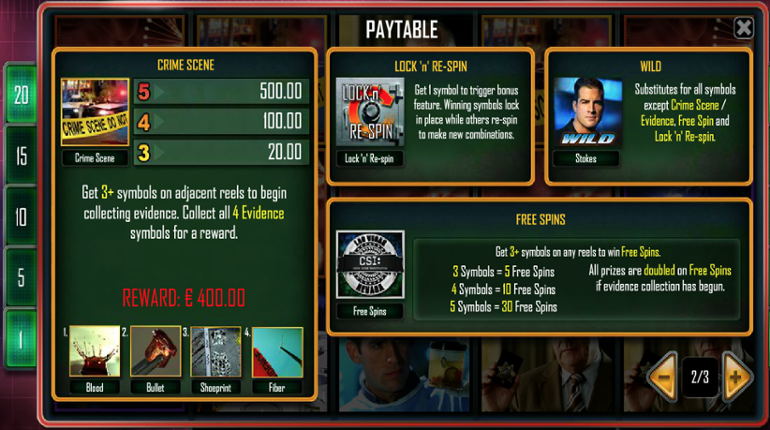 Conclusions
CSI is a somewhat dated slot with a couple of nice bonus features that don't do enough to make the game stand out.
The low RTP and undefined volatility do not help the game to make its case.
We do not recommend CSI.
Author:
Jon Pill
| This review was last updated: 25 Sep 2020